Palmer Drei – a gimmick-free zone – Test Report by bonedo.de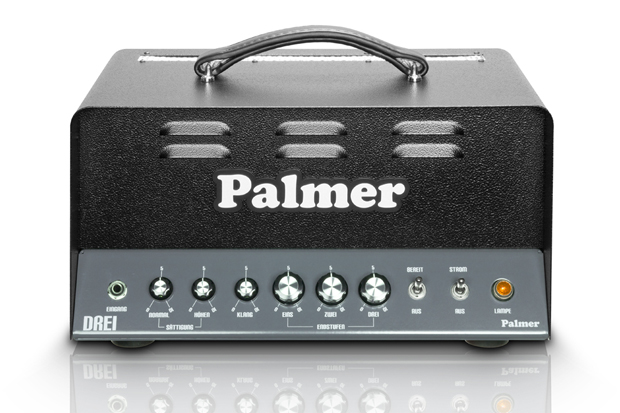 Guitar tube amplifier head
For decades now, the two palm trees in the Palmer logo have been synonymous with clever solutions to problems both in the studio and on tour. Whether it's a DI box, splitter, power supply, speaker simulator or any of the many other products on offer, many a gig would not have run so smoothly without these smart helpers from Hesse in Germany. But the product range is not made up solely of audio tools, it also includes guitar boxes, amps and effects units.
With the recently unveiled "Drei" all-valve guitar amp head, Palmer is adopting an approach that is as groundbreaking as it is logical. The amp combines three puristic power amplifiers in one housing; the power amplifiers can also be combined with one another. An idea to really fuel curious minds!
DETAILS
Appearance/design
But it is not only on the inside that Palmer is breaking new ground — the design is also rather individual. As I am a big fan of industrial design, this head is right at the top of my wish list.
Although the amplifier is relatively small—230 x 390 x 250 mm (HxWxD)—it weighs in at 15 kilos — that's not bad! Full advantage: Given its solid build, the Drei (sounds strange I know, but at least it's not called the "Twin Reverb") is more likely to give in to rust than it is to pop its clogs any other way.
Now let's have a closer look at this little heavyweight. The amp housing is made entirely of metal; the front panel and rear connection panel are painted grey. And just so that everyone knows that the Drei was manufactured in Germany, the lettering is of course in German — and why not? I think it's a great idea and it really fits the rest of the look. Even the manual manages to set itself apart from the competition — it is contained within an imitation leather ringbinder
But now to the part that we all really covet (and the unique selling point of this amp) — the three built-in single-ended power amplifiers. There is a separate potentiometer for each of the drive devices — inscribed with "Eins", "Zwei" and "Drei" naturally. And now for the star attraction: Within the metal box, there is different tube type for each power amp: An EL-84 for number one, a 6V6 for number two and a 6L6 for number three. This ensures that the signal paths are kept extremely short, thereby guaranteeing, in combination with the very puristic single-ended design, a direct response — but we'll come to that in the practical test. At the right-hand end are two rocker switches — one to switch the device on and off, labelled "Bereit" ("Ready") and "Aus" ("Off"), and one marked "Standby" and "Aus".
With a power connection, a fuse and three jack sockets for connecting a 4, 8 or 16-ohm speaker, the rear equipment is also quite modest — as is the front.
PRACTICAL
Test setup: Our test specimen is connected to a 2×12″ Marshall box with G75 speakers. I removed a membrane with a Shure SM57 and a Sontronics Halo. Both microphones run through a Telefunken V676b preamp and are converted with an Avid HD interface.
The superior pulse fidelity is evident from the first play. The notes really jump out at you — and there's no feedback as the amp supplies 5 watts per tube, resulting in a total of 15 watts when all the tubes are working at full power. Channel one, the EL84, produces the kind of sound you would expect from this tube type and the kind of sound that we have come to expect from Marshall. The highs are prominent, the mediums concentrated like a fist, and the Drei spits out a sound rich in distortion. Channel two, the 6L6, is the one to go for if you're looking for warm, mellifluous and thick sounds. The third power amp powered by the 6V6 is louder than the other two. It produces a very tidy, punchy sound, which seems to drop a frequency level, without distorting or affecting the highs.
There are plenty of amplifiers with a fixed tube assembly, but what's really interesting is when the channels are mixed together. I have therefore made this the focus of this test and have created the sound files using this feature. The sound samples were recorded using a Fender Strat, a Tom Anderson Strat and a Duesenberg Starplayer. First of all, we can hear the Duesenberg produce a clean sound in the neck position.
Sound samples at http://www.bonedo.de/artikel/einzelansicht/palmer-drei.html
CONCLUSION
Palmer has created something really special with the Drei. Uncompromising is the perfect way to describe this small amplifier from Hesse, Germany. By bundling three different power amps into one housing and providing the option to mix these with one another, Palmer has created something completely new and what's more, with a great sound. Although its main area of application is in the studio, it is also sure to make an impression on the club scene. The immediate tone conversion of the amp is spectacular. A must-have for those looking for a pure power amp sound! And the price is also reasonable, especially considering the Drei was manufactured in Germany. Recommended!
Pros
Design
Concept
Consistent appearance down to the smallest detail
Sound
Price
Cons –
Specifications
Manufacturer: Palmer
Design: Tube amplifier amp head
Power: 3 x 5 watt
Tubes: 3 x ECC83/12AX7
Tube one: EL84
Tube two: 6V6S
Tube three: 6L6GC
Rectifier: GZ34/5AR4
Dimensions: (HxWxD) 230 x 390 x 250 mm
Speaker output: 4,8,16 ohm
Weight: 15 kg
Price: €1100 (RRP)
All information about the product can be found at: http://www.palmer-germany.com/mi/en/DREI-Triple-Single-Ended-Amplifier-PDREI.htm
For the test report, please visit: http://www.bonedo.de/artikel/einzelansicht/palmer-drei.html
Source: Bonedo (webzine), Germany, December 2011.