LD Systems LRX215 + LD DP1600 – Test Report by Live Sound & Installation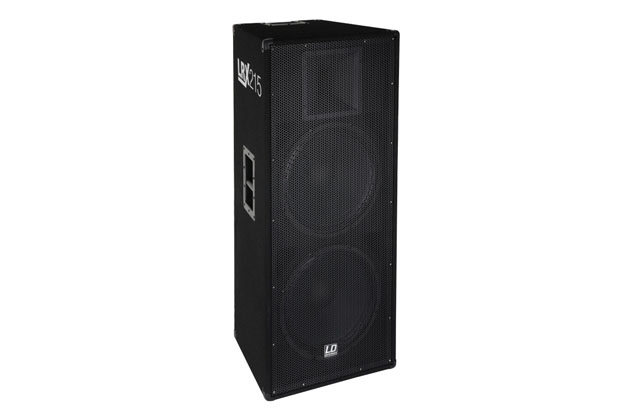 Passive loudspeakers with a power amplifier
The popularity of 2 x 15″ full-range speaker systems doesn't seem to decrease. Such a system is certainly a more budget-oriented solution but it doesn't change the fact that a combination of two 15″ diameter transducers complemented with a high-frequency driver is a good alternative to more expensive systems that include a full-range speaker and a sub-bass.
LD SYSTEMS
is a brand created by one of the biggest manufacturers in the industry – a German company named Adam Hall. Their design and construction studios do not simply employ specialists in the field of acoustics. Professional users also have a say in the development process. This is why LD Systems are able to offer very functional equipment. This functionality is the first key for success. The second key is good value for money.
Adam Hall has been working with manufacturers from China for quite some time. The company knows that in order to experience fruitful cooperation an efficient and demanding quality assurance process needs to be in place. LD Systems equipment is built in China – but it is thoroughly checked before shipment. This is reflected in the popularity of the company's products across Europe; they have become more popular than similar products by, for instance, Phonic. Maybe LD Systems don't offer the cheapest equipment on the market but those looking for an affordable, good-quality audio system will surely consider the brand.
TESTS
An example of such a system is the one that we received for testing. It has two LRX215 loudspeaker sets and a Deep2 LD DP1600 power amplifier. You can get this system with two LRX215 loudspeakers rated at 2 x 600 W RMS/4 Ω and an amplifier rated at 2 x 670 W/4 Ω, for about… PLN 4500 (gross)! The price is very attractive… It would be extremely difficult to find an equally powerful system in this price range. But does it actually have what it takes?
LRX215
Let's start with the loudspeakers. They are big: 115 cm high, 49 cm wide and 45 cm deep. Their base is trapezoidal. And they are heavy. The weight of just one LRX215 loudspeaker is over 50 kg. It's a big deal. There are comfortable handles on the sides, and the designer has also had a care for our backs by providing rubber castors on the bottom. In combination with the handle on the top edge, this makes it easy to move the loudspeakers about. This is a huge advantage! It's worth noticing that the wheels do a great job on flat, hard surfaces. It gets more difficult outside, when transporting it on grass – it surely involves using more force.
The enclosure is made of 15 mm thick MDF plate reinforced internally with crosswise supports – making it more rigid, and limiting unwanted resonance. Low frequencies are enhanced by 4 bass-reflex ports with a triangular cross section. They are well shaped. During our tests with the use of test tones it turned out that the bass-reflex ports do not generate any humming – such humming being an undesirable characteristic sometimes present in cheaper audio systems. The surface is covered with so-called speaker carpeting. This means that attention needs to be paid to maintaining cleanliness. It is best to buy special covers, since the enclosure surface attracts dust and other airborne particles. Cleaning could become a time-consuming activity. However, padding the enclosure with speaker carpeting is still better than having a hammer finish of questionable quality; carpeting can obviate scratches and dents.
In most cases, when it comes to cheaper systems, enclosures covered with such a hammer finish tend to show up any scratches and damage. I believe it is better to choose material padding when looking for a more affordable set. After all, it is supposed to be a sturdy and efficient system.
TRANSDUCERS
Two 15″ diameter OEM transducers rated at 275 W RMS each along with a 1″ compression driver rated at 50 W are used to process the sound. The compression driver is enclosed in a tube with a 75° × 75° dispersion: the performance is good even when listening slightly off axis. The frequency breakdown is not provided by the manufacturer – although our measurements show that the frequency filters have a 12 dB/octave to 1.3 kHz slope. We have a minus 4 dB drop in the 1.1-1.6 kHz range, which… ultimately has an positive effect on the overall performance of the system. Other than that, the system sounds surprisingly balanced. We noted a frequency gain of about +3 dB only in the 11-13,5 kHz range.
It is worth mentioning that LD Systems claim that the amplifier has an effective frequency range of 42 Hz – 19 kHz. However our measurements using test tones demonstrated that the system worked well from 35 Hz with a drop of minus 6 dB! Bass-reflex ports tuned to 50 Hz contributed significantly to that – but the output was still quite impressive. LD System LRX215 loudspeakers work effectively at 35 Hz. So why is the designer being so modest? We should also remind you that the LRX215 loudspeakers provide a pretty decent maximum SPL of 128 dB, which is a very good result for this class of equipment. There are two Speakon NL4 cable connectors provided. The second parallel Speakon connector can be used in order to connect the system to a different piece of equipment.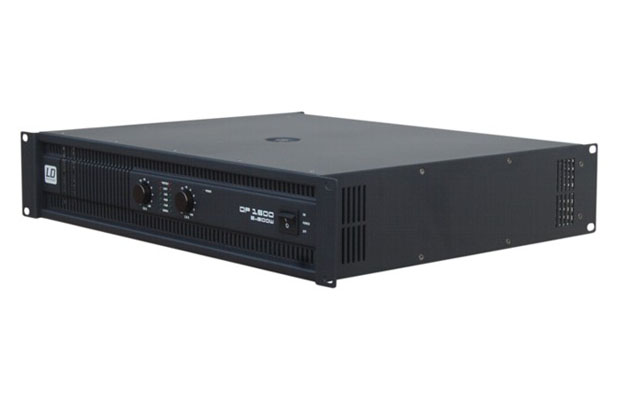 LD DP1600
The LD Systems LD DP1600 H class amplifier is a part of the most recent LD DEEP 2 series. It weighs 14.5 kg and has a nominal power of 2 x 800 W RMS @ 2 Ω, and 2 x 670 W RMS @ 4 Ω. The amplifier can also deliver a power of 2 x 450 W RMS @ 8 Ω. Bridging channels @ 4 Ω provides 1600 W, and 1380 W @ 8 Ω.
A relatively low weight was obtained by implementing a swiching power supply although it also features a more "classic" toroidal transformer amplifying a half of the signal in class AB. Its weight (15.9 kg) is not impressive, compared to Class D, but the noise parameters of the amplifier are quite good – a value of 106 dB is hard to find in this class of equipment. Maximum power values are obtained with a distortion of <0.1% THD. That's fair enough but the DP1600 amplifier shouldn't be used with audiophile loudspeakers. The amplifier wasn't really designed to work with such equipment. Rather it was designed for more demanding, high power applications. In terms of protection systems, the equipment features: DC, short circuit protection, overloading protection, anti-surge and thermal protection as well as a very effective limiter that is inaudible at minor overloads.
A built-in fan has two speeds which are selected automatically. It may be quite loud at times but… it doesn't really matter. What is more important is that the amplifier features a very good soft start limiter. You can only hear a pop sound when turning the system on. The back panel is well equipped: input: XLR/jack 1/4″ TRS (Combo), link output: XLR, speaker output connectors: Speakon NL4, binding posts. From a practical point of view the most important thing is that the inputs are not connected directly to GND. It solves many potential problems.
IN ACTION…
So how does the system work? In short – it is reliable. And efficient. We tested it in various applications throughout July and August. The system proved to be sturdy and rugged. There is no risk that inexperienced users will damage it (home party DJs etc.). It's is equipped with a limiter that ensures transducer durability. It should also be mentioned that the LRX 215 loudspeakers have a tweeter protection circuit that protects the transducer against any damage caused by overpowering the system. And, in spite of all that (meaning: in spite of the low price) the sound quality is very solid. The speakers are dynamic and the amp does a good job with strong bass sounds. It is using a completely different technology from, let's say, 10 years ago… The reported damping factor value isn't perfect, merely >400 but during the tests (i.e. using the speakers) lower frequency processing was satisfactory.
The system did well both outside, by the lake when used by a duo consisting of a keyboard player and a vocalist and at night, when tested by a local DJ, as well as at a rock concert in a club. It's worth noticing that the driver does not produce squelching sounds. Higher frequencies sound all right but they are not particularly emphasized. It's also worth mentioning that the level of bass was satisfactory during the night gig. I also lent the system to some friends who play at receptions. They used it at a wedding with an attendance of 150 people. The band consisted of: a drummer using digital Roland drums, a guitarist, a bass player, a keyboard player/vocalist and a female vocalist. They usually used much lighter active loudspeakers made of plastic + subs and were a little bit discouraged by the weight of the speakers.
However, they didn't complain after the gig: the castors came in handy. It was priceless to see the look on their faces when I told them that the set costs pretty much the same as just one of their active sub-basses. Most reception halls are not adapted for concerts and so you will have to use only 50% of what the sub-bass has to offer in order to avoid any "rumbling" effect. You will have no such problems with the LD Systems LRX 215. The bass is solid, and we had no problems adjusting it.
OVERALL IMPRESSIONS
People often associate systems comprising two 15″ loudspeakers with wedding receptions. Many wedding bands do use them. However, many audio equipment rental companies also use systems such as the LD Systems LRX215 – along with line array and large front speakers and the popular plastic speakers. They simply turn out to be useful in various situations The possibilities you get with 2 x 15″ loudspeakers + a driver are great. They are mostly used on small, outside stages, at conferences and concerts in clubs. The LRX215 loudspeakers with an LD DP1600 amplifier will work fine also as a budget-conscious solution for discos. In this case, due to the recent trend, you will also have to buy additional subs in order to complement the system. However, the LRX215 loudspeakers can serve as a basic sound system in a club. Their advantages are evident – the performance of two 15″ diameter transducers will always be better than the performance of a single transducer.
And their performance is just as important as the power rating. With this implementation in most cases you will not think there is not enough bass. A well designed enclosure ensures that the frequency range effectively reaches down to 35 Hz for lower frequencies. Easy and quick connecting systems, as well as not needing a crossover or an amplifier with a crossover – usually required for full-range systems with a sub-bass – were also considered good points. Such a configuration simplifies amplifier design and contributes to the lower price of the entire set. What about disadvantages? Essentially, there are two disadvantages: overall dimensions and weight. Fortunately, the system will fit into almost every kind of wagon and van, including the Renault Kangoo and VW Caddy.
The LD Systems set is definitely worth its price. I may even venture to say that this is a real treat. For mere PLN 4500 (gross) you can buy a practically indestructible, robust, and efficient sound system with good lows. It would be hard to find anything better with a limited budget.
SPECIFICATIONS
LRX215
Power (continuous): 600 W
Impedance: 4 Ω
Loudspeakers: 2 x15" + driver 1"
Frequency range: 42 Hz-19 kHz
Dispersion: 75 x 75°
SPL (1 W/1 m): 101 dB
Max SPL: 128 dB
Dimensions: 490 × 1150 × 450 mm
Weight: 50 kg
Deep2 LD DP1600
Output power: 2 × 450 W/8 Ω
2 × 670 W/4 Ω, 2 × 800 W/2 Ω
1 × 1380 W/8 Ω (bridge)
1 × 1600 W/4 Ω (bridge)
No. of channels: 2
Frequency range: 20 Hz – 20 kHz
Damping factor: >400
Distortion: <0,1%
Signal to hum ratio: 106 dB
Dimensions: 483 × 88 × 350 mm
Weight: 15.9 kg
Price (2 x LRX215 + DP1600):
PLN 4,500 (gross)
More information about the system and other products manufactured by LD Systems is available on the website: http://www.ld-systems.com 
http://www.ld-systems.com/index.php?article_id=327&clang=0,
http://www.ld-systems.com/264-0-ld-dp1600.html
Source: Live Sound & Installation, October 2011