Architectural Lighting at Dizzying Heights – Cameo ZENIT® W300 Lights Up the Gaskessel Wuppertal SKYWALK
Originally built for use as a temporary gasworks storage facility, the decommissioned gas tank now serves as an exclusive exhibition and event space. In comparison to other gas tanks, this 216.54 foot high gas tank plays a special role in the city of Wuppertal: Nowhere else in the world does a gas tank feature a modern, new concrete building on the inside. Since 2016, the gas tank has housed multimedia exhibitions, a restaurant, and a fitness club, but it also makes quite the impression from the outside too – with its walkable 360° SKYWALK. This is made possible by, among other things, the full-service event technology service provider that lights up the rotunda with eleven Cameo ZENIT® W300 outdoor LED wash lights.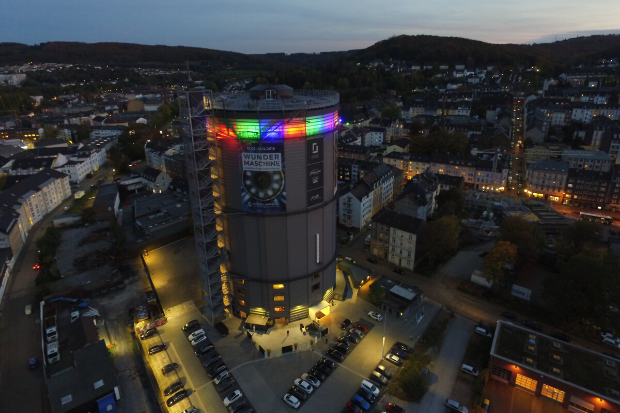 Prominently Positioned
In order to realize the architectural lighting at lofty heights, the team of Thöne & Partner, spearheaded by project manager and event technology master Michael Thöne, placed the compact Cameo wash lights on steel struts jutting out from the building. In addition to general criteria such as its powerful light output, housing quality, and durability, the ZENIT W300's IP65 certification played a decisive role for Damian Mostert, who is the lighting technician in charge. This is the only way the team, which includes the head riggers and rope access specialists Lucas Gripshöfer and Mike Siepmann, can ensure that the lighting for the SKYWALK works day in and day out over the long run.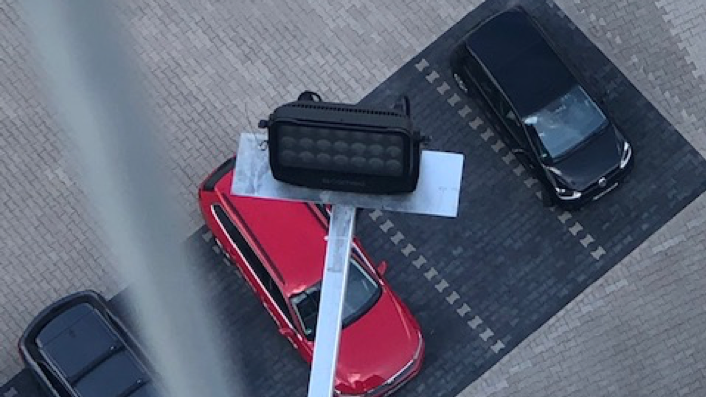 Flexible Light Emission
The ZENIT series' innovative, magnetic SnapMag® filter frames offer an added bonus. 100° diffusers were used to illuminate the massive, expansive gas tank over a large area, even from a short distance.
The following Cameo products are used for Gaskessel Wuppertal:
11 ZENIT W300 Outdoor LED Wash Lights plus SnapMag filter frame 100°
Further information:
der-gaskessel.de
thoeneundpartner.de
cameolight.com
adamhall.com
event.tech