Press: For Lumen Beings – Cameo® Presents New Campaigns and Products at Prolight + Sound
Neu-Anspach – April 01, 2019 – Cameo® – for lumen beings – this is the new brand motto of the internationally renowned lighting brand Cameo, a brand of the Adam Hall Group, at this year's Prolight + Sound (April 2 – 5, 2019) in Frankfurt, Germany. With this large-scale campaign, which is accompanied by an elaborately produced image film, Cameo is repositioning itself and demonstrating that professional lighting technology, passion for visual design, and unforgettable emotional moments are one in the same. From the very beginning, Cameo developers and designers have put themselves in the shoes of their target group of professional "lumen beings" – lighting enthusiasts, who have turned their passion into a profession. The Cameo Pro product range provides these lumen beings, now and in the future, with innovative, creative, and smart lighting solutions so that they can make their own visual visions a reality.


Since its beginning in 2012, this lighting brand from the Adam Hall Group quickly grew to become one of the leading manufacturers of professional lighting technology and, at the same time, has proven itself to lighting designers, operators, and service providers with its pioneering spotlights like the MOVO BEAM 100, the battery-operated ZENIT B60, the ZENIT W600 outdoor washlight, and the OPUS professional moving head series. Today, in 2019, the Cameo range of products includes a variety of innovative, user-friendly, and high-performance lighting solutions – supplemented by groundbreaking accessory options, like the patented SnapMag® filter technology, which show how extensively familiar the Cameo developers and product designers are with the individual requirements of lighting technicians as well with the high expectations of lumen beings across the world.
Creating Moments That Enlighten
In order to put this goal into practice as widely as possible, the Adam Hall Group is presenting Cameo and its latest state-of-the-art spotlights for the stage, theater, industry, architecture, and broadcasting at the Prolight + Sound 2019 (Hall 8, #F28/F30). With the versatile LED moving heads of the OPUS series, the luminous ZENIT outdoor washlights, or the F series LED fresnels boasting high color fidelity, Cameo is continuing along its path of success towards becoming one of the leading premium manufacturers in event and installation lighting technology, thus enabling lighting professionals to express their ideas and emotions visually and to create unforgettable moments.
The Cameo Highlights at Prolight + Sound 2019:
OPUS Series
Those looking for a versatile LED moving head in the areas of rental, theater, and film will strike gold with the OPUS series. Both OPUS SP5 and OPUS SP5 FC profile moving heads are available with a 500W CW LED and CMY color mixing system plus linear CTO or with a 300W strong RGBAL LED providing excellent light output of 9000 lm at high CRI >90/TLCI 93, and they provide a constant and uniform projection without disruptive color shadows over the entire zoom range of 6°-44°. The new OPUS series is rounded out by compact and high-performance OPUS S5 spot moving heads that generate excellent light output at 17,500 lm thanks to the 380W LED. In addition, all OPUS spotlights can be controlled via W-DMX, DMX, RDM, Art-Net, or sACN.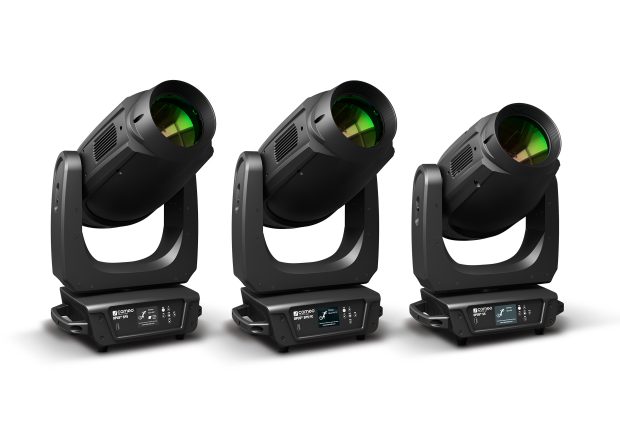 ZENIT W300 & B200
After the ZENIT W600 began creating looks for numerous outdoor projects, Cameo expanded its LED washlight series with the ZENIT W300 – a no less flexible IP65 washlight with 21x 15W RGBW LEDs providing a high luminous flux of 10,000 lumens and intense color mixtures. Of course, the ZENIT W300 is also equipped with the innovative Cameo SnapMag® technology, which is used to vary the fixed beam angle of 21° in seconds and without the use of tools via the optional SnapMag filter frames. In addition to RDM and DMX control, the ZENIT W300 also has an integrated 2.4 GHz W-DMX™ transceiver from Wireless Solution Sweden AB that provides convenient wireless control and master/slave operation.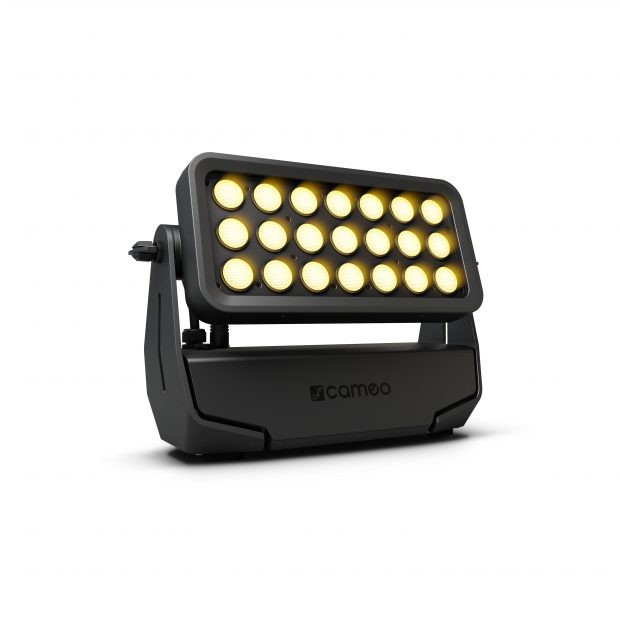 Furthermore, Cameo is presenting the battery-operated B200 LED outdoor washlight. With its 21 x 15 W RGBW Cree LEDs that provide a luminous flux of 6,600 lm, the B200 is the highest performing battery-operated outdoor washlight of its class and boasts a particularly homogeneous color mixing.
F Series
The new F series from Cameo starts with three extremely powerful LED fresnel spotlights. Both the F2 D (Daylight, 5,400 K) as well as the F2 T (Tungsten, 3,200 K) provide natural color reproduction with a high CRI value of 96 or TLCI of 97, and are the perfect replacement for standard 1 kW Fresnel spotlights in theaters and photo studios or on film sets. The F2 FC (RGBW, 1,600 K to 6,500 K, infinitely variable) has proven itself to lighting designers with its CRI>90 over the entire spectrum, green-magenta correction, and 50 color macros synchronized with the LEE color filters. The Cameo F series fresnel spotlights are complemented by a continuous zoom of 15° to 40° (F2 D & F2 T) or 18° to 55° (F2 FC), four selectable 16-Bit dimmer curves with configurable response, as well as the provided 8x barndoor and gel frame.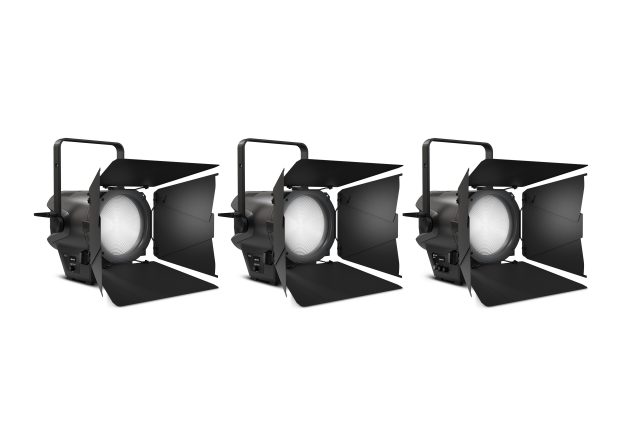 The new Cameo image video "For Lumen Beings" is celebrating its world premiere at the Prolight + Sound in Frankfurt and will be shown hourly at the Adam Hall Group booth (Hall 8.0, F28/F30).
#PLS2019 #ForLumenBeings #LumenBeing #LightDesign #LightDesigners #StageLighting #ProLighting #EventTech
Click here to download the Press Package (Press release in Word format in 6 languages + pictures)!
More information:
forlumenbeings.com
cameolight.com
event.tech
adamhall.com
blog.adamhall.com