Adam Hall Group Event Technology Provides Party Mood on the BigCityBeats Airbus A320 Club Jet
Around 100 selected clubbers travelled on the world's largest and most exclusive private club jet from London via Munich to Frankfurt's BigCityBeats WORLD CLUB DOME. High above the clouds, Adam Hall Group event technology helped to create the party mood.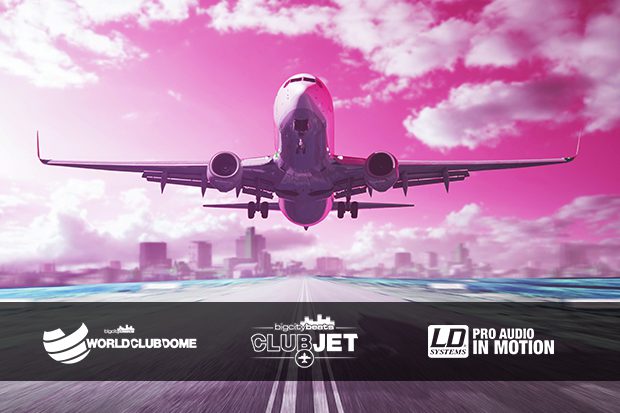 While flying to WORLD CLUB DOME at 12,000 metres, DJs Curbi (aka Tobias Paul Cirven-Bingley) and Alle Farben (aka DJ Frans Zimmer) performed in two DJ areas on the Airbus A320 Club Jet that had been specially converted by BigCityBeats. Four white MAUI 5 GO sound systems from LD Systems provided deep bass and crystal clear sounds for the world's most luxurious flight club. A pair of the ultra-portable battery-powered column PA systems on each floor of the highly exclusive private jet created a wild atmosphere and delivered a selection of beats from Curbi and Alle Farben. The DJs' controllers were placed securely on Gravity keyboard stands with double X supports. Each DJ used an LD Systems Road Buddy 6 battery-powered Bluetooth speaker for monitoring. To prevent any potential tripping hazards from the Adam Hall cables used on the Airbus, they were placed in non-slip, ultra-thin Defender Office grey cable channels.
On-board power supply unstressed
As a service provider for the complex power supply on the WORLD CLUB DOME, Andreas Nauheimer, Managing Director of The Power Company, knows what's watt when it comes to power! "Because the power supply for DJ sound systems is critical on the Airbus A320 Club Jet, we searched for suitable battery-operated products and discovered them from LD Systems," says Nauheimer. "The PA systems performed excellently, even when pushed to extremes."
Above all, the great advantage of the LD Systems components, in addition to the easy set-up and dismantling, was the independent power supply of the four MAUI column systems and the two Roadbuddys with their powerful batteries. In this way, the on-board electrical power supply of the Airbus A320 Club Jet was not stressed, and passengers could enjoy their favourite DJs uninterrupted.
Practical bags and matching protective covers for the MAUI systems also ensured that the installation team was also delighted with the supplied event technology.
Defender cable protectors at WORLD CLUB DOME
The travelling clubbers came in to land at Frankfurt airport and continued their party. From 1 to 3 June, the "biggest club in the world" could be found for the 6th time in the Commerzbank Arena. 160,000 visitors celebrated the largest and most international WORLD CLUB DOME with the theme "The Hollywood Edition". Over 200 DJs performed on over 20 stages, the main stage alone utilising a sound system of over 1.8 million watts. 500 heavy-duty, non-slip Defender cable protectors provided professional cable protection throughout the event area.
The following equipment was used on the Airbus A320:
4 x LD Systems MAUI 5GO W
2 x LD Systems ROADBUDDY (monitoring)
4 x LD Systems MAUI 5 SAT BAG transport bags
4 x LD Systems MAUI 5 SUB PC subwoofer covers
4 x Adam Hall Cables K3 MMF 0300
2 x Gravity KSX 2 W keyboard stands
4 x Defender Office grey cable channels
The following equipment was used at the WORLD CLUB DOME:
500 x Adam Hall 85200 Defender mini cable protectors
Further information:
www.thepowercompany.de
www.ld-systems.com
www.gravitystands.com