LD Systems CURV 500 Installation in the Church Chapel of Diakonissenkrankenhaus Mannheim
Diakonissenkrankenhaus (Deaconess Hospital) in the south of Mannheim provides its patients with modern, innovative healthcare based on a wide spectrum of medical services. The hospital's range of services includes a Christian chapel, where weekly services and masses are held and streamed to hospital rooms via the in-house church channel. Since February 2018, the hospital chapel has had a new PA system that was installed by the service provider MMD Veranstaltungstechnik and which features a CURV 500 array system from LD Systems.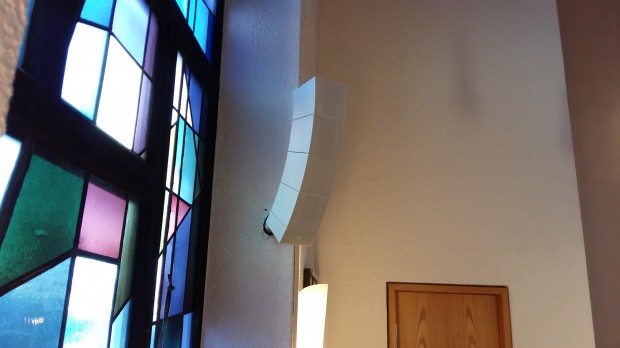 Modern Array PA
For a long time, a rudimentary PA solution was provided by two conventional 12" full-range speakers that were simply placed on the side window sills without any integration into the surroundings. To provide professional sound for the approximately 200 m2 chapel, MMD's impressive bid for the public tender featured a CURV 500 set, comprising two fixed arrays, each with four CURV 500 S2 F array satellites per side, powered and equalised by a CURV 500 iAMP 4-channel class-D installation amplifier. So as not to detract from church services and prayers, the two modest white arrays were discreetly installed using CURV 500 WMB wall-mounting brackets in the corners by the chapel window.
The choice of the compact CURV 500 array speakers was based on specifications provided by Diakonissenkrankenhaus Mannheim GmbH, which demanded excellent speech intelligibility, simple operation and compatibility with the acoustics of the chapel. "Using the two quad arrays, we have achieved consistent sound dispersion throughout most of the room," explains Manuel Dietenhöfer, Managing Director of MMD Veranstaltungstechnik. "Horizontal dispersion is 110° and is limited vertically to 10° per satellite to reduce reflections from ceilings and floors."
Simple Adjustment to Room Acoustics via DSP Presets
To make operation by staff on site as convenient and easy as possible, a variety of pre-configured DSP presets can be selected on the CURV 500 iAMP amplifier. "In this way, adjusting the system to suit the room acoustics is extremely simple, even for a layperson," says Dietenhöfer. The comprehensive DSP control with parametric EQ and delay allowed MMD to make all the necessary acoustic adjustments directly on the CURV500 iAMP. In this way, the tone controls on the installed rack mixer can remain flat at all times. An LD Systems CDMP 1 multi-media player with a wide range of connection options provides playback for worship music.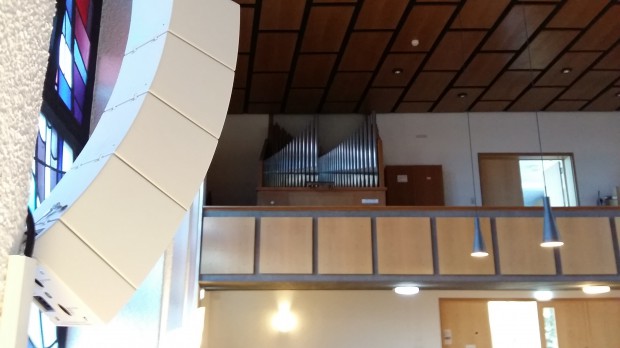 The following Equipment is in Use at Diakonissenkrankenhaus Mannheim:
8x LD Systems CURV 500 S2 W array satellites
2x LD Systems CURV 500 SLA W Smartlink adapters
2x LD Systems CURV 500 WMB W wall brackets
1x LD Systems CURV 500 iAMP class-D installation power amplifier
1x LD Systems CDMP 1 multi-media player
Further Information:
ld-systems.com
ld-systems.com/curv500-serie
mmdveranstaltungstechnik.de