Sound for the Palace – LD Systems at the W Budapest Hotel
151 rooms in the historic Drechsler Palace, directly on the famous Andrássy Avenue shopping boulevard – since the opening of the W Budapest in the summer of 2023, the Hungarian capital has a new hotel highlight in the luxury segment. After an extensive restoration phase, the 5-star hotel of the Marriott chain delights with its mix of historical elements and modern design. To welcome the guests of the W Budapest with appropriate and versatile audio that can do more than just background music, the contracted integrator ComplexIT relied on a combination of CURV 500 portable array systems and active subwoofers from the MAUI G3 series.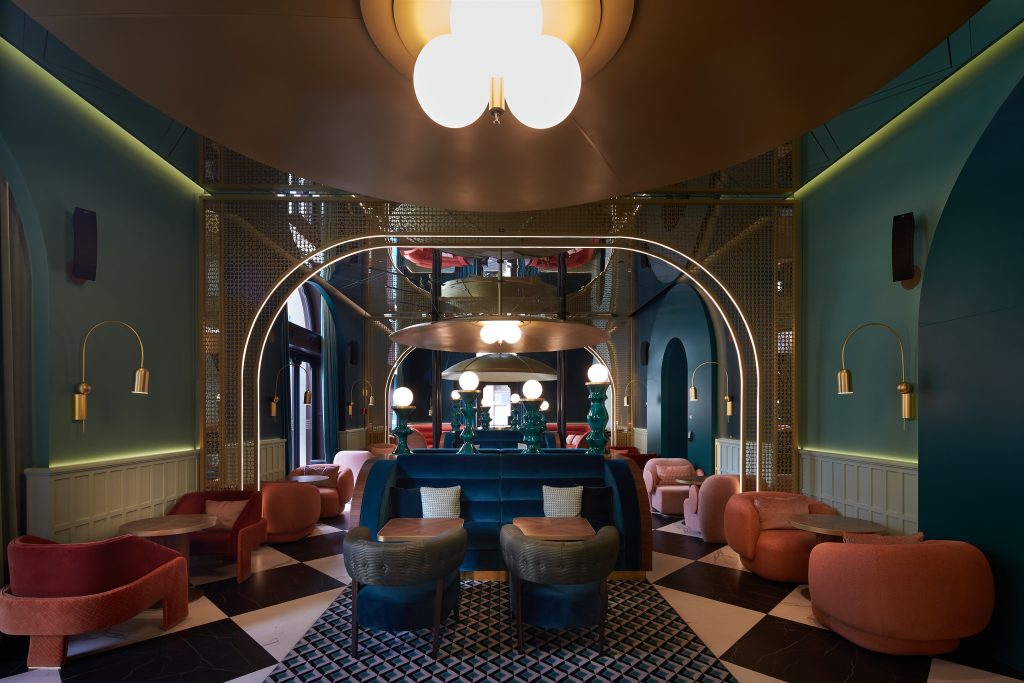 The original setup for the open W Lounge on the ground floor and the exclusive Society25 Bar in the basement envisaged a pure background sound system in lounge style.
"The CURV 500 arrays cover all the important requirements for this application: they are compact, good-looking, have a great sound and – for their size – an impressive sound pressure level,"

explains József Gégény, ComplexIT.
New requirements
It was only during the ongoing installation that the client's requirements changed: Now the sound reinforcement system in both areas also needed to be suitable for small club-style events – and utilise the existing loudspeaker arrangement and 100 V infrastructure. "Due to the 100 V cabling and the small cable diameters of 1.5 mm2 and 2.5 mm2, we could only add active subwoofers. In addition, there were space restrictions for mounting, so we had to find a model that was a maximum of 32 cm wide." The final choice was the MAUI 11 G3 SUB 2×8″subwoofers (width: 30.5 cm), which enabled ComplexIT to provide club-quality sound despite the limited space.
"We used the CURV 500 and MAUI 11 G3 SUBs for the first time for this project and are thrilled with the sound quality and flexibility. The hotel management of the W Budapest is also completely satisfied with our solution."

József Gégény, ComplexIT
Successful duo
For the large, open W Lounge, ComplexIT installed a total of 16 arrays, each consisting of two CURV 500 S2 Array Satellites and a CURV 500 SLA T 70/100V SmartLink adapter on a CURV 500 WM B wall-mount bracket, complemented by four MAUI 11 G3 SUBs. At Society25, eight arrays with identical configurations and two MAUI 11 G3 SUBs provide the intimate atmosphere of the speakeasy bar. The CURV 500 systems are powered by a single Powersoft DSP amplifier with a custom preset for the CURV 500. The audio system is controlled via a Crestron software solution in conjunction with Apple iPads for mobile access.
The following LD Systems products are used at the W Budapest:
48 x LD Systems CURV 500 S2 Array Satellites
24x LD Systems CURV 500 SLA T 70/100V SmartLink adapter
24x LD Systems CURV 500 WM B wall mount bracket
06x LD Systems MAUI 11 G3 SUB active 2×8″ subwoofer
#LDSystems #YourSoundOurMission #EventTech #ExperienceEventTechnology
Further information:
marriott.de/w-budapest
complexit.hu
ld-systems.com
adamhall.com
blog.adamhall.com