Perfect conditions – Music Store relies on the Palmer Grand Audition MKII in the PA department
Music Store Professional in Cologne, Germany, is one of the largest specialist shops for musical instruments and equipment in the world. It offers musicians and music enthusiasts everything they need live on stage, in the studio or at home. Music Store also includes Europe's largest PA test hall, where customers can listen to and compare loudspeakers under realistic conditions. In order to demonstrate the loudspeakers in optimal reproduction quality and as neutrally as possible one after the other, the PA department at Music Store has recently started using a total of six Palmer Grand Audition MKII units. These 24-channel switching systems for loudspeakers not only guarantee professional sound neutrality based on completely analogue signal routing, but are also distinguished by their convenient operation.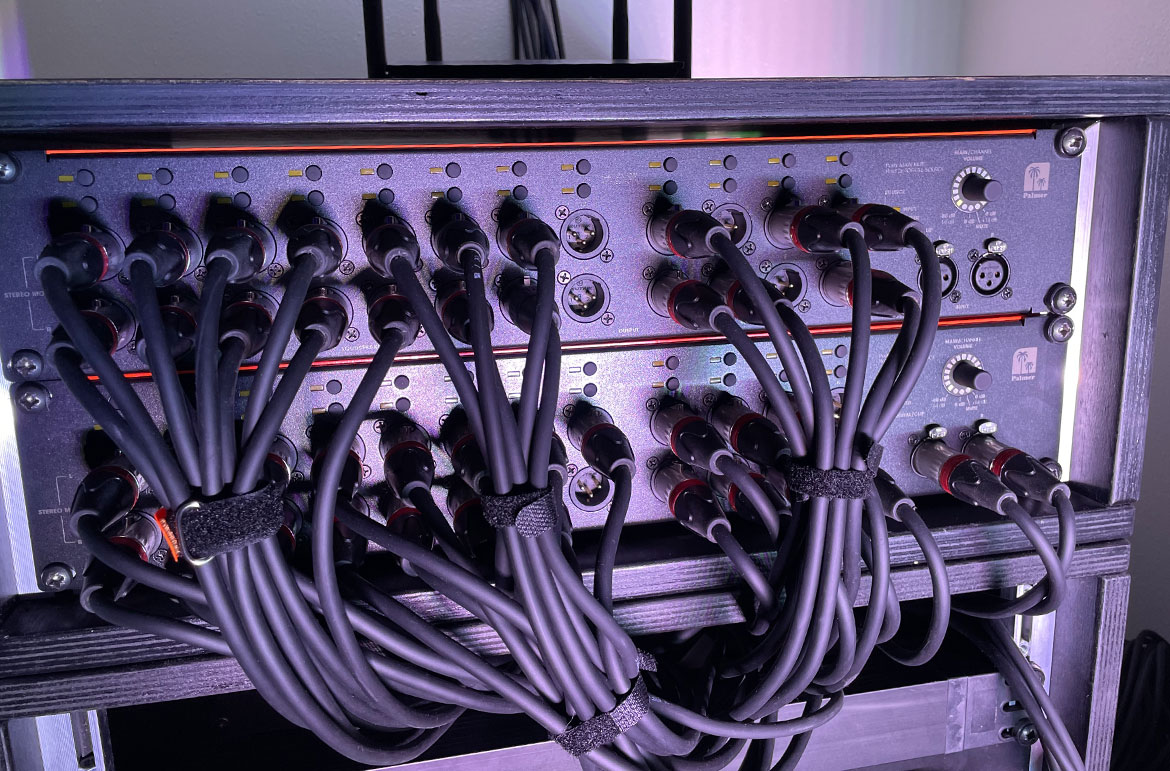 The six Palmer Grand Audition MKII units at Music Store are distributed over three areas, each with two switching systems. This double arrangement is possible by simply cascading up to three units. On one loudspeaker wall, Music Store customers can listen to and compare various top speakers and subwoofers up to a retail price of €1,000. The second wall concerns the price range above €1,000. The third section is all about column systems, installation speakers, and floor monitors.
"Never before have we had a switching system at Music Store that works so reliably and is so easy to operate," confirms Marvin Valder, PA department manager. "It makes us independent of computer systems with time-consuming boot-ups and potential crashes."
The Grand Audition MKII offers balanced connections for 16 individual speakers, or eight speaker pairs, and up to eight subwoofers on two height units in 19" format. Depending on the application, the outputs can be switched individually or as stereo pairs.
Wireless control with a tablet
The Grand Audition MKIIs are controlled wirelessly via tablet using browser-based software that runs independently of the hardware's operating system. In addition to switching, this gives Marvin Valder and his team access to all the functions of the integrated USB media player, which is used as the playback medium for the reference tracks. If customers want to listen to their own music, it can be played back via a USB stick in WAV, AIF, FLAC, MP3 or OGG formats. Of course, playback is also possible via the existing stereo XLR line inputs on the front or rear of the Grand Audition MKII.
Now that the Music Store PA department is fully convinced of the Grand Audition MKII's capabilities, the studio department will soon follow suit: two Palmer switching systems will soon ensure that customers in the store can also compare high-end studio monitors under perfect conditions.
The following products are used at Music Store:
#PalmerGermany #BeTrueToYourSound #PalmerAudioTools #EventTech #ExperienceEventTechnology
---
More information:
musicstore.de
palmer-germany.com
adamhall.com