LD Systems at Prolight + Sound 2022: Under the sign of MAILA
For LD Systems, this year's Prolight + Sound from April 26 to 29 will be all about one single product: MAILA! The "Modular All-Round Intelligent Line Array" will occupy the entire LD Systems booth (located at Hall 11.0 #A21) at the show, and marks the next milestone in the LD Systems brand history. MAILA is not just a product – it is a scalable sound reinforcement system that sets new standards in user-friendliness and flexibility in the professional rental market.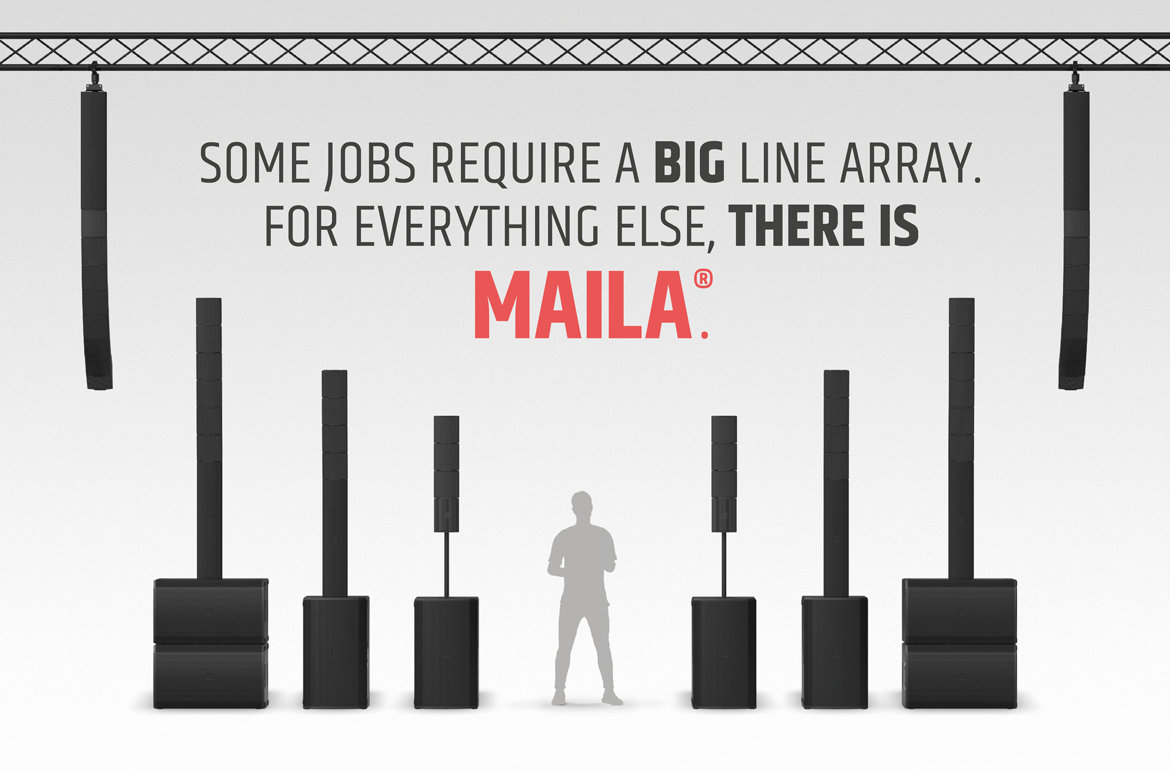 MAILA combines the best concepts of sound reinforcement technology in one system. The basis is formed by four basic elements: the MAILA SAT satellite module, the MAILA COL column module, the MAILA SPA amplifier module, and the MAILA SUB subwoofer. With these elements, MAILA enables scalable, unrivalled flexible system configurations for a wide range of sound reinforcement applications. This extends from precise stereo speech reinforcement without subwoofers, to larger conferences and club gigs, to flown line array systems for professional live sound reinforcement at festivals with variable subwoofer arrangements on the ground.
In addition to the system flexibility, MAILA impresses all round with its sophisticated features and technologies that noticeably simplify the life of every sound engineer. SmartLink+®, for example, enables wireless connection (power + signal) as well as automatic detection of the individual modules via robust aluminium rails, while the invisible LogoLink® antennas offer wireless connection with ranges of up to 30 metres under practical conditions. Using the free MAILA App (iPad OS), each MAILA system can also be configured quickly, easily and in detail – including the calculation of SAT angles and wireless system updates.
With the patented EasySplay® mechanism, MAILA takes user-friendliness in the line array sector to a whole new level. This revolutionary mechanism allows users to adjust the tilt of each satellite almost infinitely between 0° and 8°. The angle can be adjusted with just one hand via a rotary handle, even under load. In this way, every MAILA system offers an innovative and uniquely flexible concept for adapting the sound coverage to any sound reinforcement situation at any time. The result is a large, scalable sound for almost any application.
The MAILA system is built around four basic elements:
MAILA SAT
The MAILA SAT satellite speaker – which comes in a unibody aluminium enclosure – is a genuine line array element and houses five 1" tweeters in front of a 6.5" midrange driver, arranged in coaxial design based on Advanced WaveAhead® technology. Via the SonicGuide® (two combined waveguides), the speakers in the MAILA SAT are brought together with virtually no interference. The result is a classic line array dispersion pattern with impressive throw and energy density. On the rear side of the housing of each MAILA SAT is the rotating handle for the EasySplay® mechanism.
MAILA COL
The MAILA COL full-range column module, with its four 6.5" active woofers, doesn't just provide an extended low-mid range – it also includes a 4-channel DSP amplifier with 2.5 kW of total power, which drives both the column itself and the MAILA SAT satellites. In this way, MAILA sets with a column module can be used as a ground stack variant or as a flown array consisting of MAILA COL and up to eight MAILA SAT units – particularly useful for festivals and fixed installations. On the ground, the use of MAILA COL provides a further advantage: the interposed column module allows ground stack sound reinforcement to be implemented that is significantly higher (up to 3.2 metres) than conventional systems and, with its greater throw, enables uniform sound coverage even in the far field.
MAILA SPA
MAILA SPA is the only MAILA module without integrated loudspeakers – and yet it is an integral part of the MAILA concept. MAILA SPA is an amplifier module in an elegant unibody aluminium design. It features an integrated 1.25 kW power amplifier with SysCore® DSP for driving up to eight MAILA SAT satellites. Via the SmartLink+® system, the satellites can be easily plugged in and wirelessly supplied with audio and power. In addition, the SmartLink+® technology allows independent determination of the installed satellites for optional automatic or manual DSP processing. As with the MAILA COL column module, MAILA SPA allows users to implement ground stack configurations with a spacer rod (included in the MAILA S set), as well as flown systems with the EasyMount+® mounting adapter.
EasyMount+® Mounting Adapter
MAILA SUB
MAILA SUB forms the basis of every MAILA system. This 2.5 kW double 15" high-performance subwoofer is a bandpass design and delivers a massive and powerful bass foundation in any application with its SysCore® DSP. The acoustic concept of the MAILA SUB is based on a planar wave bandpass design with quarter wave horn and symmetrical driver design. Due to the opposing arrangement of the two 15" loudspeakers, the MAILA SUB allows for exceptional impulse compensation, resulting in powerful and precise low frequency output.
MAILA – The sets
LD Systems offers MAILA in five sets, each with customised basic configurations and accessories: MAILA S, MAILA M, MAILA L, MAILA XL and MAILA XXL. While the smallest MAILA system (in the SMALL configuration) already delivers an extremely powerful, active full-range stereo system with 7.5 kW of total power, the large, flown MAILA XL and MAILA XXL systems will easily cover clubs, large conferences or halls, as well as medium-sized festivals. Some jobs require a big line array. For everything else, there's MAILA.
"Let's face it: until now, no one in the professional rental market had LD Systems on their radar. Now, MAILA is here, offering a flexibility and ease of use that has never been seen before. I am absolutely convinced that MAILA will establish itself worldwide as the ideal complement to large, bulky line array systems."

Baptiste Languille, Senior Global Brand Marketing Manager LD Systems
"Finally, the cat is out of the bag! MAILA is starting to make history. MAILA is a system that you have to see, hear and touch to realise the full added value. That's why we cordially invite anyone and everyone who is interested to come to us in Neu-Anspach for a detailed demo, to see for themselves, and to meet the LD Systems development team."

Viktor Wiesner, Senior Product Manager, Pro Audio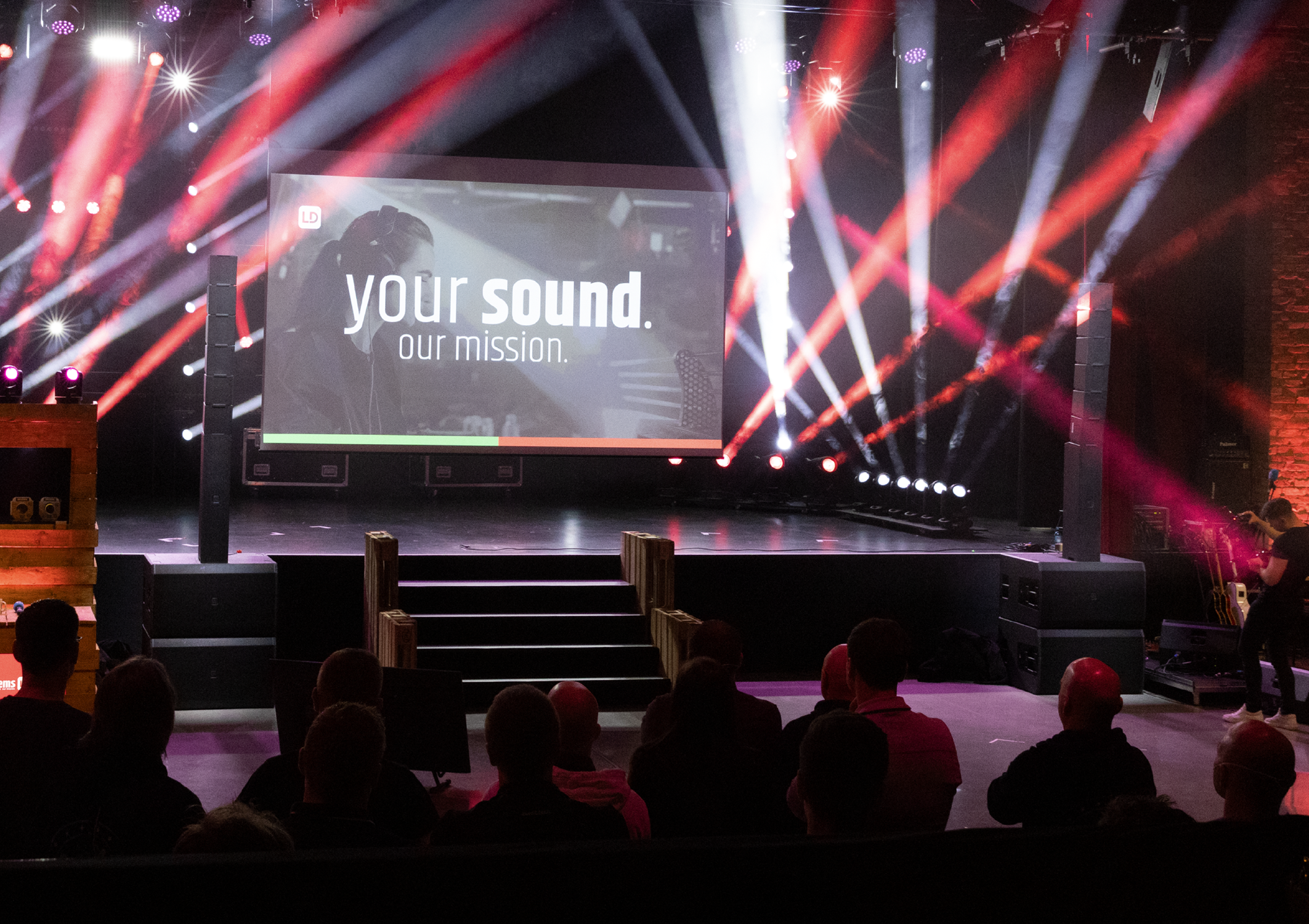 LD Systems at Prolight + Sound 2022:
Visit us in Hall 11.0, Booth #A21!
#LDSystems #YourSoundOurMission #ProAudio #EventTech #ExperienceEventTech
---
More information:
ld-systems.com/MAILA
adamhall.com