Business development in turbulent times
The COVID-19 pandemic has turned our working world upside down. The event industry is a people business, and is defined by the coming together of people – whether at a concert, a trade fair, or in a meeting with partners and clients. Probably no other employee at Adam Hall Group has experienced this change more intensively than Alessio Foti.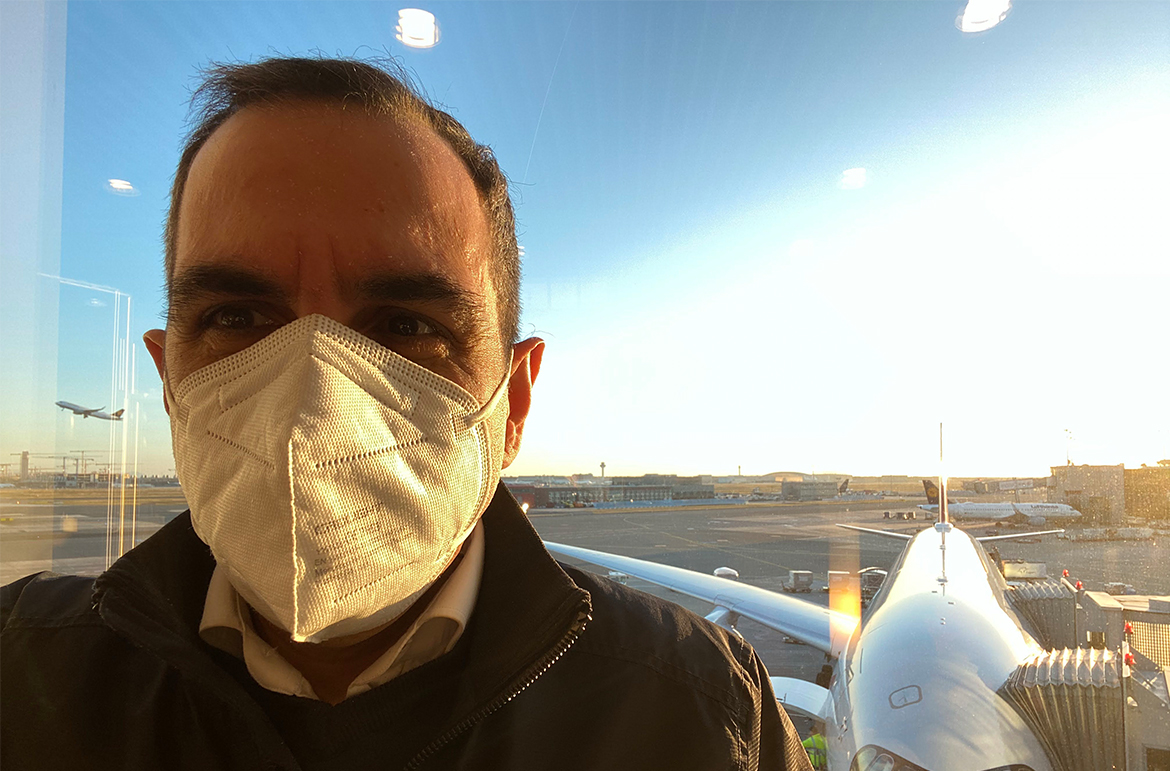 Our Global Business Development Manager is probably what you would call a "citizen of the world" – at home everywhere, extremely sociable, and constantly on the move across all of the continents. A typical week for him might look like this: in South Africa one day to attend the first LD Systems DQOR installation on the African continent, Alessio travels the very next day to South Korea to hold talks with new sales partners for the increasingly important Korean market. Two days later, Alessio is already in Erbil to talk to a customer from the installation market about the special project circumstances in Iraq.
On these myriad trips Alessio makes, strategically important international partnerships have been formed – and friendships have grown over the years too. But, as we all know, at the beginning of 2020 these business relationships and friendships were confronted with a completely new situation…
For Alessio, there is nothing more exciting than exploring regional markets and discovering interesting new business fields:
From left to right: Alessio Foti with Oriental Sound (Iraq), the Adam Hall Group Business Development Team, Alessio Foti with Sonic Value (Korea)
But how do you engage in business development when the world closes its doors? How do you analyse markets that are shutting down? And how do you meet partners when distance is the key imperative? We talked to Alessio about just that.
Alessio, where are you right now, and what is it like to travel currently?
Alessio Foti: I'm currently at home and planning my next customer visits. Omicron is shaking everything up. Of course, many countries are gradually opening their borders, but the risks remain the same or are even increasing: the high number of cases worldwide increases the risk of contracting the disease and having to be quarantined or isolated in a country.
What did you do to distract yourself when you couldn't travel at all during the hard lockdowns? What are your hobbies?
Alessio Foti: I rekindled my passion for studying, and I studied international law cases and geopolitical issues. I know that doesn't sound like distraction and leisure to many, but I am fascinated by these topics. I've also used the time to do more sports again and now and then – when my son allowed it – put on some music at home and honed my record scratching skills…
Which countries and regions have you not visited for far too long?
Alessio Foti: Oh, there are a few. China, Korea, Japan. Singapore is gradually opening up again, which makes me very happy. Australia has also moved away from its strict ban on entry. I'm looking forward to visiting our distributors again after a long time, because they've done a really great job for the respective brands. I can't wait to get my own personal impression of this drive on the ground and in person!
In Malaysia, we will soon be planning an event together with our distributor there and my colleague Glenn Lin (Adam Hall Business Development Asia Pacific), which will be attended by many integrators, lighting designers and dealers from the region.
There has also been a lot going on for Adam Hall in Africa. Unfortunately, the way we travel – short trips of a few days – is extremely risky. Regulations vary by country, so even passing through can result in a 14-day entry ban in a neighbouring country. Since no one can predict how Omicron and the new variant will develop, I have postponed my meetings with our African partners until summer. Until then, we are supporting them with online product training and discussing in joint meetings how we can strengthen the business locally again.
Bezogen auf Adam Hall und die Eventbranche: In welchen Ländern siehst du die größten Fortschritte? Welche Regionen haben dich beeindruckt?
Alessio Foti: During the pandemic and the various lockdowns, it was really interesting to see how individual countries performed. For example, Australia, which was completely locked down for almost the entire time. There was a big increase in LD Systems and Gravity sales. Cameo performed strongly in the US and Korea. The South and Central American market was dormant for a long time, but now the growth curve is clearly pointing upwards. Our sales partners have done a great job here, and contact has never broken down. That's why the new start wasn't a jolt for us, but an organic transition. This also applies to the Middle East.

In addition, I will soon be visiting Dubai, which has now finally become the centre of the Middle East and is experiencing a phase of enormous economic and social expansion. There is simply massive construction going on here right now.
Despite all the restrictions on travel and personal contact with clients, is there anything you wouldn't want to miss after two years of virtual meetings?
Alessio Foti: Of course, over time you get used to the fast and regular communication with distributors and customers – with just one click you can talk face-to-face with anyone without having to get on a plane. I've already learned to appreciate this advantage. At the same time, I am no stranger to the phenomenon of "over-meetings". It is – and remains – something completely different to meet a person in real life.
What do you expect from the year 2022? In which areas do you see the greatest potential as a business development manager?
Alessio Foti: Alessio Foti: In general, you can see a huge hunger for events of all kinds everywhere. The year 2022 is not yet old and yet the demand for lighting and audio equipment is huge. I believe that live events will make an unprecedented comeback – comparable to the installation sector during the pandemic, which will continue to grow in the future. Unfortunately, the shortage of raw materials and global supply chain issues dampen the overall picture somewhat, but the trend points unwaveringly upwards. Regionally, I see the greatest potential in the Middle East, especially in the area of high-end AV installations. In Asia, too, our long-term commitment will pay off. Based on new sales structures, we can certainly become one of the big event technology providers here.
#AdamHallGroup #ExperienceEventTechnology #EventTech #PeopleBehindTheAdamHallGroup #BusinessDevelopment
---
Further information: