Aiming high – LD Systems & Cameo at the Jump Academy trampoline parks
Indoor trampoline parks are adventure playgrounds for young and old alike, inviting them to jump from one trampoline to the next in a playful way. Even the COVID 19 pandemic was only able to temporarily slow down the trampoline trend, as shown by several new parks opening in France in 2021. Besides the creative trampoline attractions, the "Jump Academy" venues in the French cities of Bayonne and Lescar have something else in common: lots of Cameo spotlights and sound systems from LD Systems that won't break down even under the toughest conditions.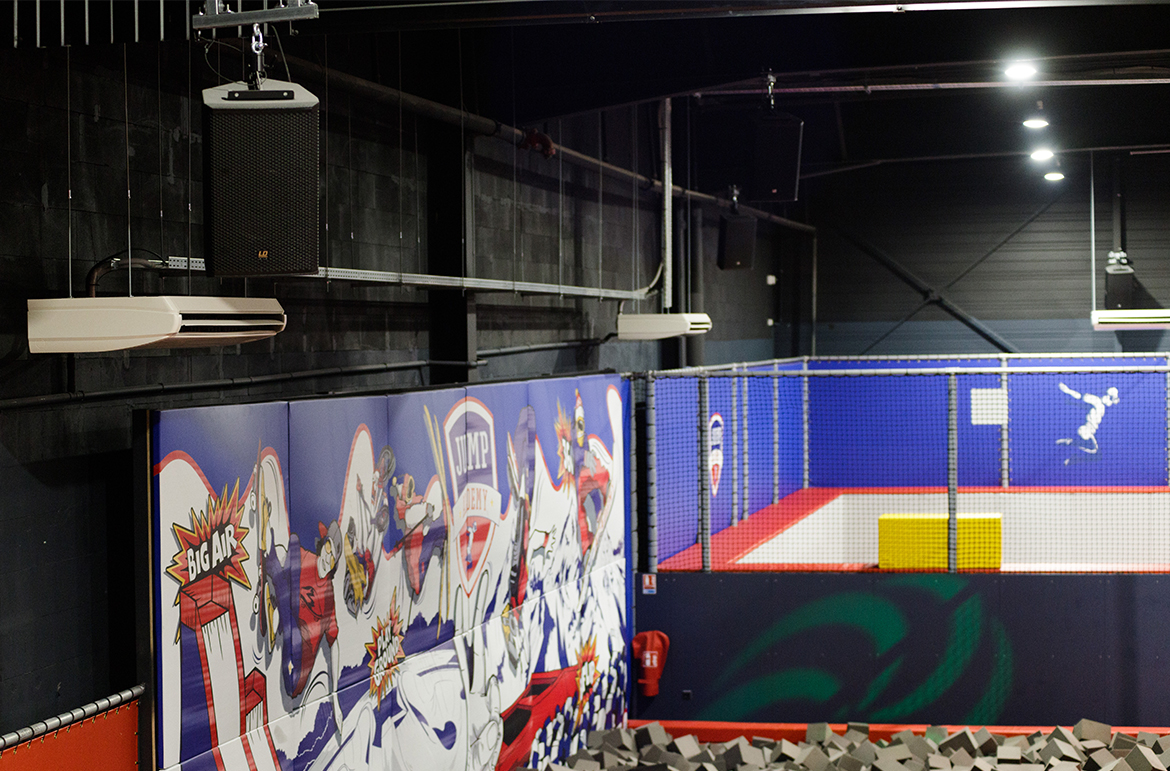 Sound system
For the "Jumping Academy" locations in Bayonne (approx. 1,500 m2) and Lescar (approx. 2,500 m2), system integrator AES ("Audio Equipments Spectacle") opted for an LD Systems STINGER sound reinforcement system consisting of passive STINGER 12 G3 full-range PA loudspeakers distributed throughout the hall via matching STINGER G3 TMB EasyMount truss mounts on small truss systems. AES was not only impressed with the handling of the TMB mounts, but also highlights the performance of the STINGER 12" systems:
"For a 12" speaker, the sound pressure is really exceptional, especially in the bass range."

Tony Vincent, AES
The sonic merits of the STINGER 12 G3s allowed AES to keep the installation as lean as possible, eliminating the need for separate subwoofers even in such a sprawling trampoline hall. The STINGER 12 G3 units are driven by two LD Systems DSP 45 K 4-channel DSP power amplifiers, which come factory-equipped with the appropriate DSP presets for the STINGER 12 G3.
Lighting
In each of the two Jumping Academy venues, 16 FLAT PRO 12 LED spotlights and 8 AURO SPOT 200 LED moving heads provide the lighting for the individual areas. In addition to dynamic gobo effects, the Cameo FLAT PRO Series shows its strengths as compact yet powerful spotlights for coloured area lighting.
The following products are used in the Jumping Arena trampoline parks:
#LDSystems #YourSoundOurMission #Cameo #ForLumenBeings #EventTech #ExperienceEventTech
---
Further information:
jumpacademy.fr
groupe-aes.fr
ld-systems.com
cameolight.com