Christmas for All – DEFENDER MIDI 5 2D secures pathways in the Christmas Garden Frankfurt
At a time when Christmas markets are being cancelled by the dozen, people yearn all the more for festive environments. In 2021, the Christmas Gardens will fill this gap at a total of nine locations in Germany as well as in eight other European cities. From mid-November 2021 to early January 2022, visitors can experience a variety of light and sound installations on circular routes in zoos, parks and botanical gardens. For those people whose eyes are anywhere but the floor and where they're walking during all the splendour of the lights, a particularly safe surface Is needed. This is where the DEFENDER cable protectors from the MINI and MIDI 5 2D Series come into play, providing a firm footing in the Christmas Garden Frankfurt.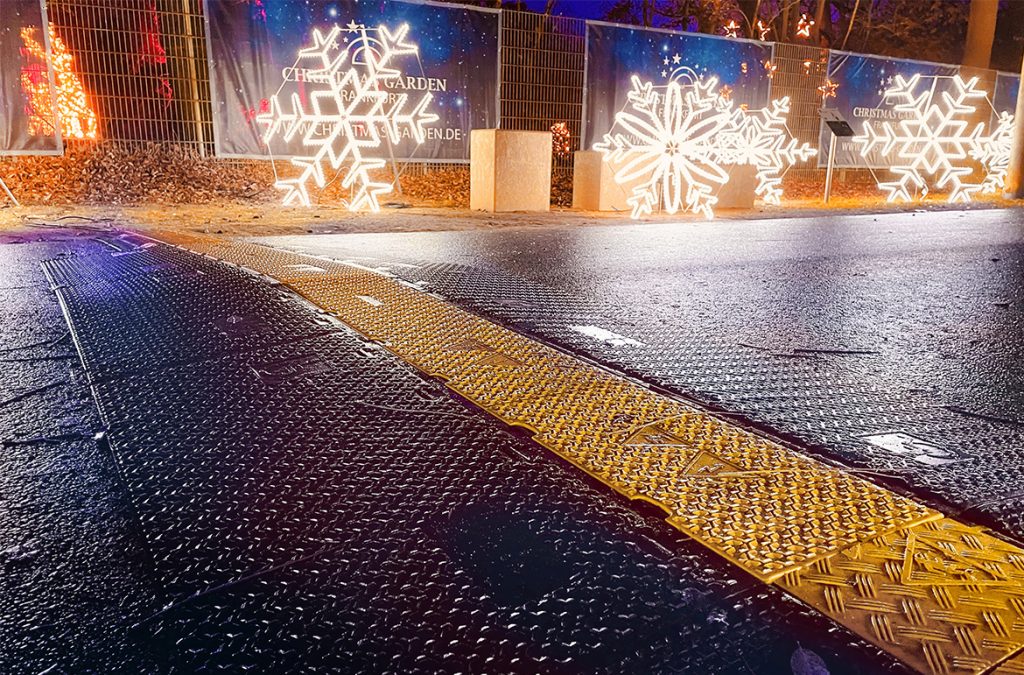 The team from The Power Company needed nine working days to install the mobile infrastructure at the Christmas Garden Frankfurt. The organisers paid special attention to accessibility in order to enable people who depend on a wheelchair to have a carefree visit.
For this purpose, The Power Company primarily relied on the modular MIDI 5 2D Series, which, with its particularly flat incline, ensures easy crossing with wheelchairs, while at the same time being stable enough to withstand heavy loads from motor vehicles. Thanks to the innovative DEFENDER 3D LaserGrip surface, with its special ergonomic design and non-slip structuring, the MIDI 5 2D Series also reduces the risk of accidentally moving the cable protectors.
At the centre of a line of cable protectors in the Christmas Garden Frankfurt sits the MIDI 5 2D middle section with five cable channels. This was laid both in one-metre lengths and as an HV variant in half-lengths to precisely match the dimensions of the paths. The MIDI 5 2D R module is used as a ramp. On the outer sides, where no wheelchair crossing is expected, the MIDI 5 2D modules were connected to normal MIDI 5 cable protectors via MIDI 5 2D adapters.
The following DEFENDER products are used at the Christmas Garden Frankfurt:
#DEFENDER #ProtectYourWorld #EventTech #ExperienceEventTechnology
---
Further information:
christmas-garden.de
thepowercompany.de
defender-protects.com
adamhall.com
event.tech