Problem solver: LD Systems CURV® 500 at the Arts & Design Faculty in Timisoara, Romania
Good design takes on everyday problems and solves them with new approaches and efficient concepts. The Faculty of Art and Design at the West University in Timisoara, Romania, was also confronted with this challenge – but had to resort to specialists from outside the field to solve the problem for once. Presentations, award ceremonies, small concerts and events regularly take place in the faculty's converted attic. Unfortunately, the large room – with its old wooden beams and high, pointed roof – doesn't just stand out for its works of art and design, but also for its room acoustics, which are difficult to tame. This was a special challenge – and one which almost seems like it was tailor-made for the specialists from Media Crusher Srl to take on with the LD Systems CURV® 500 Portable Array System.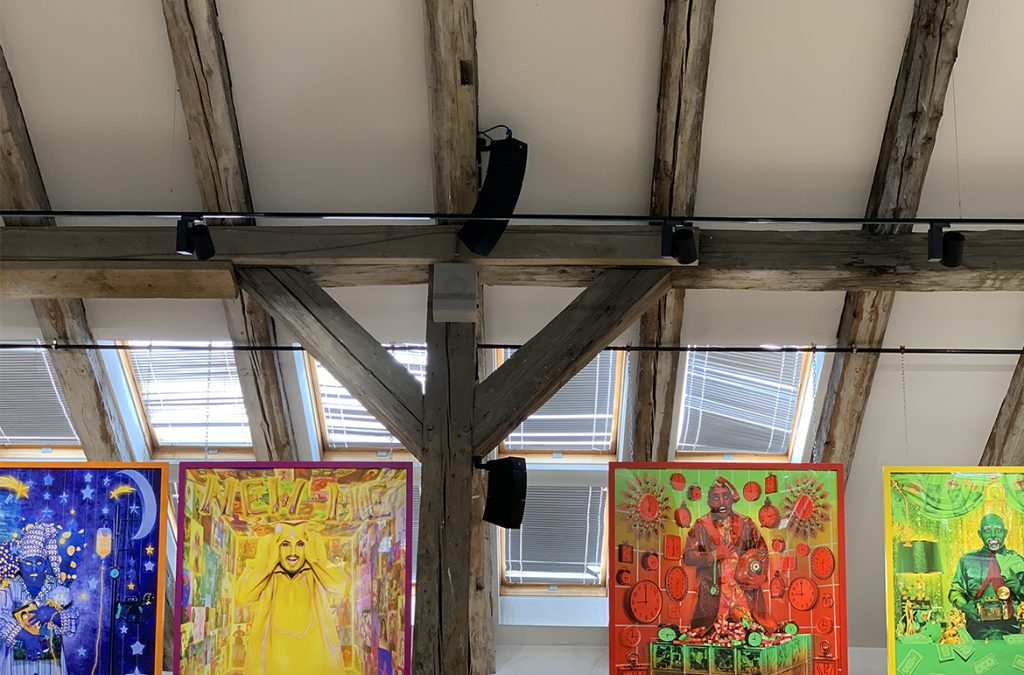 "The faculty wanted a sound system that was as versatile as possible, and that also worked for concerts and events," explains Lucian Băbuț from Media Crusher Srl. "So, we put together a CURV 500 system and presented it to them on-site. The decision was made in less than 20 minutes." For Băbuț, the CURV 500 doesn't just score big with its performance and flexibility, but also with its compact design. "Everyone knows the big line arrays at concerts. On this basis, you can quickly convince customers that the advantages of this technology also apply on a small scale. The combination of sound pressure and visual discretion is always a wow factor for clients."
In total, Media Crusher Srl installed 24 array satellites on the wooden beams of the loft, divided into eight arrays. In order to be able to cover the space evenly during special public events – for example, a planned fashion show with a 15-metre catwalk – two delay lines were set up, each consisting of two array satellites, and the whole system was simulated in EASE beforehand. "The delay lines allow the audience to be distributed throughout the hall without any loss of sound," says Băbuț. The pressure in the low-frequency range is provided by four LD Systems I SUB 10" installation subwoofers, which were firmly mounted on the side of the venue's front wall via the supplied wall bracket. The complete system is driven by two I AMP 4-channel installation power amplifiers.
For Lucian Băbuț, the LD Systems CURV 500 is the first choice when it comes to providing consistent sound for presentation areas, catering or churches – even if the rooms have many reflective surfaces with almost no dampening:
"In our experience, the CURV 500 delivers great sound, even under difficult conditions, for both speech and music."

Lucian Băbuț, Media Crusher Srl
The following products are used in the Arts & Design Faculty at West University:
#LDSystems #YourSoundOurMission #EventTech #ExperienceEventTechnology
---
Further information:
arte.uvt.ro
soundcreation.ro

ld-systems.com
adamhall.com
event.tech