White Light in Motion – Cameo OPUS X Profile and F4 FC Light Up German Environmental Award 2021
On October 10 2021, the Darmstadtium Wissenschafts- und Kongresszentrum in Darmstadt, Germany, hosted the presentation of the German Environmental Award 2021. The organisers could not have chosen a better location, as the Darmstadtium building, which was opened in 2007, is itself an award-winning example of sustainability, energy and resource efficiency. As in previous years, L&S GmbH & Co. KG Veranstaltungs- und Messetechnik was the general contractor and was responsible for event technology at the ceremony. And, for the first time, the company used Cameo OPUS X Profile and F4 FC spotlights for the job.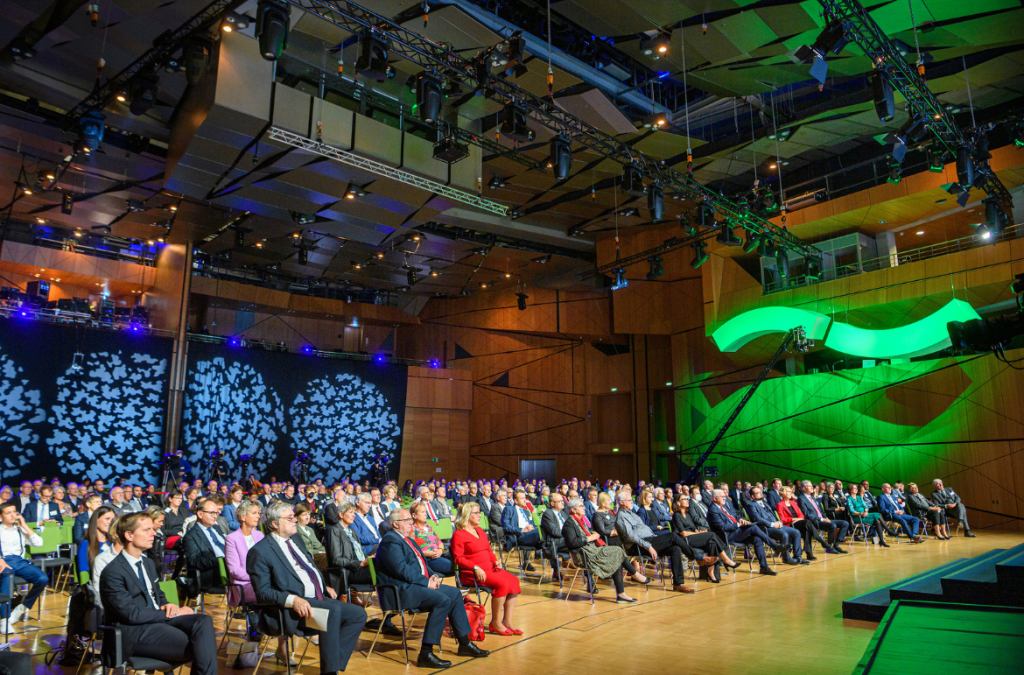 Due to the pandemic, the presentation of the German Environmental Award 2021 took place in the form of a hybrid event, with a greatly reduced audience in the hall and an accompanying online livestream. L&S delivered a truly impressive "Green Event" concept for the ceremony, which had a Europe-wide reach.
"The entire event is sustainable. We generate hardly any waste; we designed stage structures that are completely reusable yet are still adaptable. The logistics, catering and travel concept for guests is also geared towards sustainability. The same goes for the energy-saving LED wall and the lighting."

Tobias Berghaus, Managing Partner at L&S
General service provider L&S and lighting designer Christian "Rocketchris" Glatthor naturally avoided using any incandescent halogen lamps in the hall – without experiencing any disadvantages. "Until a few years ago, LED white light was a 'hot potato' for camera applications," says Tobias Berghaus. "Over the years, we have had many positive and negative experiences with different spotlights and their respective limitations. However, the new generation of spotlights has contributed a great deal to making LED-based camera white light the new standard. There is also no longer any reason to avoid LED light when it comes to costs."
"The special thing this year is that static white light is not being used for stage lighting. In this area, we are using moving lights for everything," adds Christian Glatthor. This task is performed by Cameo OPUS X Profiles, which are used both for camera white light at the individual stage positions and also as effect lighting. "In the past, we had difficulty in generating sufficient brightness with static light, not least due to the LED wall in the stage background, which we inevitably have to compete against with the light," says Glatthor. Furthermore, 16 Cameo F4 FC RGBW LED Fresnel spotlights ensured a warm and soft brightening light (4,000 K) in the front rows of the audience, which included the prize winners, the Federal President of Germany, and members of the German Federal Environmental Foundation.
When lighting a TV or hybrid event, the major challenge is to satisfy both the audience in the hall and the viewers who see the camera images. For Christian Glatthor, the main advantage of LED multi-level lenses, such as the F4 FC, is the straightforward intensity control: "With a halogen multi-level lens, the light will eventually turn red when dimming down," he says. "This does not happen with LEDs. When I need things to get darker, I can simply readjust the colour temperature with great accuracy."
For Christian Glatthor, the sustainability aspect in event technology is also becoming increasingly important in all areas:
"The need to be 'green' is becoming increasingly evident. In the Association of Lighting Designers and Lighting and Media Operators in Event Management, we are also addressing this topic and are asking ourselves how we can work in a more efficient and greener way on events and tours."

Christian Glatthor
According to Glatthor, this not only concerns the switch from halogen and gas discharge lamps to LED, but also many other aspects of an event – aspects to which the award-winning scientists and researchers of the German Environmental Award also make their contribution every year.
German Environmental Award
The German Environmental Award is remunerated with a prize fund of €500,000 and is awarded to people whose innovative products, technical process improvements, successful research results or life achievements are characterised by sustainable environmental protection. This year, Federal President Frank-Walter Steinmeier presented the prize to Prof. Dr. Katrin Böhning-Gaese for her cutting-edge research on the importance of biodiversity for planets and people, as well as to Prof. Dr. Dr. h. c. Hans Joosten for his decades of scientific work on bogs as climate protectors.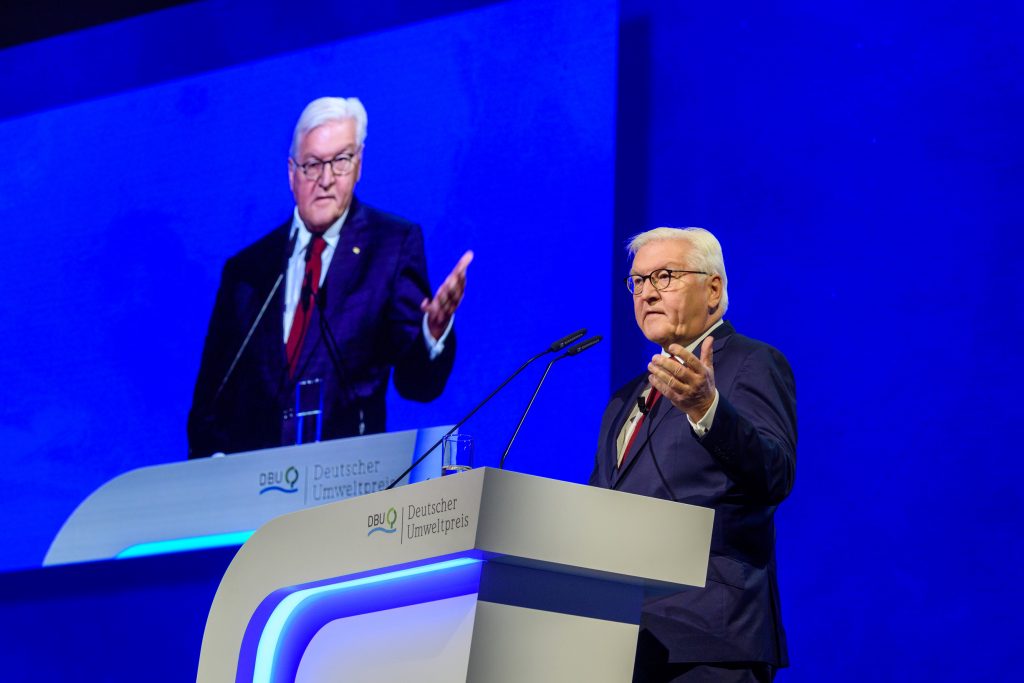 Frank-Walter Steinmeier, © Peter Himsel, DBU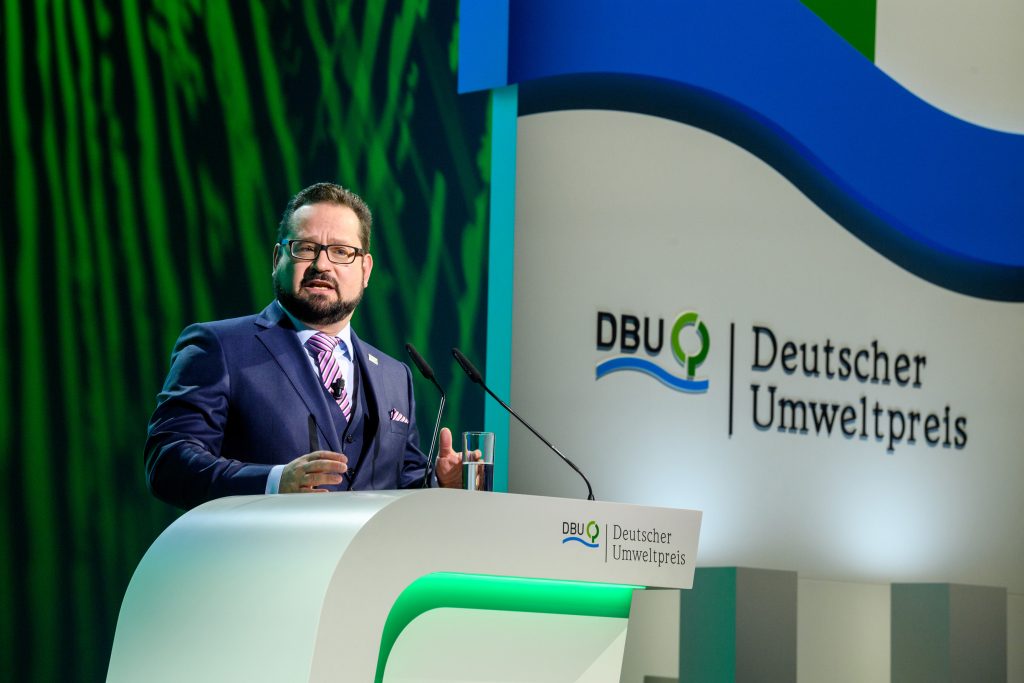 Alexander Bonde, © Peter Himsel, DBU
The following products were used at the German Environmental Award 2021: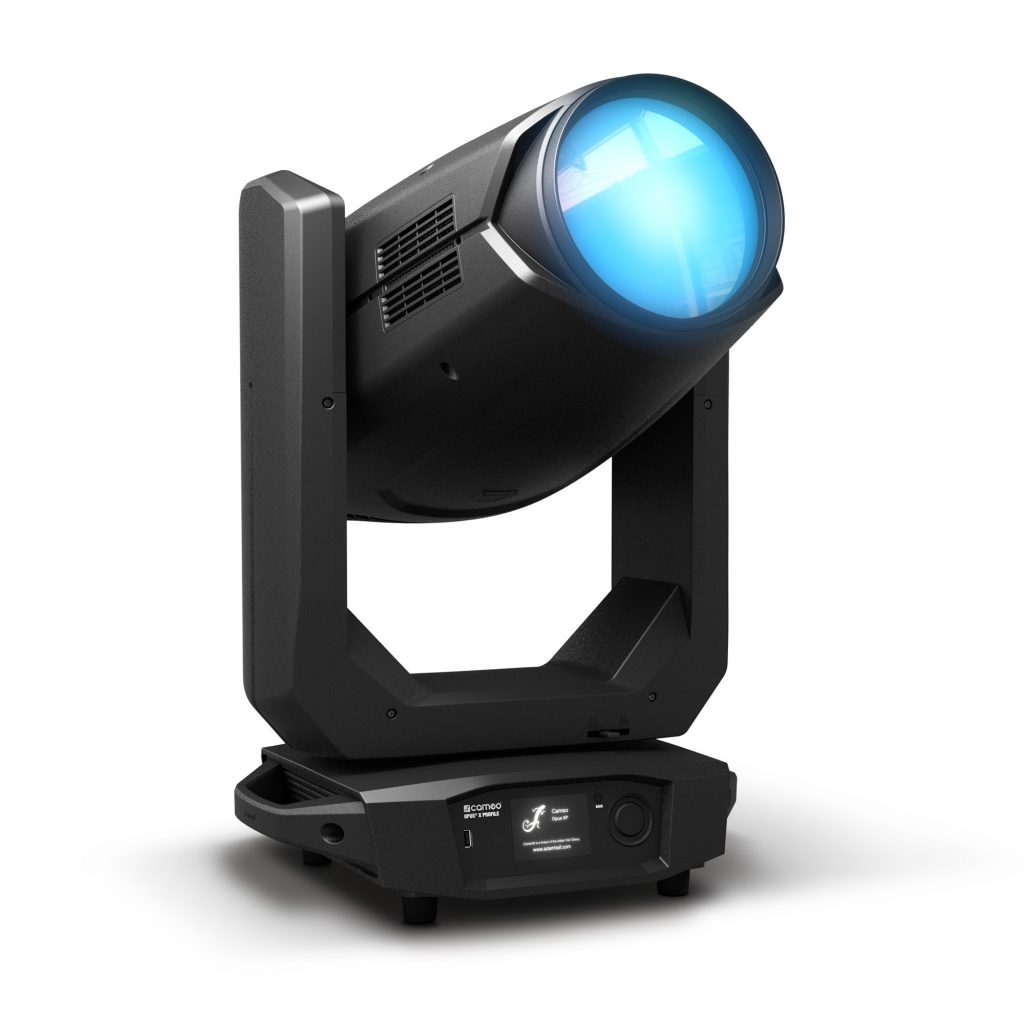 #Cameo #ForLumenBeings #Event #EventTech #ExperienceEventtech
---
Further information:
ls-vision.de
rocketchris.de
dbu.de/umweltpreis
darmstadtium.de