Party upstairs, sleep downstairs – the LD Systems CURV 500® provides sound for the Gingko Sky Bar at Madrid's 5-star Design Hotel
Whoever stays at the 5-star Plaza España Design Hotel in Madrid expects only the best – and is not disappointed. And a special highlight awaits guests on the 12th floor of the building. Here, you will find the Gingko Sky Bar, which offers fine Mediterranean and Japanese cuisine alongside a fantastic view over the Spanish capital. To ensure that the hotel guests on the adjacent floors were not disturbed despite the live music and club lounge sounds, the Plaza España's general event service provider – Sassot Sound – had to get a bit creative. The solution was provided by the subcontracted service provider Audiovisuales Sanser, in the form of the LD Systems CURV 500 portable array system.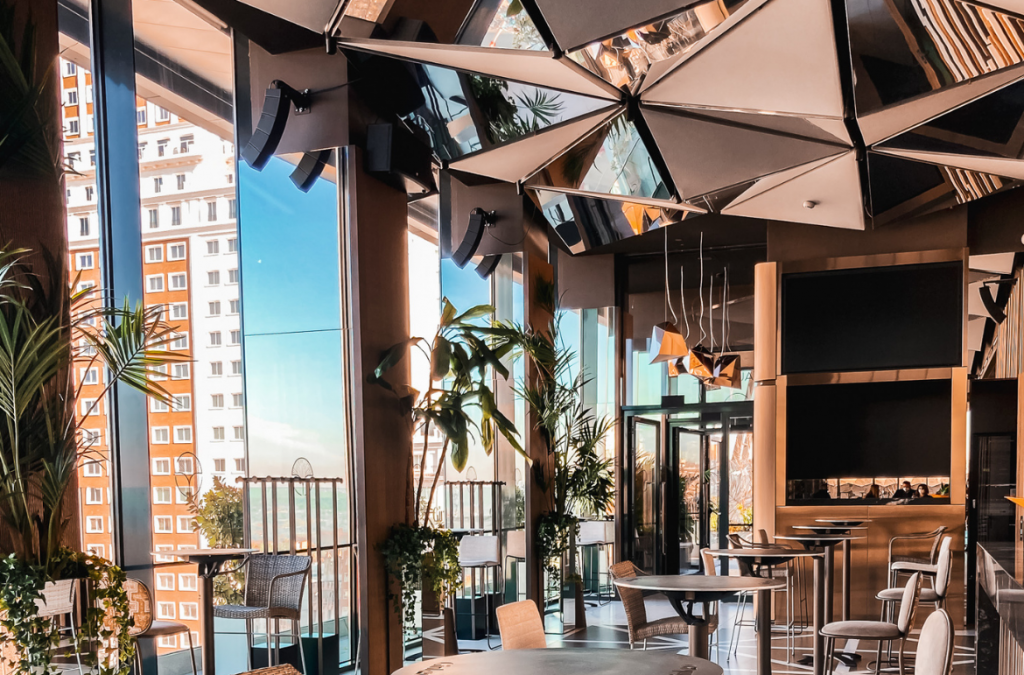 "Conventional loudspeakers and subwoofers were initially planned for the Gingko Sky Bar, but this would have led to problems with sound transmission," explains Carlos Serna from Audiovisuales Sanser. "The hotel guests in the rooms below the Sky Bar could not be disturbed by the music, so the hotel was looking for a sound reinforcement solution that would cover only the bar space as precisely as possible." After an extensive demo of the LD System CURV 500, those in charge were enthusiastic and recognised the advantages of splitting the system up into several freely selectable sound reinforcement points.
Audiovisuales Sanser installed a total of twelve CURV 500 clusters with four array satellites each, supplemented by ten CURV 500 iSUB installation subwoofers – perfect for the elongated Sky Bar, which features high ceilings and floor-to-ceiling glass windows. The complete system is driven by five CURV 500 I AMP digital power amplifiers.
"Thanks to the flexibility and scalability of the CURV 500 system, we were able to deliver an absolutely homogeneous sound throughout the bar area."

Carlos Serna
The architects and designers of the hotel were also convinced, having requested an elegant and compact sound reinforcement system from the beginning, and also having resisted a potential ground-stack solution from the start. "Here we were able to score additional points with the CURV 500 iSUB, including a well-thought-out wall and ceiling-mounting set," says a pleased Serna, who, in addition to the CURV 500, is also a big fan of the Stinger series from LD Systems. "We always use the Stingers when we need even more pressure and power in clubs or other venues."
The following LD Systems products are used in the Gingko Sky Bar:
48 x LD Systems CURV 500 Array Satellites
12 x LD Systems CURV 500 SLA SmartLink® Adapters
10 x LD Systems CURV 500 iSUB Installation Subwoofers
05 x LD Systems CURV 500 I AMP 4-Channel Class-D Installation Power Amplifiers
#LDSystems #YourSoundOurMission #Install #CURV500 #EventTech #ExperienceEventTech
---
More information:
ginkgoskybarmadrid.com
avsanser.es
ld-systems.com
adamhall.com
event.tech