Dream hotel with modern sound reinforcement – LD Systems DQOR and MAUI i1 in the Spanish castle hotel "Castell d'Emporda"
As a child, Dutchman Albert Diks fell in love with the old castles and palaces of Catalonia while on holiday in Spain – today he is the lord of the castle himself. In 2001, Diks opened the 4-star hotel "Castell d'Emporda" in an old 14th-century castle along the Costa Brava, which with its mixture of medieval stone buildings, modern spa and lounge flair and a breathtaking hillside location became the perfect retreat. 20 years after the opening, the owners decided to update the sound system for the hotel's extensive terraces and outdoor areas to the latest state of the art. A tailor-made task for the LD Systems DQOR and MAUI i1 installation loudspeakers.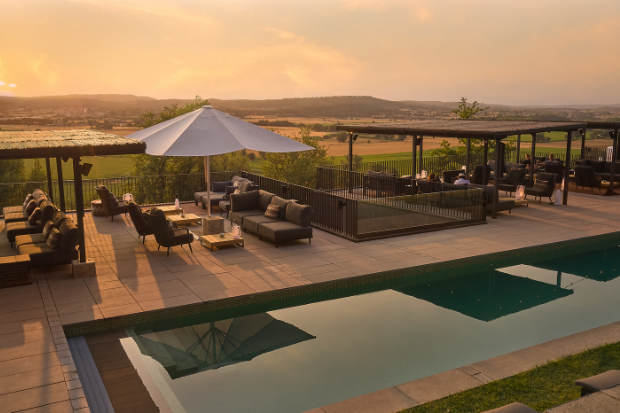 Photo credits: Carlos Garralaga
The Castell d'Emporda's outdoor areas, arranged on several levels, include a pool, a restaurant, a lounge area and a multi-purpose area for parties and other occasions. The brief was to create an independent, individually controllable sound reinforcement zone for each of the four areas – each perfectly matched to the surroundings and also suitable for outdoor use.
The rental service provider Kamal Productions & Events was responsible for the project, and Elecson Sonido Profesional was the subcontractor for the on-site installation. Elecson had only recently carried out a comparable installation on the island of Formentera and had already had the best experiences with LD Systems loudspeakers of the DQOR and MAUI i1 series there – so Francisco Perez and his team didn't have to think twice about which systems would also cut a good figure in the Castell d'Emporda:
"LD Systems products are perfect for this kind of outdoor installation. With the combination of DQOR and MAUI i1, we created four sound reinforcement zones, each of which generates its own sound atmosphere tailored to the requirements of the environment. The integration went without a hitch."

Francisco Perez
In total, Elecson installed 24 DQOR 5 T B 5" 2-way speakers, 10 MAUI i1 column speakers and 10 SUB 88 2 x 8″ subwoofers. One ZONE X 1208 DSP matrix serves as the control centre for the four zones, each controlled by a DSP 45 K 4-channel DSP power amplifier and an MDi8-6K 8-channel amplifier.
For Kamal Sukhwani, Managing Director of Kamal Productions & Events, it was the first project with LD Systems – but certainly not the last: "The combination of product and sound quality, design and fast availability more than convinced us." According to Kamal, the hotel staff is also enthusiastic about the easy operation of the sound system via the touchscreen controllers with specially programmed user interface.
"Anyone can control the individual zones or the entire system without prior instruction. This is extremely practical and user-friendly and contributes greatly to the special vibe at Castell d'Emporda."

Kamal Sukhwani
The following LD Systems products are used at Castell d'Emporda:
24x LD Systems DQOR 5 T B 5'' indoor/outdoor 2-way installation speakers
10x LD Systems MAUI i1 passive indoor/outdoor installation column speakers
10x LD Systems SUB 88 passive 2 x 8'' subwoofer
1x LD Systems ZONE X 1208 DSP matrix with hybrid architecture
1x LD Systems DSP 45 K 4-channel power amplifier with DSP
1x Ram Audio MDi8-6K 8-channel power amplifier
---
#LDSystems #YourSoundOurMission #EventTech #ExperienceEventTech
Further information:
hotelcastellemporda.com
kamal.es
elecson.es
ld-systems.com