Sustainable, versatile, modern – Aalborg Kongres and Kultur Center installs more than 200 Cameo spotlights
The AKKC – Aalborg Kongres & Kultur Center – in the centre of the Danish city of Aalborg is a special venue in several ways. Built in 1952 and accommodating over 40 rooms and spaces for music, cultural and theatre events, trade fairs, conferences and congresses, the multi-event centre is one of the largest of its kind in Scandinavia and hosts around 500,000 guests every year. AKKC is also the only event location in Denmark to be certified in accordance with DNV GL's Sustainable Development Goals Certification (www.dnv.com) and the ISO 20121 international standard for sustainable events. Following the integration of over 200 permanently installed Cameo spotlights, the AKKC is now equipped with equally advanced lighting.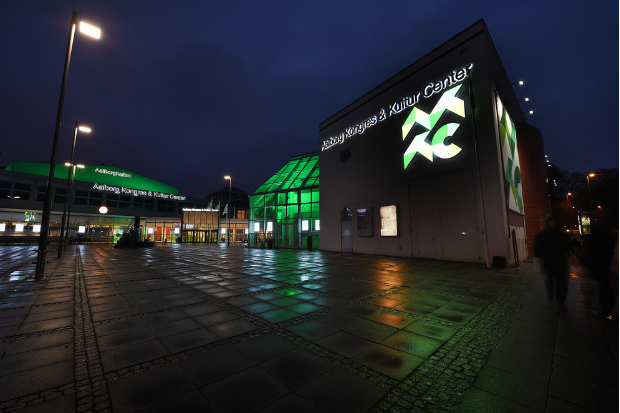 In the central entrance area of AKKC's largest hall, Q-SPOT 40 RGBW spots in white housings and featuring quad-LEDs ensure perfect and atmospheric ambient light for every occasion. For this purpose, the compact LED spots were installed in groups of four around the dominant high columns and cast their flexible light from the ceiling downwards. "We have long been looking for suitable spotlights with an attractive price point that meet all our requirements," says Søren Dalgaard, Head of Technical Production at AKKC.
"I have a lot of colleagues who work with Cameo, and so I took a close look at their portfolio. After intensive comparison tests, the Q-Spots finally prevailed with their impressive, narrow and precise beams, clean colours and remarkable output."
In addition to the foyer, the Q-SPOT 40 RGBWs are also used in the second largest hall (559 m2) which can accommodate more than 700 people. Here, the spotlights provide ambient lighting around the hall. In the AKKC conference and seminar area, six rig-installed TS 40 WW WH theatre spots equipped with plano-convex lenses and warm white 40 W LEDs provide lighting for a wide podium stage in one of the numerous rooms. And anyone visiting the AKKC as evening sets in is greeted in the forecourt by ZENIT® W300 and W600 outdoor LED wash lights, which bathe the AKKC in atmospheric architectural light.
The following products are in use at AKKC:
181 x Cameo Q-SPOT 40 RGBW WH LED spots
26 x Cameo Q-SPOT 40 RGBW LED spots
06 x Cameo TS 40 WW WH theatre spots
14 x Cameo ZENIT® W300 Outdoor LED wash lights
04 x Cameo ZENIT® W600 Outdoor LED wash lights
#Cameo #ForLumenBeings #Installation #EventTech #ExperienceEventtech
---
Further information:
akkc.dk
cameolight.com
adamhall.com