A Scandinavian Outdoor Spa with DQOR® – Installation Loudspeakers celebrate their premiere at Hotel Östersund
The spa and wellness Hotel Östersund – located in the 50,000-strong Swedish city of the same name – is pursuing an ambitious goal: to go beyond the cozy living room environment, and always offer their guests that little bit extra! These "little extras" include the "Cloud Spa" outdoor area on the hotel's own roof terrace, from which guests have a fantastic all-round view of the city, as well as the enchantingly beautiful Lake Storsjön. Since the end of February, hotel guests have also been treated to crystal-clear wellness music in the open air, courtesy of the new DQOR® installation loudspeakers from LD Systems.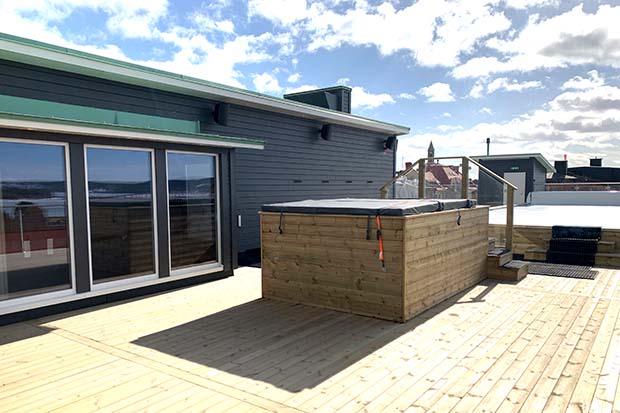 The total of seven DQOR 8 – 8" 2-way installation loudspeakers are the first DQOR models ever to be used in Sweden. For the systems integrator Nightline – a long-time customer and partner of LD Systems with more than 100 LD installation projects under their belts to date – it was immediately clear that the DQOR Series would find a permanent place in the pro audio service provider's portfolio. Johan Pettersson, owner and founder of Nightline says: "After all these years, we still trust firmly in the quality and performance of LD Systems. The DQOR Series is no exception to this – it excels for any project thanks to its modern loudspeaker design, and the well thought-out, included bracket makes installation super simple and quick too!".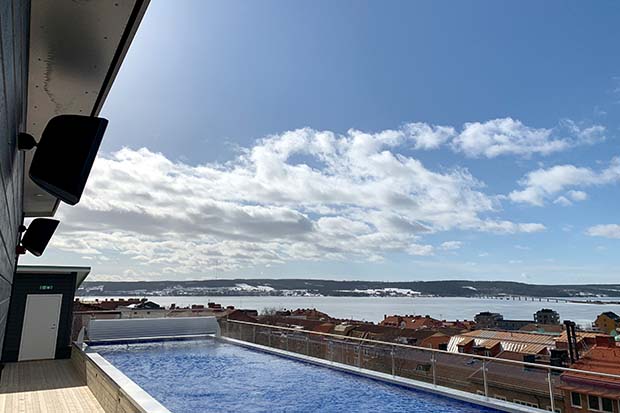 In addition to the new DQOR Series, Nightline also installed numerous SAT 62 G2s in the indoor spa area, and a total of 12 SAT 62 G2s in the hotel's lounge. Moreover, four CURV 500 Array clusters of three array satellites each, combined with Stinger 12 G3 PA loudspeakers, provide rich sound for live broadcasts in the hotel's sports bar. All speakers are driven by the LD Systems DEEP2 power amplifier series, except for the CURV 500 systems. Here, Nightline relied on the CURV 500 iAMP 4-Channel Class D installation amplifier.
The following LD Systems products are used at Hotel Östersund:
07x LD Systems DQOR 8 T B – 8″ 2-way installation loudspeakers
12x LD Systems SAT 62 G2 – 6,5″ installation loudspeakers
12 x LD Systems CURV 500 Array Satellites
02 x LD Systems CURV 500 iSUB Installation Subwoofer
08 x LD Systems Stinger 12 G3 – 12" PA speakers
05x LD Systems DEEP2 600 PA power amplifiers
08x LD Systems DEEP2 4950 PA power amplifiers
01 x LD Systems CURV 500 iAMP 4-Channel Class D Installation Amplifier
#LDSystems #FreeYourSound #EventTech #ExperienceEventTech
---
More Information:
hotellostersund.se
nightline.se
ld-systems.com
adamhall.com