Faust Meets Cameo – Goetheanum Theater Invests in SP5 FC Profile Moving Heads
The Goetheanum in Dornach, Switzerland, south of Basel, is an exceptional building in every respect. Its massive walls, resembling a monumental bunker from the outside, house the General Anthroposophical Society, the University of Humanities as well as a festival hall and theater seating around 1,000. Named after Johann Wolfgang von Goethe, the first performance of the uncut Faust took place here in 1938. In 2020 the Goetheanum continued to write this story, bringing Goethe's opus magnum on the 16 meter wide stage for two consecutive evenings in July (followed by another show in october), supported by Cameo OPUS SP5 FC Profile Moving Heads and other Cameo spotlights.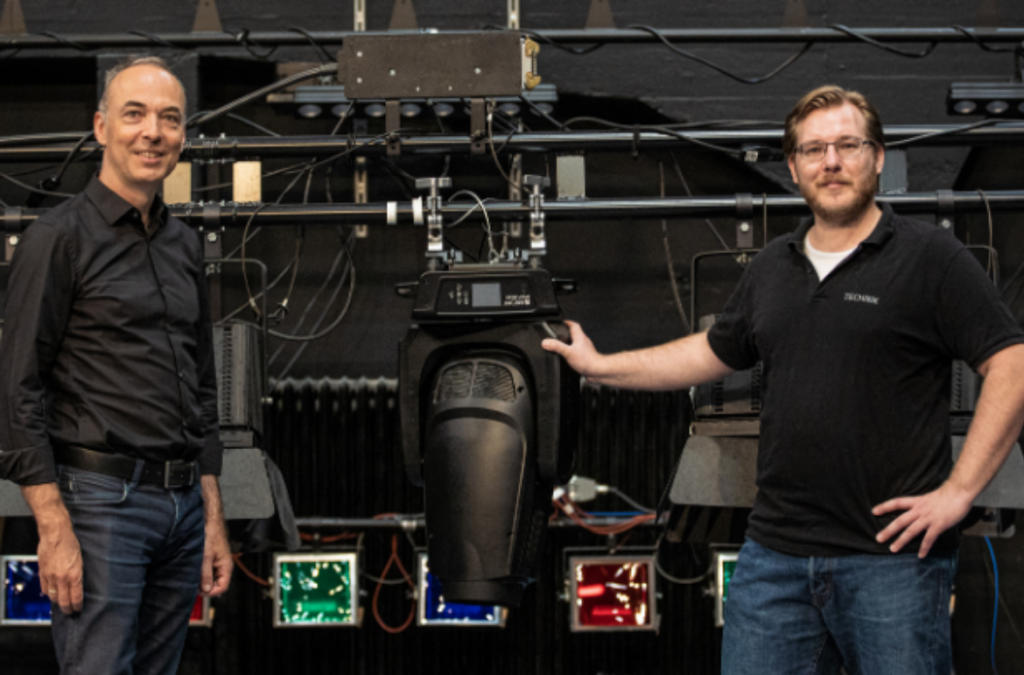 "The Goetheanum is one of the few theaters with more than 1,000 seats that does not use acoustic amplification for its in-house productions," says Klaus Suppan, lighting technician and lighting designer at the Goetheanum. "To ensure that the actors can be heard throughout the hall, all spotlights must be able to work almost silently. For the Faust staging, the Goetheanum invested, among others, in two Cameo OPUS SP5 FC, which are used in the secondary backlight at a height of 10.6 m for either wash lighting or as a focused backlight spot in a conventional 3-point lighting system.
"The stage design for Faust has been kept quite minimalist. For this reason, spotlights are needed that are capable of creating precisely contoured light zones. At the same time, all of our fixtures must have a very good TM-30 rating to ensure that not only the stage floor but also the costumes by Julia Strahl are illuminated in subtle shades of color".

Klaus Suppan
In addition to the OPUS SP5 FC, Klaus Suppan and his team also rely on the Cameo PIXBAR 650 CPRO LED Bars to illuminate the backdrop foil from behind. INSTANT HAZER 1500 T PRO provide the required ambience and atmosphere.
Colors have always played a key role at the Goetheanum. Created by the founder of anthroposophy, Rudolf Steiner, the basic lighting consisted of six colors from the very beginning, continuing in the ceiling paintings, the stained glass windows as well as on the stage floor, whose gray was mixed from different colors and therefore reacts particularly well to the colored light. "Colors are the heart and soul of the theater," says Klaus Suppan summing up – and since this year, the Cameo SP5 FC also plays its part.
The following products are used at the Goetheanum:
2x Cameo OPUS SP5 FC Profile Moving Head
1x Cameo OPUS S5 Spot Moving Head
6x Cameo PIXBAR 650 CPRO COB-LED-Bar
2x INSTANT HAZER 1500 T PRO Touring-Hazer
#Cameo #ForLumenBeings #EventTech #ExperienceEventtech
---
More Information:
faust.jetzt
cameolight.com
adamhall.com