Press: Small Yet Effective – Gravity Disinfectant Stand and AH Accessories Social Distancing Tape
Neu-Anspach – May 19, 2020 – We will get through this together. No matter how united we feel during the Corona crisis, we will only overcome this major common challenge if we observe hygiene and physical distancing requirements once the first social and economic restrictions are lifted. That's why the Adam Hall Group would like to introduce two very effective "little helpers": the Gravity Disinfectant Stand and the Social Distancing Tape from AH Accessories. Both products are available now for purchase.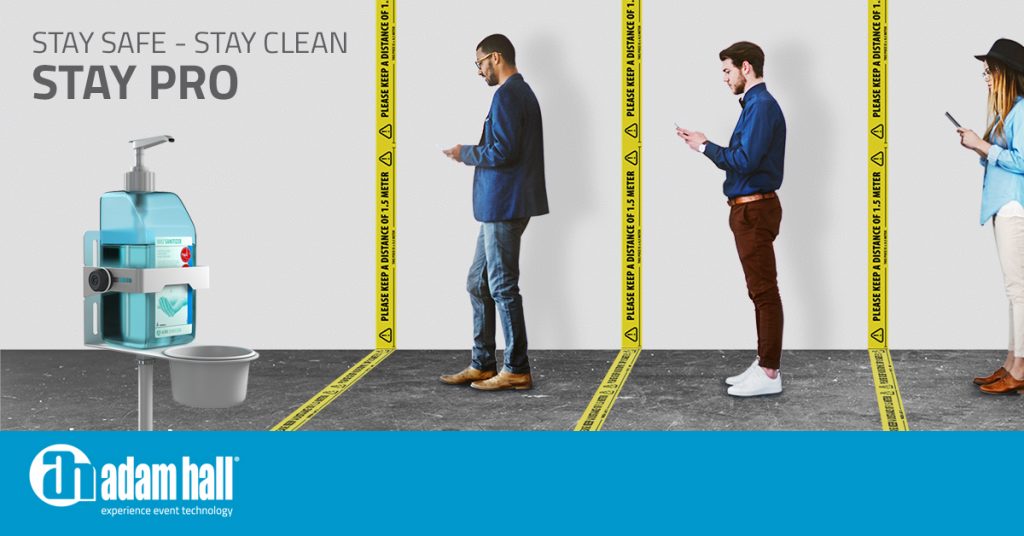 Gravity® GMS23DIS01B (W) Universal Disinfectant Stand
After the resounding success of the Gravity® XDS SET 01 DIY disinfectant stand set, Gravity has once again expanded its portfolio with a further improved universal solution. The Gravity® GMS23DIS01B (W) is a height-adjustable disinfectant stand, which combines the round-base GMS23 microphone stand and the GMADIS01B (W) universal disinfectant holder (also available separately).
As a universal solution, the Gravity® GMS23DIS01B (W) is perfect for mobile but also fixed installations in entrance and waiting areas with a lot of foot traffic, such as in stores, doctor's offices, restaurants, hotels, schools, event halls, commercial spaces, and offices. The disinfectant stand can be installed on scaffolding, railings, or trusses using the universal SCP710B Super Clamp and protected against theft with the practical mounting slots.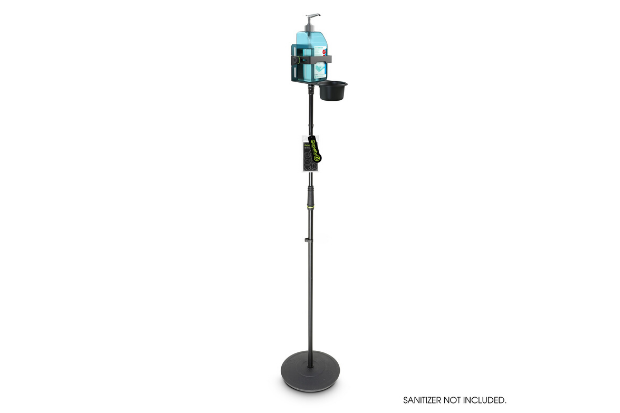 Adam Hall Accessories Social Distancing Tape
Please keep 5 feet away – no problem with the new Social Distancing Tape from Adam Hall Accessories. The yellow-and-black PVC adhesive tape measuring 216.54 feet in total length is ideal for temporarily marking distance markers in waiting areas – from public facilities to supermarkets and retail shops to takeout ice cream parlors. The 1.65 foot reference marking lets you quickly and safely determine the required distances.
The Social Distancing Tape is currently available in four languages: German, English, French, and Dutch. A special tape with a safety distance of 6.56 feet is also available for use in Great Britain and its applicable safety requirements.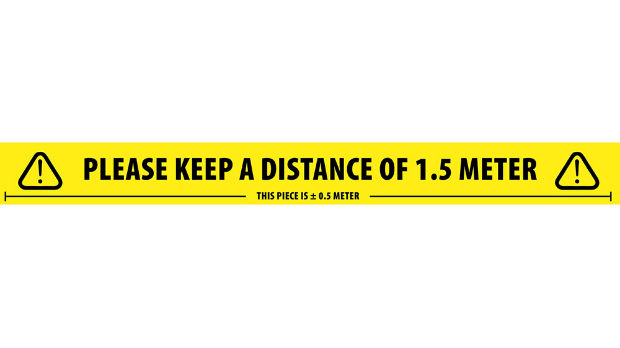 #WeWillGetThroughThisTogether #SocialDistancing #EventTech #ExperienceEventTech
---
Information about Adam Hall Group:
adamhall.com
event.tech
gravitystands.com