Adam Hall Open Innovation: The TicketMask – a must-have solution for the event of the future?
We count on you! On you and your opinion, experience and vision. It's all about the future of the event – and therefore the future of the entire cultural & creative industries as well. Even if the great solution is not in sight yet, many associations, manufacturers, distributors, service providers and individuals already have taken numerous steps to work on our future. We also want to make our contribution.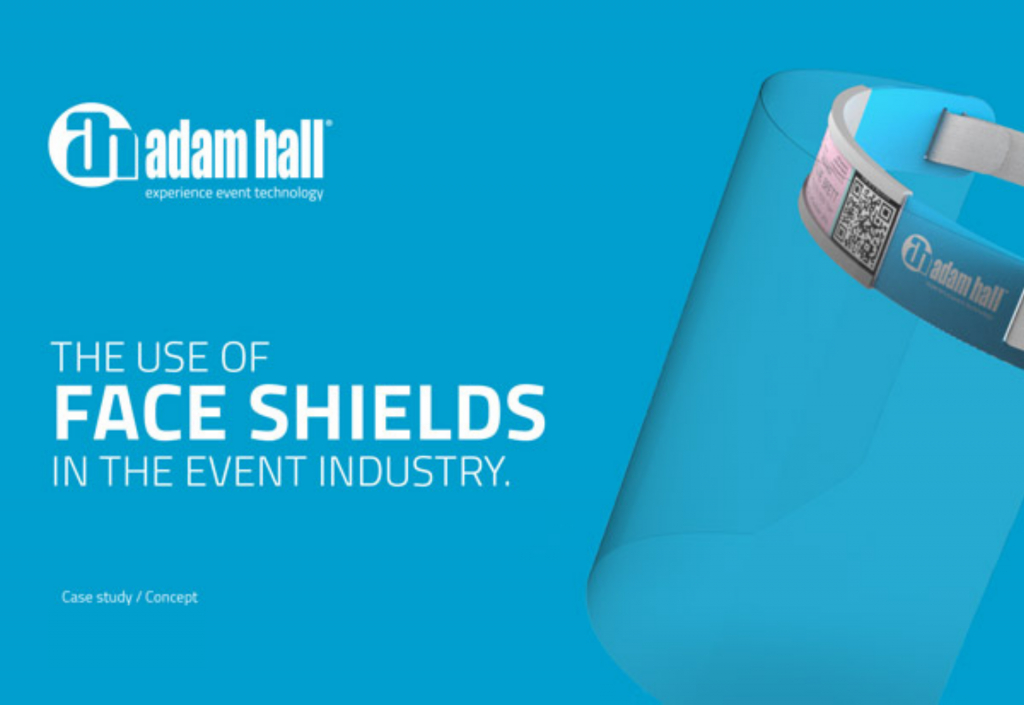 In addition to the Industry Talk on 31.03. at www.event.tech, we recently presented two useful helpers – the Gravity disinfectant stand and the Social Distancing Tape – to help implementing the general guidelines regarding hygiene and spatial distance more efficiently. Now we are going one step further and direct our competence specifically to the area that is restricted like no other due to the corona crisis: the event. There are already various hygiene concepts existing in several European countries to make events feasible in times of pandemic. However, apart from the more personnel-intensive implementation through "crowd management", the main problem lies within the significantly reduced capacity. This makes an economical event very difficult.
What now only is a concept, a prototype, should – with your help, your ideas and your experience –address this problem and speed up the safe and economic feasibility of events significantly. We present: the TicketMask!
Events in the future
Let us imagine a future in which events seem possible again – with distance rules, reduced number of participants and strict hygiene regulations. Conventional mouth-nose breathing masks almost have solely disadvantages in this idea: they hinder free breathing, have a short life span, restrict communication, facial expressions and food intake, require touching the face when putting on and taking off the mask and offer no protection for the eye area.
TicketMask
The TicketMask bypasses all these problems – and comes up with some clever solutions that have been specially designed for the use at events. For example, the transparent shield not only protects the entire face while still enabling drinking and eating, but also functions as a clever, personalizable ticket and payment center.
Your Face Shield is Your Ticket!
The adjustable headband not only ensures a firm fit, but also houses the scannable ticket. To further reduce the risk of transmission, event organizers can integrate a QR code into the ticket to enable contactless payment. Optionally, the codes can also be used to record visitor flows quickly, easily and automatically.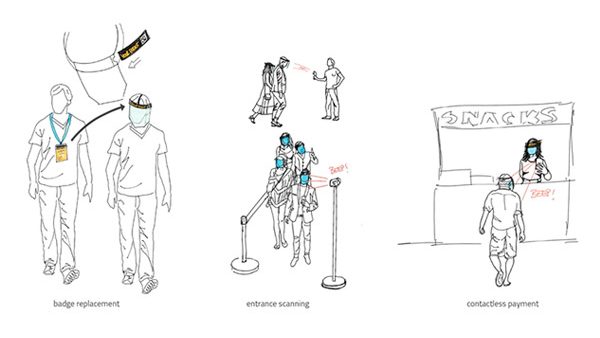 In the following, we would like to present three concepts for the TicketMask and look forward to your ideas!
TicketMask: Concept 1 – The simple unibody solution
Contactless ticket control and payment
Easy to manufacture
Easy to assemble
Low cost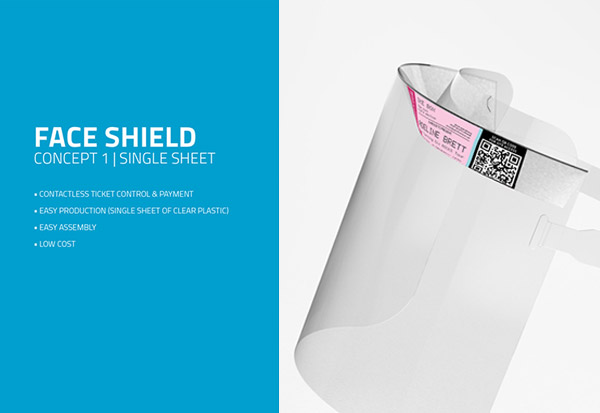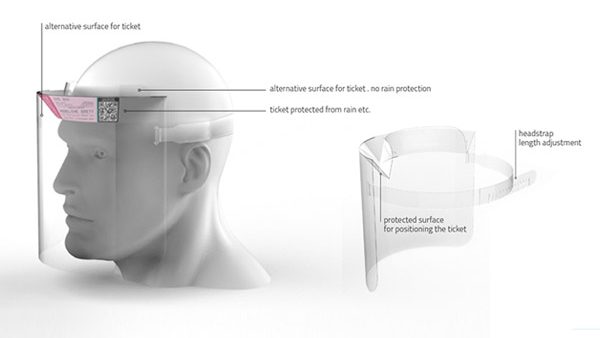 TicketMask: Concept 2 – The Merch Mask
Contactless ticket control and payment
Comfortable fit (adjustable silicone headband)
Customisable
Easy and secure ticket storage
Adjustable visor distance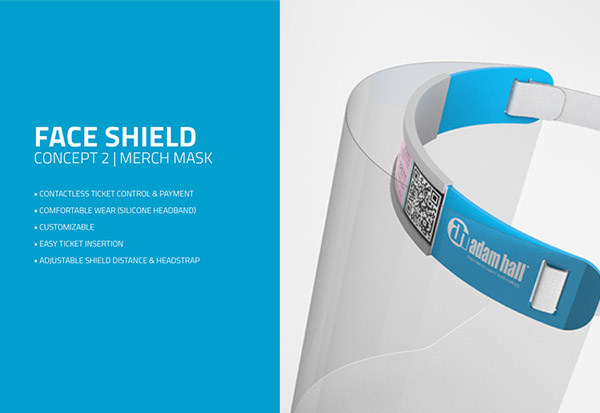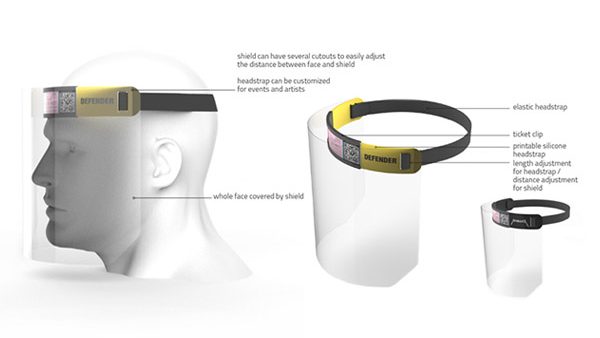 TicketMask: Concept 3 – The flexible solution with foldable visor
Contactless ticket control and payment
Comfortable, secure fit even when worn for a long time
Simple and secure ticket storage
Hinged visor
Customisable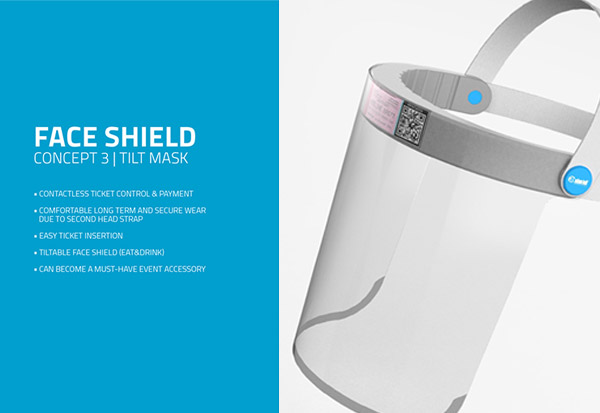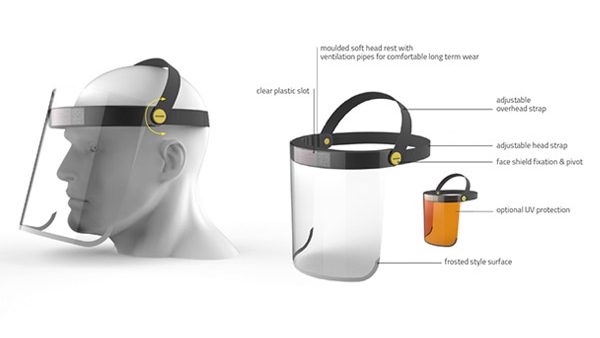 Dear colleagues, partners, customers, competitors, friends and more: What do you think of the TicketMask concepts? Where do you see a need for optimization? Which aspect have we not yet thought of?
HERE you can download the Case-Study as PDF.
#WeWillGetThroughThisTogether Let's fill this hashtag with life and work together on the event solutions of the future!
We are looking forward to your comments, suggestions, criticism or inquiries at:
ideas@adamhall.com
---
Further information:
adamhall.com
event.tech