Motorway Light Art – Cameo Illuminates "Seven Brothers" in Finland
From February 2-9, nearly 500.000 drivers in Finland drove under a light art installation at 100 km/h. "The Light Of The Brothers" was created by the Finnish event technology service provider Electro Waves Oy, who illuminated the motorway bridge with different light designs every day in honor of the 150th anniversary of the famous novel "Seven Brothers" by author Aleksis Kivi. Product Manager Antti Helminen used 40 ZENIT® Z180 G2 IP65 PAR zoom spotlights by Cameo for the extraordinary installation, part of the opening week of the 150-year anniversary celebrations.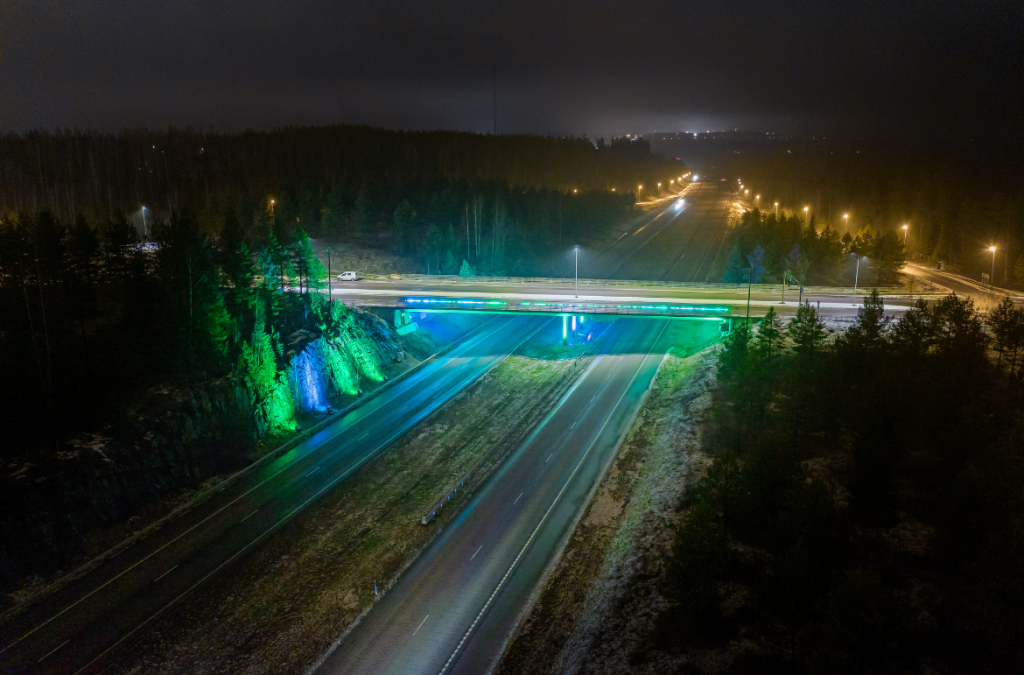 Juhani, Tuomas, Aapo, Simeoni, Timo, Lauri and Eero – those are the names of the seven brothers in the novel of the same name. Over the course of the week, Light Designer Antti Helminen (Product Manager at Electro Waves Oy) and Sound Designer Antti Nykyri dedicated the audiovisual installation on the motorway bridge to a different one of the seven brothers every day. "We wanted to bring the bridge to life," says Helminen. "We wanted it to breathe. To speak Finnish words written only a few kilometers from the installation 150 years ago."
While Electro Waves Oy was responsible for planning of the audiovisual project, Sun Effects Oy took care of the installation on location. "The ZENIT Z180 G2 were perfect for this project. They are IP65 certified, offer an enormous light output, zoom range and color quality, and are also extremely flexible when it comes to positioning."
At the start of January, the team from Sun Effects Oy were impressed by the versatility of the ZENIT Z180 G2 at the LUX Helsinki light art festival, where they saw the PAR zoom spotlights in action as part of the illumination of the Helsinki City Theatre by Designer Eero Helle.
Further information:
electrowaves.fi
suneffects.fi
cameolight.com
adamhall.com