German Light for the Romans in France – Cameo ZENIT W300 Wash Lights Illuminate the Amphitheater in Nîmes
The Arènes de Nîmes is a Roman amphitheater in Nîmes. Unlike many other historical amphitheaters in the south of France, it has retained its status as a popular cultural venue in the city. During the Festival de Nîmes, for example, Rammstein and Metallica gave concerts to packed audiences in the historic arena. And this winter, BGM—a French event technology company—proved that the Arènes de Nîmes can draw crowds even when it's closed. As in 2019, the BGM team, headed by project manager Fabrice Billotta and Technical Director Jean Yves Orcel, illuminated the facade of the amphitheater. Once again, they opted for 60 ZENIT W300 Cameo LED outdoor wash lights.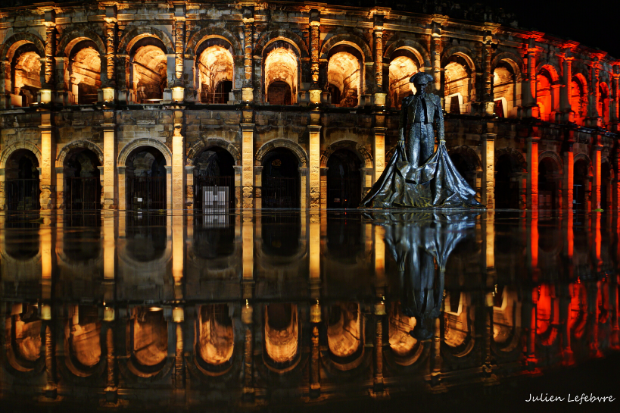 60 arcades, 60 ZENIT wash lights
The number of spotlights was based on the architecture of the building, which features more than 60 arcades on the second story. Here, BGM placed one ZENIT W300 in each arch to capture the architectural depth and create vivid light effects which could then be integrated naturally into the programmed light show.
"We've been working with Cameo lights for several years and have gained immense trust in the brand and the products over the course of time," explains Fabrice Billotta, CEO of BGM. As such, the light crew was not fazed in 2019 by the fact that they were the first company in Europe to use the ZENIT W300 wash lights.
"As an outdoor wash light, the W300 offers everything we need: it's compactly sized, IP65-certified, and flexible. One particularly impressive feature is the SnapMag filters that enable us to adjust the angle of the beam quickly and easily."

Fabrice Billotta
Two months of uninterrupted use
In order to illuminate the Arènes de Nîmes from November through to January, the ZENIT W300 not only had to be strong and reliable in terms of RGBW performance, but also in terms of resilience. "During winter, the weather can be unpredictable. All the same, we didn't have a single blackout, nor any other problems with the spotlights for the entire period—which is further proof of Cameo's outstanding quality."
The following products were used in the Arènes de Nîmes:
60x ZENIT W300 Outdoor LED Wash Light
Further information:
bgm-france.com
cameolight.com
adamhall.com
event.tech
Pictures:
Julien Lefebvre
julienlefebvrephotographe.com