Be The Light – Irrlicht and Cameo Light Up the "Lights in Alingsås" Festival of Lights in Sweden
The "Lights in Alingsås" festival of lights is where international lighting design artists come to meet. From September 27 to November 3, 2019, participants from 27 nations gathered in the small Swedish town of Alingsås to create spectacular lighting installations in seven workshop groups under the guidance of experienced lighting designers and to showcase their masterpieces along an outdoor trail for approx. 70,000 visitors to enjoy. This year's overall theme "Be The Light" inspired lighting designers to center their installations around their favorite medium in a very personal and intimate manner. As part of the LIA team, the German-based company Irrlicht Veranstaltungstechnik GmbH spearheaded by Dierk Hartmann is responsible for overseeing all equipment at "Lights in Alingsås." Irrlicht provided more than 60 Cameo spotlights so the lighting teams could draw from an unlimited range of resources and lighting technology to realize their artistic designs.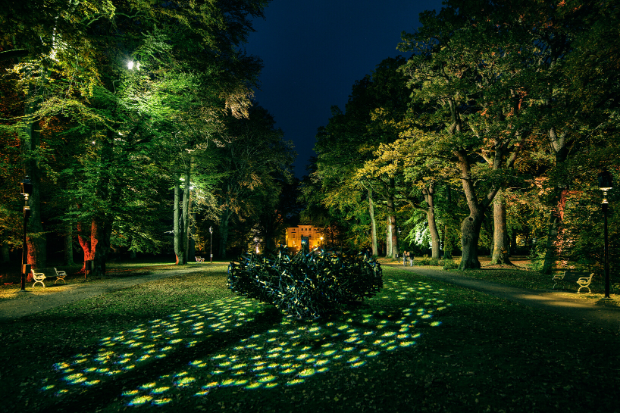 "It's crucial for a spotlight to be able to operate without fail for weeks on end outside. It also doesn't hurt if the equipment is W-DMX enabled to ensure the greatest scope of flexibility," explains Irrlicht CEO Dierk Hartmann. We begin working with the lighting designers several months before the actual event: "We meet with the designers and get to know their concepts for the very first time in February. We use their wish lists to check feasibility and select the appropriate lights. After considering Cameo for the previous shows in 2017 and 2018, things finally worked out this year!"
All in all, 12 ZENIT W300s, ten ZENIT Z 120s, eight FLAT PRO FLOOD 600 IP65s, and 35 Q-Spot 40is were used during "Lights in Alingsås" and spread out across four lighting projects. For his installation "The Castle Avenue," the Indian architectural lighting designer Kapil Surlakar, for example, selected the ZENIT models W300 and Z120 for the quality of their colors and beams as well as for their ability to be controlled remotely, because most of the spotlights were installed in hard-to-reach treetops. The Danish–Finnish team led by Vladan Paunovic and Juha Hälikkä, on the other hand, went with the Cameo Q-SPOT 40i for its particularly narrow beam, arranging twelve lights in a circular formation to simulate a spinning windmill. Jackson Stigwood from Australia, however, choose the FLAT PRO FLOOD 600 for its ultraviolet light.
"The entire project is a huge challenge," says Dierk Hartmann. "It's very important for design and programming changes to be implemented quickly and efficiently since the individual teams have never cooperated with each other before and the concepts are constantly being tweaked. The Cameo products didn't cause us any problems here. All the spotlights could be started up directly without using external drivers and controls, which may seem like a matter of course in the world of event technology, but which isn't always a given in the field of architecture. Withstanding five weeks of Swedish fall weather also isn't exactly a bad recommendation for outdoor spotlights either …"

Dierk Hartmann, Geschäftsführer Irrlicht
© Patrik Gunnar Helin
The following products were used at Lights in Alingsås:
12x ZENIT W300 Outdoor LED Wash Light
10x ZENIT Z120 IP65 LED PAR-Scheinwerfer
35x Q-SPOT 40i RGBW LED-Spot
08x FLAT PRO FLOOD 600 IP65 Outdoor-Fluter
Further information:
lightsinalingsas.se
irrlicht.com
cameolight.com