Culinary Works of Art – Cameo Illuminates Restaurant and Grand Café Thomas in Eindhoven
Thomas is a culinary chameleon: From quick lunches to stylish dining, from relaxed drinks at the bar to nightly dancing – the combination of restaurant, grand café & club opened in 2018 in Eindhoven, the Netherlands. Thanks to its art deco charm, playful interior, and expansive murals, it is an unusual location that invites amazed discovery even after multiple visits. To bathe this location in the appropriate lighting, Joost van der Elst and Bart de Kok from AV-Integrator Van der Elst Audiovisueel used around 50 Cameo spotlights.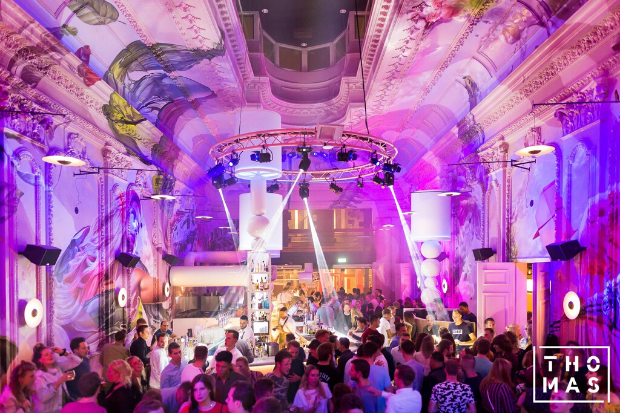 "For Thomas, we needed particularly versatile lights that illuminate the special features of the space," explains Joost van der Elst, whose lighting designs have illuminated numerous restaurants, bars, and clubs around the Eindhoven area. In total, Thomas uses 34x TS 60 W RGBW LED theater spotlights, 6x PAR 64 CAN RGBWA+UV 10 WBS LED PAR spotlights, 4x Q-SPOT 40 RGBW LED spotlights, and 4x AURO BEAM 150 LED moving heads.
Old Building with Modern Lighting Technology
At the start of the planning and installation phase, van der Elst and de Kok found themselves dealing with some tricky conditions: "The building was built in 1880 and not much has changed since then. There are only a few thin wooden beams and stucco from the early 20th century. There are none of the steel beams or concrete that are standard nowadays. Rigging was therefore quite difficult. In the end, we had to hang the central round crossbeam for the spotlights from the roof frame."
The wide range of colors that van der Elst has used in Thomas, in particular to illuminate the murals, are delivered by Cameo TS 60 W RGBW LED theater spotlights
"It is an extremely versatile spotlight that not only looks great but whose continuous zoom is also extremely practical in this environment. High ceilings mean that some units hang at a height of eight meters, others at only three meters."

Joost van der Elst
Vivid Depth Effect
The Q-SPOT 40s supplement the TS 60 Ws and pick out specific details in the larger-than-life murals. "Together, the wider beam angle of the TS 60 W and the tighter beams of the Q-SPOTS create a depth effect that further enhances the three-dimensional impression of the murals. Moreover, the included interchangeable 10° and 25° lenses meant that we were able to experiment." The PAR 64 CAN also effortlessly blends into the old-school look of Thomas, and their classic PAR can design has won them many fans, as Joost van der Elst confirms: "Many of our guests love the iconic PAR shape. In this respect, the PAR 64 CAN by Cameo combines the best of both worlds: A traditional look & feel with the advantages of modern LED technology."
Other Projects
Joost van der Elst first became aware of Cameo lighting technology products at the Prolight + Sound 2018. From the very start, he was impressed with the wide range of the Adam Hall Group brand, which has since grown even more. Cameo spotlights have also been used in the restaurant 't Taphuys, in Arnheim, as well as Villa Fiesta Bar, in Eindhoven (MOVO BEAM 100). More to come….
The following products are used at Thomas:
34x TS 60 W RGBW LED theater spotlights
6x PAR 64 CAN RGBWA+UV 10 WBS LED PAR spotlights
4x Q-SPOT 40 RGBW LED spotlights
4x AURO BEAM 150 LED moving heads
Further information:
vanderelstav.nl
thomaseindhoven.nl
cameolight.com