Successful Repeat Performance: Event.Tech Days Industry Networking and International Business Platform at Adam Hall Experience Center
Neu-Anspach, Germany — November 5, 2019 — On October 29th and 30th, the Adam Hall Group organized the second edition of its Event.Tech Days. Following the success of the premiere in 2018, the global event technology provider once again invited national and international rental and touring companies and event-tech engineers to the Adam Hall Experience Center at the company's headquarters in Neu-Anspach, near Frankfurt. Besides presentations of the latest innovations in the Adam Hall Group brand portfolios — LD Systems, Cameo, Gravity, Palmer, and Defender — visitors were treated to a comprehensive Event.Tech program, which included keynote speeches from renowned speakers, a fascinating live show displaying pro audio and lighting technology solutions, expert lectures from renowned industry engineers, and an open "Tech.Talks" format with the R&D and Product Management from the Adam Hall Group. The second Event.Tech Days 2019 culminated in a colorful evening event with live music, catering, and personal guided tours through the Adam Hall Experience Center.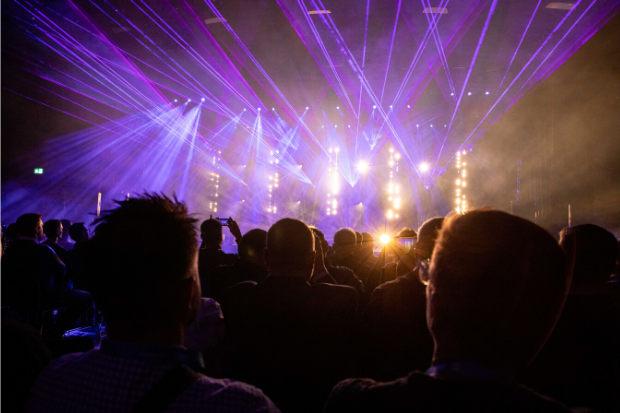 Approximately 180 companies from the rental and touring industry made their way to the award-winning Adam Hall Experience Center—more than triple the number from last year's premier event. While the first day of the Event.Tech Days was reserved for companies from Germany, Austria, and Switzerland, the second day had a distinctly international flair, welcoming customers and professionals from all over Europe.
Keynote Speeches
One of the highlights at this year's Event.Tech Days was the keynote speech delivered by Dirk Denoyelle, a top speaker, comedian, and LEGO Certified Professional from Belgium. In the speech, Denoyelle shared his wide experience on topics relating to change and innovation. In the afternoon, the focus turned to pro audio and lighting with guest speakers Anselm Görtz and Herbert Bernstädt, both regarded as leading authorities in their respective fields of event technology.
Tech.Talks
The Tech.Talks format, initiated by the Adam Hall Group at the first Event.Tech Days 2018, provides a platform for sharing information openly — and proved to be highly popular. This year, visitors were once again able to move from panel to panel and participate in small discussion groups with the Adam Hall Group employees from different departments, namely R&D and Product Management. In each group, customers had the opportunity to share their experiences, ideas and constructive criticism as they discussed a wide range of aspects in the event and live show industry.
Product Innovations
What better way to present new products for the rental and touring industries, than by simulating a live environment? In the theater auditorium of the Experience Center — fully equipped with state-of-the-art event technology — the Adam Hall Group product managers and engineers gave live presentations, complete with live show acts featuring artists and musicians, demonstrating the latest products in the pro audio, lighting, and stage equipment portfolios. Highlights of the show included the premiere for LD Systems' new MAUI 44 G2 active column PA system and the Cameo OPUS X Profile moving head, featuring 33,000 lm output from a 750W LED.
"Networking and information: we used the Event.Tech Days to meet people from the industry, inspect new products, and get to know the Experience Center—not least because it is now often used as a base for workshops hosted by the VPLT (German Professional Event Technology Association)." – Marcel Fery, Chairman of Finances & Technology TSE AG

Marcel Fery, Chairman of Finances & Technology TSE AG
"The Event.Tech Days are a great idea. The Adam Hall Group took care of each and every detail—from the program through to catering. This attention to detail was visible everywhere and really made the difference." – Mathias Dorn, CEO for SDF-Event and Medientechnik GmbH

Mathias Dorn, CEO for SDF-Event and Medientechnik GmbH
Success Stories: Come Together
Visitors were also inspired by presentations showcasing various recent applications for new products, which gave them a clearer idea of the hugely diverse and creative ways, in which event technology solutions can be deployed.
The evening of the first day of the Event.Tech Days ended with a lively and colorful show in the "Come Together" restaurant, including a live performance by the LUI HILL Band. Technology, insights, and networking — participants at the Event.Tech Days 2019 were able to fully enjoy the networking event and focus on the business in hand as everything else — hotels, shuttle services and catering— was organized on their behalf.

More information:
adamhall.com
blog.adamhall.com
event.tech
Click here to download the Press Package (Press release in Word format in 4 languages + pictures)!