God's Word Audible to Everyone – LD Systems CURV 500 in Mølholm Church in Denmark
Admittedly, Denmark's Mølholm church in the community of the same name does not boast a hundred-year history. Constructed and consecrated in the 1950s, the classical architecture and sleek elegance of the small house of God nevertheless provide a reverent setting for church services, christenings, weddings, funerals and even spiritual and secular concerts. Despite its young age, in 2019 the time had come to find a suitable replacement for the obsolete sound system. It did not take long for the Danish integrator All Stage to choose the compact and flexible CURV 500 array system from LD Systems.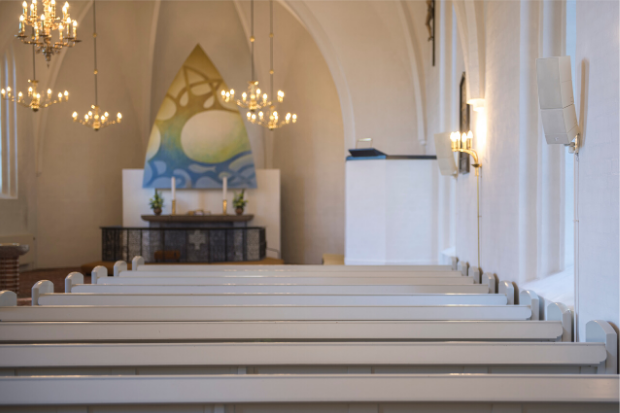 Discreet and Versatile
"The previous sound system had shortcomings in speech intelligibility and music playback," explains Kasper Kjær from All Stage. "The new system had to work for both music playback and live concerts. Here, like in every church, it was important to find a visually discreet system that, despite the wide range of requirements and problematic acoustics, would have as little impact as possible on the room appearance"

Kasper Kjær
All Stage solved the problem with eight white CURV 500 array units, each with two or three S2 satellites: Four arrays with CURV 500 iSUB 10" installation subwoofers for the nave with pews, two CURV 500 arrays for the altar area, one array for the waiting room and another array for the entrance area.
Church Debut for All Stage
Up until now, All Stage had regularly used the flexible CURV 500 array systems in meeting rooms and conference environments, but never in a church. Allan Bagger, Account Manager Rental & Install for Northern Europe, dispelled any doubts that may have existed with a live on-site demo that overwhelmingly impressed the customers.
Further information:
allstage.dk
molholm-kirke.dk
ld-systems.com
ld-systems.com/curv500