KORG on HangOuts Roadtour with LD Systems CURV® 500TS
With the KORG HangOuts, KORG UK regularly organises specialised events where musicians and sound hobbyists can look at new products and classics of the KORG brand in stylish locations. At the current HangOuts in Manchester and Liverpool, KORG presented its new synthesisers Minilogue XD, Volca Drum and Volca Modular – and relied on the compact CURV 500® touring array system from LD Systems for the sound reinforcement of the presentations.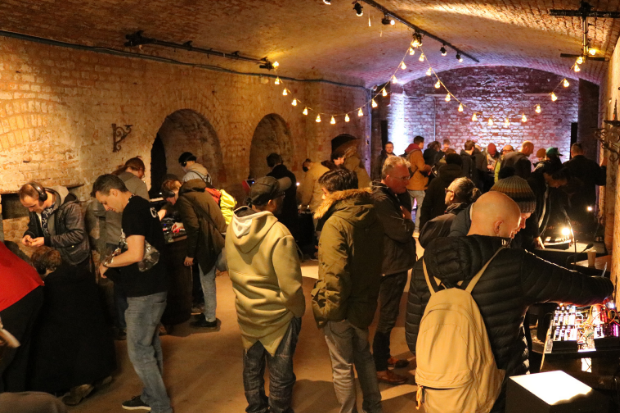 Synthesisers, with their sound variety and enormous frequency range, are a real challenge to most compact sound reinforcement systems. The lowest frequencies of basses and kickdrums are particularly important and determine whether the audience only hears the low end or feels it all over their bodies.
Even the KORG staff were impressed how powerful the new synthesisers sounded when played through the CURV 500TS with its four-line array elements and the 15″ bass reflex subwoofer.
CURV 500® TS
The compact CURV 500® Touring Array System from the Adam Hall Group brand LD Systems is particularly easy to transport and easily scalable for different requirements, thanks to four interlocking line array elements in unibody design, which are operated on a SmartLink® adapter. It comes with two standard CURV satellites with a 4″ midrange driver and three 1″ tweeters, as well as two duplex satellites with dual speakers, all equipped with LD Systems' own WaveAhead® technology.
The 15″ bass reflex subwoofer houses the CURV 500® Touring Array System's class-D amplification with a multiband limiter and protection against short circuiting, overheating and overvoltage. Combined and speakON-compatible jacks offer extensive connectivity, and the subwoofer features six DSP pre-sets for quick system configuration, an M20 threaded flange and three ergonomic carrying handles. With its low weight, the CURV 500® Touring Set provides a flexible PA solution offering a coherent and extremely detailed sound with a high level of pressure and dynamics as well as broad, wide-ranging dispersion. The set includes a rod attachment and a 2.2 m speaker cable.
More Information:
Korg.com
ld-systems.com/curv500ts
ld-systems.com
adamhall.com
blog.adamhall.com
event.tech