Futuroscope Theme Park Relies on Installation Speakers and LED Lighting from the Adam Hall Group
Neu-Anspach, Germany – February 26, 2019 – Futuroscope is not a regular amusement park. Opened in 1987 in Chasseneuil-du-Poitou near Poitiers, the second largest adventure park in France is fully and completely dedicated to state-of-the-art media technologies in order to provide its visitors with a unique experience. Over the years, Futuroscope's operators have always been on the lookout for new, innovative solutions. The reward: In 2017, Futuroscope won the Best European Attraction Award for the immersive 3D journey "The Extraordinary Voyage" with its tilting platform and angled 600 m2 screen. With the "Sébastien Loeb Racing XPerience" and "Dances with Robots", Futuroscope offers two new exciting experiences, for which the in-house technical service provider Futuroscope Maintenance et Développement (FMD) used light and audio solutions from the Adam Hall Group.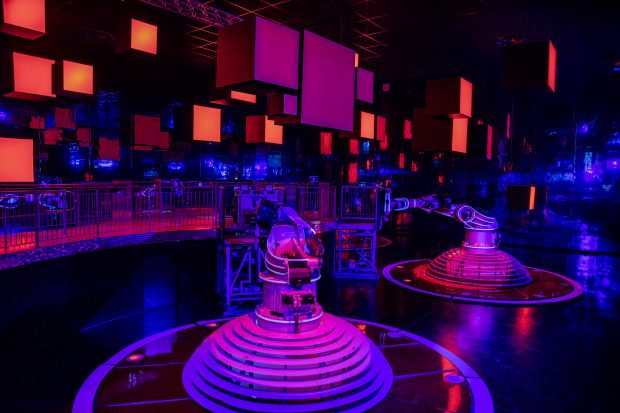 5D Racing with LD Systesms Pro Audio
Founded in 2017, FMD is a subsidiary of the park company and was responsible for the installation and technical maintenance of the new Futuroscope attractions. The "Sébastien Loeb Racing XPerience" was completed in March 2018 and is the world's first 5D virtual reality attraction. The participants sit in a sophisticated open-top driving simulator with complex sensors and experience a rally race as authentic as never before. Atmospheric racing sounds are provided by LD Systems with four black SAT 442 G2 installation speakers that, thanks to their sleek design, could be integrated seamlessly. Two SUB 10 A 10″ subwoofers provide extended frequency range. FMD technicians utilised 15 fixed Cameo FLAT PRO 12 LED RGBWA PAR spotlights to provide dynamic lighting for the immersive racing experience.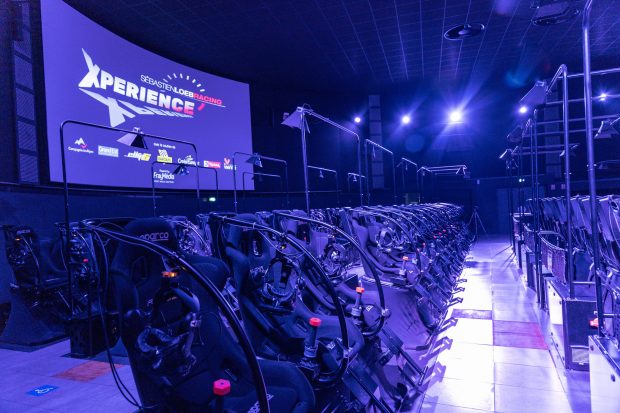 Dancing Robots
For the second attraction, "Dances with Robots", FMD used spotlights from the Cameo LED PAR FLAT series as well as some AURO SPOT 300 LED moving heads to update the experience to meet modern standards. Ten seven-metre-high robot arms (for automotive manufacturing), each with seating space for two people, form the basis of "Dances with Robots". In conjunction with music, lighting, video and mapping effects, a perfectly synchronised dancefloor party is created.
A total of 40 FLAT PAR RGB 10 IR spotlights were installed in the ground under the portholes around the individual robot arms to create appropriate lighting emphases. Four AURO SPOT 300 moving heads on the ceiling above the mezzanine have considerably more room to manoeuvre.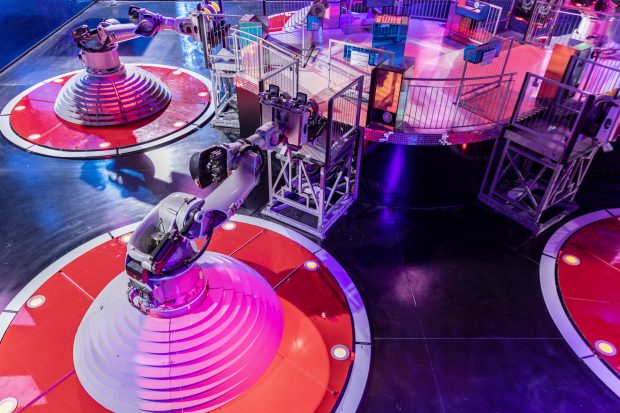 Further Investments
FMD was already using Adam Hall Cables and Adam Hall Accessories before fitting out the top attractions. Having had the systems from Cameo Light and LD Systems prove themselves in the sophisticated Futuroscope attractions, FMD will continue to use the Adam Hall Group brands in the future. Accordingly, the technology service provider recently invested in the ZENIT P130 IP65 PAR spotlight from Cameo Light, among other things, to meet the needs of various special events at Halloween, Christmas and other holidays.
The following products are in use at Futuroscope:
4 x Cameo AURO SPOT 300 LED moving heads
25 x Cameo ZENIT P130 PAR spotlights
40 x Cameo FLAT PAR RGB 10 IR PAR spotlights
15 x Cameo FLAT PRO 12 PAR spotlights
4 x LD Systems SAT 442 G2 4″ installation speakers
2 x LD Systems SUB 10 A 10″ subwoofers
Further information:
futuroscope.com
ld-systems.com
cameolight.com