Press: Adam Hall Group Expands Installation Portfolio – Premieres New Products at ISE 2019
Neu-Anspach, Germany – February 4, 2019 – At Integrated Systems Europe 2019 (February 5 – 8, 2019) at the RAI Convention Center in Amsterdam, the Adam Hall Group will be presenting a range of audio and lighting solutions for professional use in AV fixed installations at its stand (#7-W200). Besides the expansion of the Cameo ZENIT® series by the powerful and flexible outdoor wash light W300, the new installation amplifiers of the IPA and IMA series as well as the world premiere of the MAUI I1 from LD Systems will cause a stir.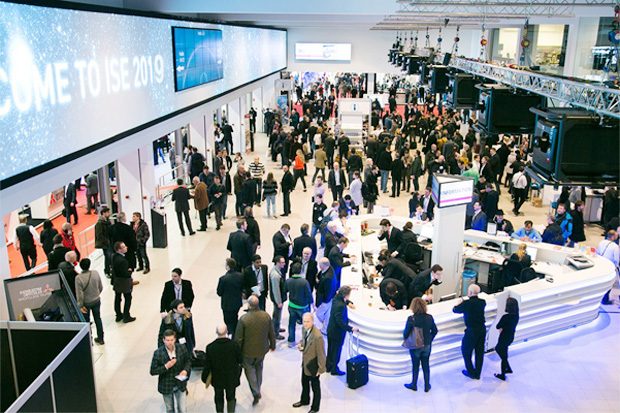 LD Systems IPA Series: Installation Power Amplifiers with DSP & Dante
With the IPA series, LD Systems expands its growing installation portfolio with DSP-based 4-channel installation power amplifiers. The new IPA412 (120W) and IPA424 (240W) feature integrated transformers per channel and provide 100V/70V tap and low-Z output down to 4 ohms. Each model includes a slot for an expansion card, which can be used to control the IPA amplifiers, including all DSP parameters, via Ethernet and to integrate them into larger installation networks thanks to Dante AoIP connectivity. In the basic version, the IPA amplifiers work as a standard installation amplifier with 100/70V tap and independent low-Z output for excellent sound quality. The DSP section includes PEQ (with matched speaker library), dynamics, matrix mixer, priority source selector and delay. Via a CAN bus (Controller Area Network), the IPA series is also capable of interacting with remote units and paging microphones.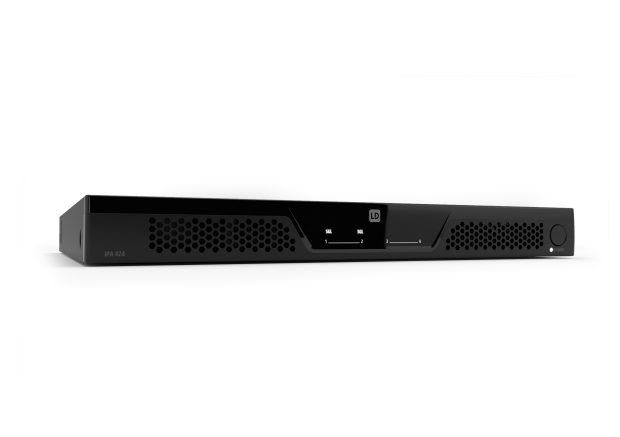 LD Systems IMA Series: Installation Mixing Amplifiers with 70/100V Output Transformers
The IMA30 is the first member of LD Systems' new IMA series of installation mixing amplifiers for use in fixed installations. With its versatile input and output options and multi-stage priority switching, the IMA30 enables flexible integration in commercial and industrial applications. On a compact 9.5″ chassis and 2RU, the IMA30 offers two mic/line inputs with +24VDC phantom selector, two stereo line inputs plus an integrated Bluetooth wireless signal input for connecting music sources, and a priority input for emergency paging. Outputs include a powered 30W @ 4 Ohms output plus a 70/100V tap as well as bass and treble tone controls. A Low-Z/High-Z selector separates the output signal completely from the output transformer, in order to get the best frequency response for low impedance applications. The IMA30 can also be used in conjunction with external amplifiers, subwoofers or music-on-hold systems via the separate aux line output. The music mix selector can be used to determine whether the entire mix or only the selected music source is channeled to the output.
The IMA30 offers four priority levels for emergency calls, mic/line inputs and connected music sources, as well as a selectable automatic standby mode for Energy Star certification. In order to enable not only integrators and installation service providers but also end users to easily operate the IMA series in daily practice, LD Systems put great emphasis on a user-friendly front and rear panel design.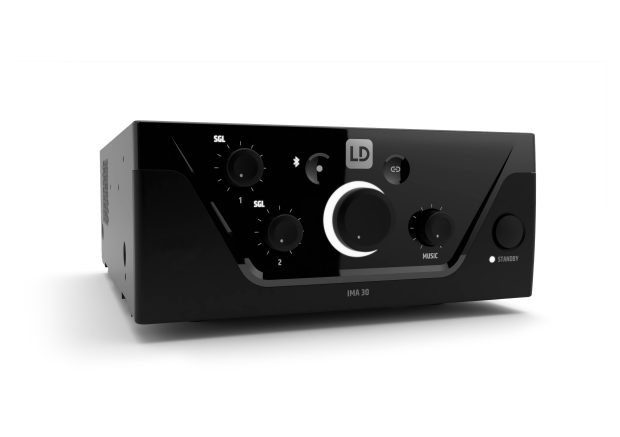 LD Systems DQOR Outdoor Speaker Series
LD Systems presents a new series of installation loudspeakers for outdoor and indoor use. The 2-way systems come in the new dynamic LD Systems design and are available as low-impedance version (8 Ohm) and high-impedance version (16 Ohm) with tap switch for variable power output in 70/100V applications. The sizes available are 3", 5.25" and 8". For flexible integration into a wide array of indoor and outdoor environments, the speakers feature an integrated wall mount plus a convenient slide-and-lock mechanism. Thanks to the integrated connection panel, the loudspeakers can also be used in optically demanding environments without visible cable paths. Furthermore the 27° tilt and 45° pan mechanism allows exact positioning for precise sound coverage. The new Outdoor Speaker Series is available in black and white.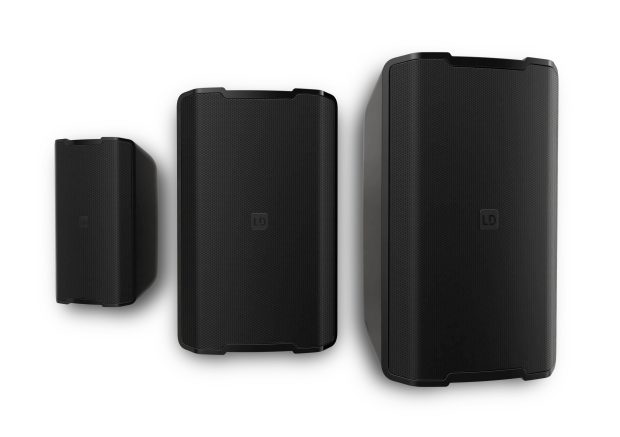 LD Systems MAUI I1: MAUI goes Installation
With the MAUI I1, the award-winning MAUI series of active column speaker systems from LD Systems takes the next evolutionary step. For use in fixed installations, the Surface-Mount Column Loudspeaker has been reworked and tailored to the special needs of planners, integrators and end users. The MAUI I1 is a column speaker with 9 x 3" full-range woofers and 2 x 1" neodymium high frequency drivers with integrated 2.5-way crossover and 120W RMS power @ 8 Ohms. The BEM-optimized high-frequency waveguide, which allows precise adjustment of the vertical dispersion, ensures homogeneous dispersion in acoustically challenging environments. For seamless integration into constant-voltage loudspeaker systems, the MAUI I1 has an input mode switch with 8 Ohms/70/100V options and a power tap selector for high impedance use with 60 – 30 – 15 – 7.5W taps. A dedicated U-bracket for flexible wall/ceiling mounting is included. The MAUI I1 is available in black and white.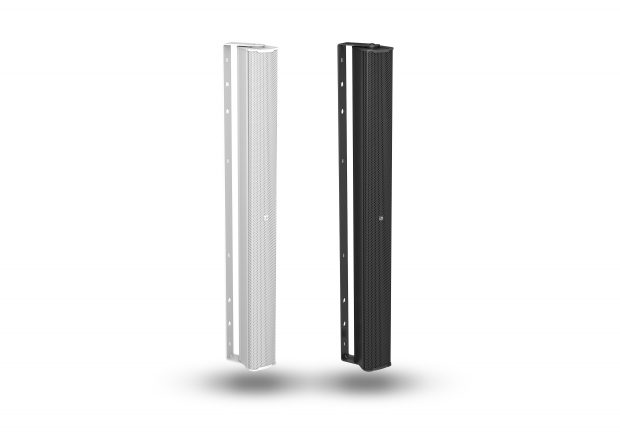 Cameo ZENIT Series Expands with W300
Following on from the successful launch of the ZENIT W600, Cameo presents the ZENIT W300 outdoor wash light with 21 x 15 W RGBW LEDs, providing a high luminous flux of 10,000 lumens for rich color bends. Without a diffuser, this powerful wash light features a beam angle of 21 degrees and a field angle of 40 degrees. Optional accessories enable alternative beam angles, which can be set in a matter of seconds thanks to the SnapMag filter frames. Its professional features also include an integrated 2.4 GHz W-DMX transceiver and control via RDM, DMX or infrared remote control. IP65 classification guarantees long-term outdoor use.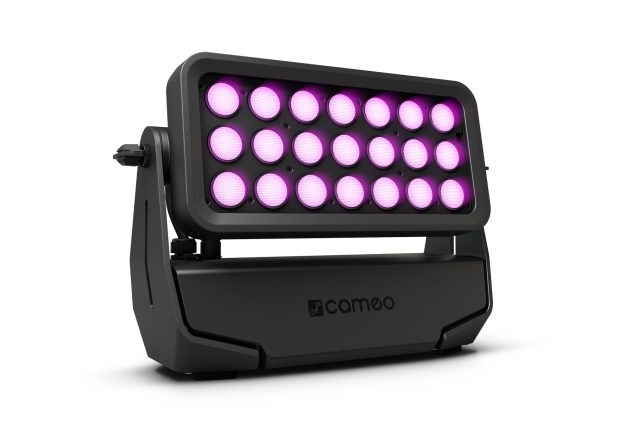 LinkedIn @Adam Hall Group
Twitter @AdamHallGroup
Facebook @AdamHallGmbH
#ISE2019 #ProAudio #ProLighting #EventTech
More Information at:
adamhall.com
blog.adamhall.com
ld-systems.com
cameolight.com