Press: LD Systems' award-winning MAUI® P900 audio system with iconic design now available
Neu-Anspach, Germany – 15 January 2019 – Event technology specialist the Adam Hall Group announces that the unique premium-class MAUI® P900 column PA system from LD Systems is now available. The combination of state-of-the-art audio technology and unmistakable design was created in collaboration with the design agency Studio F. A. Porsche and has already won numerous awards, including the German Design Award, the IF Award and the Red Dot Award 2018.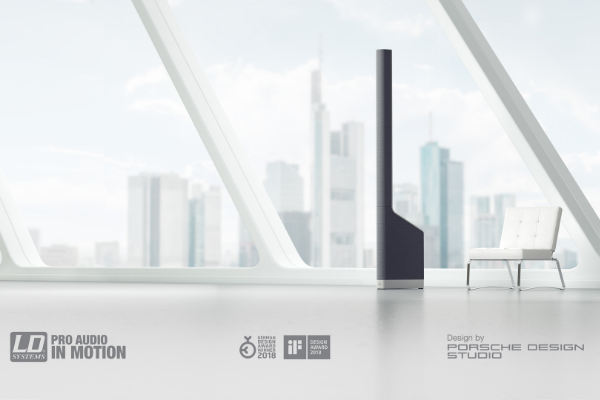 The LD Systems MAUI® P900 is the perfect choice for exclusive live events and installation applications requiring exceptional sound quality and excellent sound dispersion. Its stylish appearance and outstanding clarity also make the MAUI® P900 a high-end home theatre system which is both an optical and an aural delight. For elegant integration into virtually any setting, the MAUI® P900 is available in Cocoon white, Platinum Grey or Graphite Black.
Innovative technology
With its total of 50 neodymium loudspeakers and a 1,400-watt RMS class-D power amplifier, the innovative column system delivers a maximum SPL of 131 dB over a frequency range of 42 to 20,000 Hz. The MAUI® P900 uses SonicGuide® technology in conjunction with LD Systems' patented WaveAhead® tweeter arrangement to create a coherent wavefront. The system's wide 140° horizontal and closely focussed vertical dispersion provide consistent and long-ranging sound coverage. The LD Systems DynX® 24-bit signal processing delivers detailed, distortion-free and dynamic reproduction, even at high volume levels. In addition, aptX™ and AAC coding provide high-resolution Bluetooth® streaming with full audio bandwidth and a range of 70 metres. TrueWireless Stereo™ technology enables wireless stereo playback using two systems placed up to 40 metres apart.
Assembled in seconds
The three-section MAUI® P900 column system is made of high-strength aluminium with a multi-layered elastic front cover. Specially developed multipin connectors facilitate cable-free assembly in a matter of seconds. A minimalist connection panel provides system and subwoofer volume controls, two XLR sockets for stereo input and two XLR outputs for connecting two systems in a stereo configuration.
Reliable protection
For easy transportation and protection of the MAUI® P900 system, padded carrying bags for columns and subwoofer and a specially designed flightcase (made of high-quality hardware with precision-cut foam inserts) are available as accessories.
"With the MAUI® P900, LD Systems has an iconic column speaker in its portfolio, whose distinctive design, first-class components and excellent sound create a positive impression. The multi-award-winning design by Studio F. A. Porsche and the perfect symbiosis between form and function make the MAUI® P900 an exceptional audio system that totally redefines the boundaries between technology, art and design," says Viktor Wiesner, Product Manager, Pro Audio.
Due to enormous demand, the first production series of the Maui® P900 is already completely sold out. Upcoming deliveries will arrive in March 2019.
LinkedIn @Adam Hall Group
Twitter @AdamHallGroup
Facebook @AdamHallGmbH
#LDsystems #MAUIP900 #AdamhallGroup #EventTech #ExperienceEventtech #Innovation #ProAudio
Further information:
LD Systems MAUI® P900: ld-systems.com/MAUIP900
Studio F. A. Porsche: studiofaporsche.com/en/works/adam-hall-maui-p900-lautsprecher
Information about the Adam Hall Group:
adamhall.com
blog.adamhall.com
event.tech
About Studio F. A. Porsche
Studio F. A. Porsche is one of the leading design studios worldwide for product, mobility and interior design. Founded by Ferdinand Alexander Porsche in 1972, the Studio has stood for a perfect symbiosis of form and function ever since. For over 45 years the Studio has stayed true to its values: functionality, purism, perfection, relevance and passion. Today Studio F. A. Porsche creates products for select clients worldwide and premium design innovations for its own brand – Porsche Design. The Studio is a subsidiary of the Porsche Lizenz- und Handelsgesellschaft, with its main headquarters in Zell am See, Austria. Other subsidiaries are located in Berlin, Los Angeles and Singapore. Visit the Studio at: www.studiofaporsche.com
Press Contact: Studio F. A. Porsche
Kiara Sobina, Marketing + Communications