Mega Lighting and Big Beats for BigCityBeats WORLD CLUB DOME Winter Edition – Event Technology from Adam Hall Group in "Biggest Club in the World"
Neu-Anspach, Germany – December 13, 2018 – From November 16th to 18th, BigCityBeats WORLD CLUB DOME celebrated its 2018 Winter Edition in the Merkur Spiel-Arena in Düsseldorf. The unique club and concert concept, featuring a central main stage and more than 20 individual clubs in and around the fully heated football stadium, impressed approximately 90,000 visitors. This year, the technical service providers behind this mega event once again held nothing back for the temporary "Biggest Club in the World", which featured international headliners such as the Black Eyed Peas, Marshmello and The Chain Smokers. Among the technical service providers responsible was *unicateevents Eventtechnik, which relied on a combination of Cameo ZENIT PAR and wash lights, as well as the award-winning MAUI P900 from LD Systems, for the lighting and sound in the exclusive VIP area.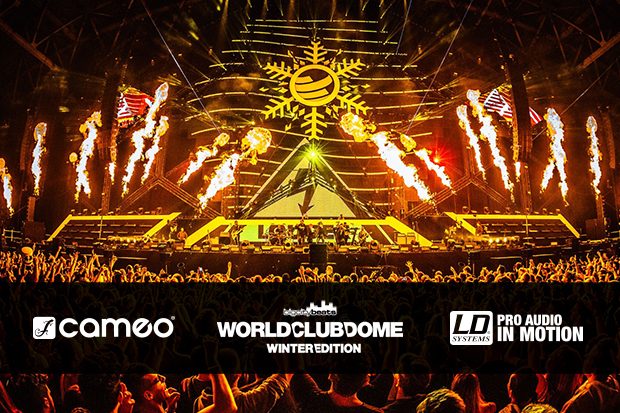 Successful Collaboration
The BigCityBeats WORLD CLUB DOME Winter Edition continues the successful collaboration between the organiser BigCityBeats GmbH and the Adam Hall Group. In the run-up to the Summer Edition in the Frankfurt Commerzbank Arena, the organisers came up with something very special and sent 100 selected clubbers from London to Frankfurt on a specially converted Airbus A320 Club-Jet. Also on board the luxury flying club with DJ Alle Farben were four white MAUI 5 GO sound systems from LD Systems.
For the VIP area in Düsseldorf, *unicateevents once again pulled out the big guns: 60 x Cameo ZENIT B60 B battery-powered LED PAR lights and 20 x Cameo ZENIT W600 LED wash lights formed the basis for atmospheric and elegant lounge lighting with striking tones. The fat club sound was provided by three MAUI P900 column PA systems that were developed in collaboration with Porsche Design Studio and which have been the winner of numerous international design and public awards.
Visual and Acoustic Stimuli
"From the outset, we were impressed by the spotlights from the Cameo ZENIT series because of their simple handling, flexible control via W-DMX as well as their light output. They were the perfect solution for the VIP area in the BigCityBeats WORLD CLUB DOME Winter Edition," explains Sascha Schuster from *unicateevents Veranstaltungstechnik. "The MAUI P900s are naturally a visual feast for the eyes and fit perfectly into a modern event such as the WORLD CLUB DOME. In addition, the powerful sound with its precisely controllable dispersion is equally impressive."

Sascha Schuster
The organisers of BigCityBeats were also completely satisfied with the lighting and PA systems: "The MAUI P900 was the perfect system for our location," says Bernd Breiter, Managing Director of BigCityBeats GmbH. "The lighting met our expectations for an exclusive VIP area 100%. Following the positive collaboration with the Adam Hall Group on the BigCityBeats Club jet this summer, we are delighted that the Winter Edition of the WORLD CLUB DOME has also been a complete success."
The following items were used for the Winter Edition of WORLD CLUB DOME:
60 x Cameo Light ZENIT B60 B LED PAR spotlights
20 x Cameo Light ZENIT W600 LED wash lights
3 x LD Systems MAUI P900 active column PA systems
Further information:
worldclubdome.com
cameolight.com
ld-systems.com
LinkedIn @Adam Hall Group
Twitter @AdamHallGroup
Facebook @AdamHallGmbH
Information about the Adam Hall Group: