LD Systems Installation in Minsk Children's Cancer Clinic
UNITED MUSIC equips auditorium with CURV 500 systems and conference microphones. The Center for Pediatric Oncology, Hematology and Immunology in the Belarusian capital Minsk is one of the country's leading medical clinics and research centers. Since its opening in 1997, the facility, which is equipped with state-of-the-art medical equipment, has made a major contribution to the increase in the number of successful cancer treatments for children. A significant part of this success is due to the lectures and international conferences, which will take place in the hospital's auditorium. This year, the auditorium was equipped with a comprehensive audio installation from LD Systems.



The Adam Hall Group's Belarusian distributor, UNITED MUSIC LLC, was responsible for the planning, provision and on-site installation. For PA, the pro audio specialists chose a CURV 500 array system in white, comprising arrays of four CURV 500 S2 satellites to provide the main sound for the ascending rows of seats. Two CURV 500 iSUB 10" installation subwoofers augmented the ultra-compact speakers to provide the low-end frequencies. The satellites and subwoofers were installed on the side walls of the hall using special wall-mount brackets from LD Systems. The entire system is driven by an iAMP class D installation power amplifier.
Overcoming the Dual Challenge
"From the outset we had to deal with two fundamental and partly interrelated challenges," explains Evgeniy Shimanskiy from UNITED MUSIC. "First of all, the customer did not want massive speakers with the typical live sound look, but a visually discreet system able to not only project speech clearly and intelligibly, but to also provide ample sound emission for music, such as in video recordings. The second challenge was the restricted installation. Because of the restricted positioning, we were unable to use any load-bearing walls. Therefore, the system had to be not only powerful, but also lightweight and compact."
Flexible Voice Transmission
In order to process the signals optimally both at the end of the sound chain and at source from the speakers and discussion participants, UNITED MUSIC augmented the LD Systems package with three D 1015 CM gooseneck microphones, featuring super-sensitive condenser capsules, cardioid pick-up and matching D 1015 CMB metal bases. For mobile operation, users can swap to a two-channel ECO 2X2 HHD 1 wireless microphone set with two dynamic hand-held transmitters. All microphone signals are sent to a VIBZ 12 12-channel mixer with high-quality microphone preamps for rapid and easy adjustment of individual signal levels.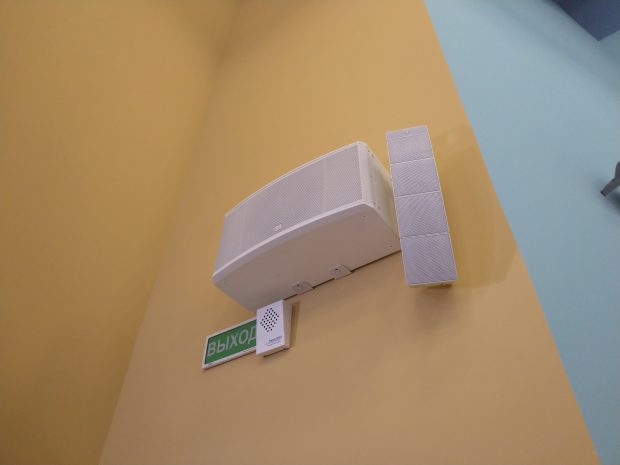 The following equipment was used for the installation:
8 x LD Systems CURV 500 S2 W array satellites
2 x LD Systems CURV 500 ISUB W 10'' installation subwoofers
1 x LD Systems CURV 500 IAMP 4-channel class D installation power amplifier
2 x LD Systems CURV 500 SLA W SmartLink® adapters
2 x LD Systems CURV 500 WMB W wall-mount brackets
3 x LD Systems D 1015 CM conference goose-neck microphones
3 x LD Systems D 1015 CMB bases for D 1015 CM conference microphones
1 x LD Systems ECO 2X2 HHD 1 wireless microphone system with two transmitters
1 x LD Systems VIBZ 12 DC 12-channel mixer
Adam Hall cables, plugs & stands
Further information:
oncology.by
united-music.by
www.ld-systems.com
www.ld-systems.com/curv-500-serie
www.ld-systems.com/d-1015-cm
www.ld-systems.com/eco-2×2-hhd-1
www.ld-systems.com/vibz-serie