RACER'S cafe and restaurant uses full sound system from LD Systems
Before you even get inside, RACER'S makes an imposing impression: Directly above the entrance an oversized motorbike bursts through the facade of the building, unmissable as it leaps over every visitor and passer-by. No doubt about it, RACER'S cafe and restaurant in the Austrian city of Villach creates an impression and is no shrinking violet when it comes to its attractions. Inside, the prevailing image continues: Motorbikes on beams, walls painted like chequered flags and many other petrolhead features make RACER'S a dream for bikers and lovers of American cuisine.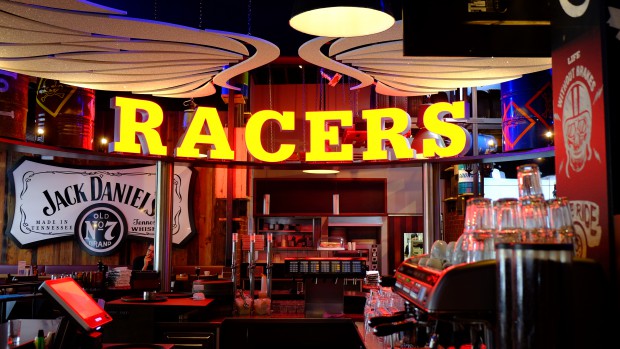 CURV 500 for bikers and fans of the US
In order to provide an equally amazing acoustic accompaniment to the visual and culinary delights on offer, RACER'S recently installed a new sound system from LD Systems. Dany's Music Shop from Villach was responsible for the planning and on-site installation, utilising a CURV 500 system and individual satellite speakers to make the interior and conservatory areas suitable for different applications – from classic restaurant background music to private parties and live music.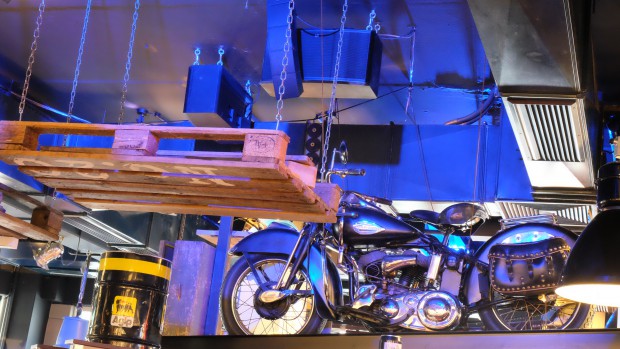 Multi-zone sound system
For the approximately 200 m2 main room, installation experts from Dany's Music Shop installed a total of 16 CURV 500 S2 array satellites (arranged in four groups of four) in combination with four CURV 500 iSUB installation subwoofers powered by three CURV 500 iAMP class-D power amplifiers, each delivering 4 x 240 watts. The two adjacent 25 m2 and 35 m2 conservatories are equipped with four SAT 262 G2 6.5" installation loudspeakers, which have been installed both horizontally and vertically on the bright walls of both outdoor areas. An LD Systems ZONE 624 4-zone mixer in 19″ format controls signal distribution and adjustments for the individual zones.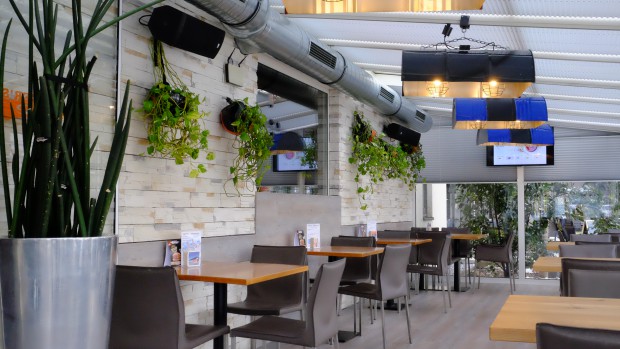 The perfect solution in any context
"The CURV 500s are small and discreet and therefore barely noticeable in the overall RACER'S aesthetic," explains Daniel Pscharzer from Dany's Music Shop. "Furthermore, the arrays deliver a full, transparent and brilliant sound, even at low volume. They also work in a party context when more power and volume are required."
The following equipment is in use at RACER'S:
16 x LD Systems CURV 500 S2 array satellites
4 x LD Systems CURV 500 iSUB installation subwoofers
3 x LD Systems CURV 500 iAMP class-D power amplifiers
4 x LD Systems SAT 262 G2 6.5″ installation speakers
1 x LD Systems XS 400 class-D PA power amplifier
1 x LD Systems ZONE 624 4-zone mixer
Further information:
ld-systems.com
ld-systems.com/curv-500-serie
ld-systems.com/sat-g2-serie
racerscafe.at
danysmusicshop.at