Schaapsound Installs CURV 500 System in Rotterdam Reformation Church
The GKV Rotterdam Centre (Gereformeerde Kerk Vrijgemaakt) is a protestant reformation church in the centre of the Dutch port city of Rotterdam, which underwent extensive renovation in early 2017. In addition to a new floor, the removal of partition walls, a new entrance and a brand-new interior, the modern, open-plan church also includes a new CURV 500 pro audio array system from LD Systems.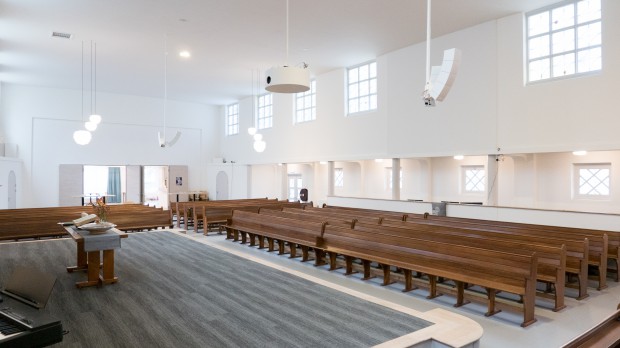 Perfect Voice Coverage
AV specialists from the Dutch firm Schaapsound carried out the installation in the church, which has retained its predominantly white and natural wood tones. In order to provide accurate sound dispersion with excellent speech intelligibility across the wide interior with high ceilings during religious services, Schaapsound utilised a total of four CURV 500 arrays of four S2 satellites suspended from the ceiling in front of the altar gantry in a 2 x 2 configuration, projecting both forwards and to the side pews.
"The CURV 500s are perfect for sound projects of this type, since they are extremely compact and discreet and hardly affect the appearance of the room," explains Joost de Visser from Schaapsound. "And they sound fantastic. Whether it's speech or music – we are always amazed at the sound from these small satellites."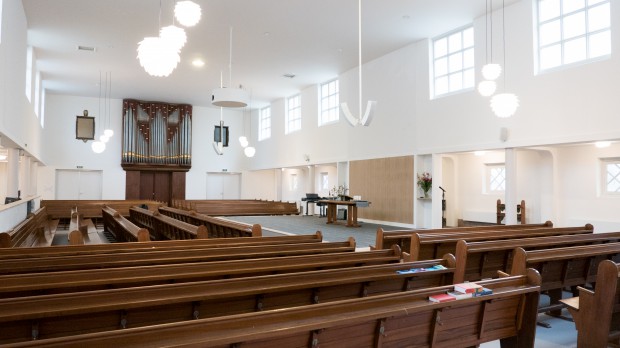 The main arrays are supplemented by two 2 twin satellite sets mounted on the rear wall behind the altar area and projecting sideways so as to provide perfect sound even for the outermost seats.
Discreet subwoofer integration
In order to provide music performances with sufficient power, Schaapsound installed two 10″ bass-reflex subwoofer with Class D power amplifier from the CURV 500® AV Sets, which were integrated invisibly into the two front corners of the slightly elevated altar stage.
In order to maintain the GKV Rotterdam Centre's aesthetic integrity and not detract from services, all of the CURV 500 elements were supplied in white to blend seamlessly into the overall visual appearance of the church.
The following equipment was used for the GKV Rotterdam Centre installation:
2 x LD Systems CURV 500 AVS W portable array systems
8 x LD Systems CURV 500 S2 W array satellites
6 x LD Systems CURV 500 WMB W wall-mounting brackets
6 x LD Systems CURV 500 SLA W SmartLink adapters
1 x LD Systems DJ 300 power amplifier (to power the fill satellites)
Further information:
www.ld-systems.com
www.ld-systems.com/curv500/en/