MULTISOUND Invests in Cameo ZENIT P130
MULTISOUND has extended its lighting portfolio with 48 Cameo ZENIT® P130s. The Rhine-Main-based provider of event technology and professional rental equipment now has 96 of the versatile, IP65-rated LED PAR spotlights for outdoor use.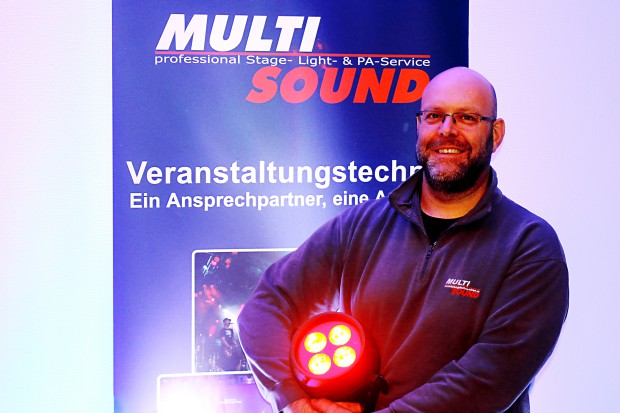 "We had been searching for a long time for a new, modern LED PAR spotlight to replace our old indoor and outdoor LED spotlights. During this time, we tested a range of spotlights from different suppliers in the workshop, but the Cameo ZENIT P130 impressed us the most with its quality, functionality and aesthetic," explains Martin Steinfels, managing partnerof MULTISOUND.
Flexible Spotlight and Excellent Support
"The ZENIT P130 impressed us with its high output and flexibility, with the option to adjust the beam characteristics by changing diffusers. Another deciding factor was the ability to use it both indoors and outdoors. This simplifies planning for us, as we can be more flexible during installation on-site. For this reason, we have invested in the large quantity of 96 units in total. The excellent support from the Adam Hall Group has also made a crucial difference, because we had a number of special software and hardware requirements (such as 3-pin XLR connectors), which were fulfilled quickly and flexibly."
Discreet Look
For MULTISOUND, the ZENIT® P130s are primarily used in the industrial sector, so the subtle aesthetics of the LED PAR spotlights were a key influence in the investment decision. "Normally, outdoor lights are quite chunky and are therefore only of limited use at high-quality indoor events. The ZENIT P130 is a welcome exception," Steinfels explains, impressed by the ZENIT® P130's elegant design.
Cameo ZENIT® P130 – Powerful LED PAR for Outdoors and Indoors
The Cameo ZENIT® P130 is an IP65-rated PAR spotlight for indoor and outdoor use with a precise, extremely narrow 8° beam angle. It is supplied with two specially developed diffusers to provide flexible alternatives of 25° or 45° with consistent light output. The ZENIT® P130 generates brilliant consistent colours with its four 32 W RGBW Osram Ostar LEDs, and its 16-bit technology ensures high resolution when colour-blending and dimming.
Further information:
www.cameolight.com
www.cameolight.com/zenit-serie
www.cameolight.com/zenit-P130
Information about MULTISOUND:
www.multisound.de