Prize Drawing: 11 available colors – 11 Gravity® Stands to win
With the colorful assortment of the optional G-Rings, Gravity® Stands are uniquely postioned to offer an interchangeable color-coded labelling and personalization system. The smart G-Ring concept, with 11 attractive colors to choose from, provides a convenient coding system to ensure that you can enjoy a smoother setup/soundcheck, differentiate your equipment, or simply match up with the rest of your own gear to add to the fun.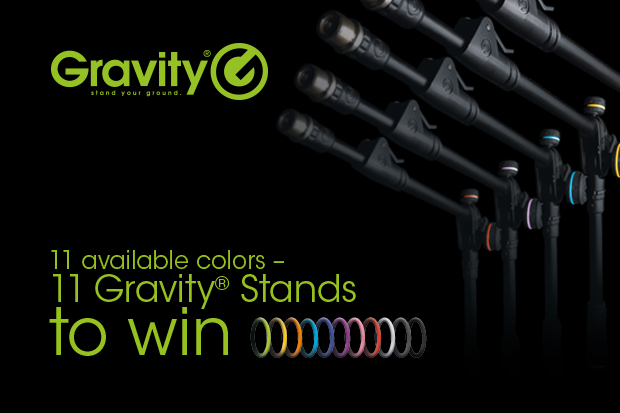 Take this opportunity and win one of 11 Gravity® Stands, each with an assortment of colored G-Rings.
Here are the conditions to participate:
Take a picture of yourself with a Gravity® Stand or any other Gravity®-branded item (i.e. a Gravity® magazine ad, a Gravity® product catalog or flyer, a Gravity® Lanyard, etc.). Please note: to participate in the Gravity® contest, the Gravity® Logo must be shown clearly somewhere in your photo.
Be sure to include the hashtags #gravitystands and #musikmesse2016 and then post your photo on Facebook and/or on Instagram.
The Gravity® Stands contest starts on April 1st and ends on April 10th. The winners will be announced on the Gravity® Stands Facebook Page and on Instagram.
Click here to get to our Gravity® Stands Facebook and Instagram Pages:
https://www.facebook.com/gravitystands/
https://www.instagram.com/gravity_stands/
Gravity® Stands at Musikmesse 2016
Gravity®, Adam Hall Group's new brand of modern music stands, will have its own booth at the Musikmesse in Hall 11, #E48, where product experts will explain the special features and innovative elements of the premium brand. Musikmesse takes place from Thursday, April 7th to Sunday, April 10th. The Musikmesse is open to both trade and private visitors.
Gravity® is also the stands partner for the 2016 Musikmesse stages, including the Beck´s Open Stage and Center Stage near Halls 10 and 11.
Click here to download the official rules for the "Gravity Prize Drawing" at Musikmesse 2016
First impressions for the Gravity® contest from our Marketing Team.