VIP sound for handball fans – Realution provides sound for MT Melsungen's VIP area with the LD Systems MAILA
The town of Melsungen, Germany, might only have around 34,000 inhabitants – and yet it is known nationwide. This is because of MT Melsungen, which has been competing successfully in the Handball Bundesliga since 2005. The venue is the Rothenbach-Halle in Kassel, 25 kilometres away. Situated on the grounds of the Messe Kassel, the arena can accommodate around 5,000 fans at matches. Special guests can also use the directly adjacent Hall 8, which serves as a large VIP area on match days. Since the beginning of this year, the VIP experience has become even more exclusive: as one of the first event technology providers in Germany, the Realution Group has now invested in the LD Systems MAILA Modular All-Round Intelligent Line Array, and is successfully using the MAILA L version in the 2,000 m2 VIP hall.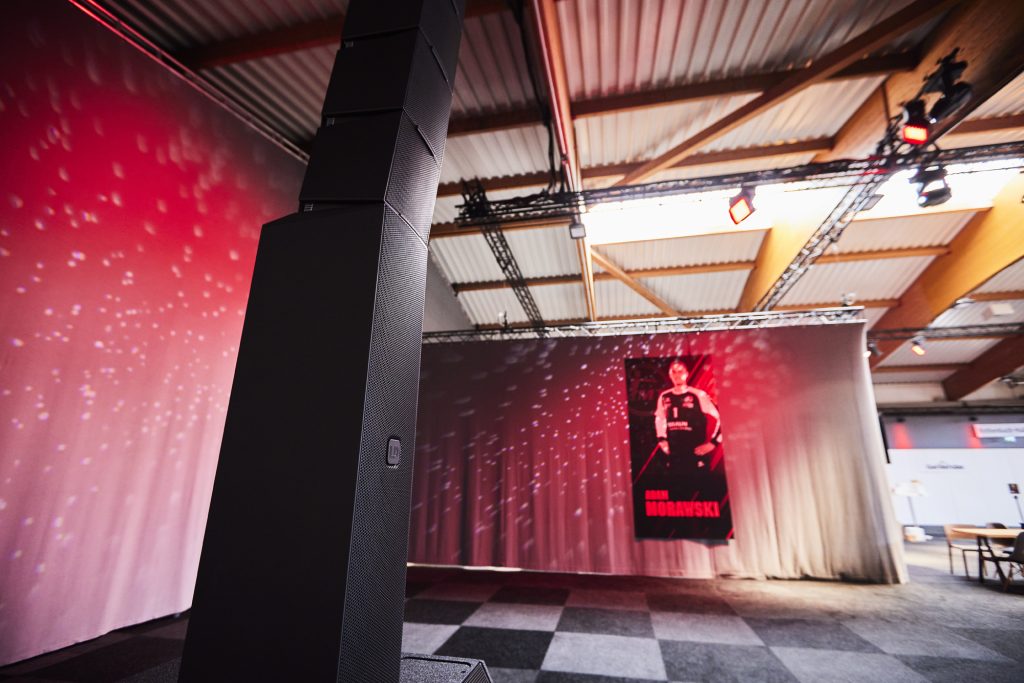 Managed by Rüdiger Gans and his sons Philipp and David Gans, Realution is a true family business that has established itself as a full-service event technology provider, from planning to implementation. With the investment in two MAILA sets (MAILA XXL and MAILA L), Realution has once again vastly expanded its design possibilities in the field of sound reinforcement: "We had long been looking for a sound reinforcement system for the corporate, conference and gala markets that has a compact design while being able to cover distances of more than 15 metres," explains Philipp Gans.
VIP flair with MAILA L
In exhibition hall 8 in Kassel, the MAILA L system – which features a total power output of 15 kW – expands the hall's areas of application beyond its use as a VIP area for MT Melsungen. It can now also be used, for example, for evening events, talk shows and live concerts. During the initial setup, Realution was particularly impressed by the easy handling of the system: "MAILA is really very easy to handle. The first installation took just 60 minutes." The advantage: when exhibition hall 8 is needed for another purpose that does not require sound reinforcement, the MAILA L system can quickly and effortlessly be dismantled and later reinstalled by Realution.
The basis of MAILA L – the largest ground-stack stereo system in the MAILA family – is formed by four 2.5 kW 2×15" high-performance subwoofers (MAILA SUB) in a bandpass design, which deliver a massive and powerful low-frequency foundation with their newly developed SysCore DSP. On top of the dual subwoofers sits the MAILA COL full-range column module, which, in addition to four 6.5" woofers for an extended low-mid range, also includes a 4-channel DSP amplifier (2.5 kW) with SysCore DSP for driving the MAILA SAT satellites via the wireless SmartLink+ rails. Six MAILA SAT satellites, each with five 1" tweeters and a 6.5" midrange driver, are mounted atop each COL column element in a sleek unibody aluminium cabinet. With a height of more than 3 metres, the ground stack setup delivers a classic line array dispersion pattern with an exceptionally long throw that covers Hall 8 without any problems.
Prepared for everything with MAILA XXL
With the investment in the largest MAILA set – MAILA XXL – Realution also has a highly versatile package for touring, events and conferences in its portfolio. Designed primarily for flown applications, the system offers maximum flexibility for planning and staging events and can be reconfigured into a second MAILA L ground stack system if required, at no extra cost.
Realution has invested in the following products:
#LDSystems #YourSoundOurMission #EventTech #ExperienceEventTech
Further information:
realution.io
ld-systems.com
adamhall.com