Multi-zone audio sound system with LD Systems at the Lopušná dolina Wellness Resort Hotel
The Wellness Resort Hotel Lopušná dolina is located at the foot of the Tatra National Park in northern Slovakia. Thanks to its unique location and the climate conditions provided by the surrounding health resorts, the resort invites you to relax and unwind all year round. To ensure that the good air is not 'polluted' with bad sound waves, the hotel operators commissioned Slovakian integrator Zaudio s.r.o. The task: to provide the various guest areas, both indoors and outdoors, with a high-quality, flexible, and robust sound system. As an experienced service provider, Zaudio relied on LD Systems' DQOR loudspeakers and IPA series installation amplifiers.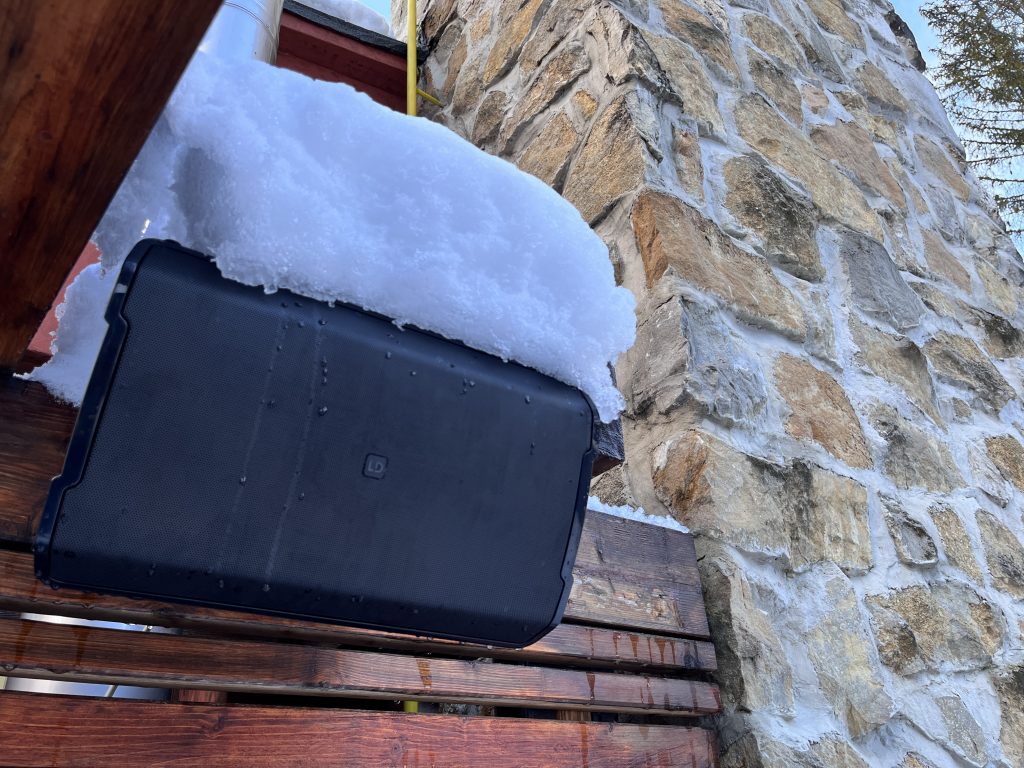 Located next to a ski resort, the hotel experiences extreme weather conditions, with temperatures dropping to -25° Celsius in winter, and blazing sunshine in summer. In the outdoor areas, loudspeakers are needed that will work all year round. In addition, the operators expressed a desire to use a uniform design for both indoor and outdoor use. These are challenges that, to Zaudio's ears, sounded tailor-made for LD Systems' DQOR Series of indoor/outdoor installation loudspeakers.
14 zones
The hotel sound system comprises a total of 14 audio zones, which, depending on the distance, are supplied with sound by power amplifiers in 100V technology or low impedance with 8 or 16 ohms. Accordingly, Zaudio used both the 70/100V and 8-ohm versions of the DQOR loudspeakers. The amplifiers used were the LD Systems IPA412T and IPA424T DSP installation amplifiers, which have both 70V/100V outputs with toroidal transformers for long cable runs, and low impedance 4-ohm outputs in conventional circuitry. This gave Zaudio a free hand in the design and installation of the multi-zone sound system, allowing them to respond flexibly to the end customer's requirements.
Another advantage of the IPA Series is its easy expandability. With only one expansion card, the amplifiers become fully Dante-capable. Thus, for particularly long distances – for example to the playground or the barbecue house – the Dante protocol is used, which makes the use of external converters superfluous. A visually inconspicuous but in daily practice important advantage is also offered by the reduced front section of the IPA units: there are no switches or the like here on which unwanted changes can be made.
Custom control
All zones in the hotel are controlled via a main PC and tablets. For this purpose, Zaudio programmed an individual control interface for the hotel staff. Depending on the zone, they can choose from predefined players and sources. This ensures that each hotel area and each zone is covered with the appropriate content.
The following LD Systems products are used in the Wellness Resort Hotel Lopušná dolina:
04 x LD Systems DQOR 5 B
08 x LD Systems DQOR 8 T B
10 x LD Systems CFL 62
05 x LD Systems CFL 62 100V
04 x LD Systems CURV 500 S 2 W
01 x LD Systems CURV 500 I SUB W
01 x LD Systems CURV 500 I AMP
01 x LD Systems IPA 412 T
01 x LD Systems IPA 424 T
#LDSystems #YourSoundOurMission #EventTech #ExperienceEventTech
---
Further information:
lopusnaresort.sk
zaudio.sk
ld-systems.com