In This Garden We Loved – Immersive Theatre Production with LD Systems CURV 500 at the Sejong Centre in Seoul, Korea
The Sejong Centre in Seoul, South Korea is the artistic centre point of the city and combines ancient Korean cultural symbolism and modern performance forms in an exemplary way. A perfect example of this was provided by the play "In This Garden We Loved". Performed in the intimate atmosphere of the Sejong S Theatre – the theatre's experimental stage – the artistic directors decided to use an immersive audio system to draw the audience acoustically into the beautifully lit garden landscape of the stage set. The integrator in charge, Sonic Value, used an LD Systems CURV 500 system for the all-round sound reinforcement.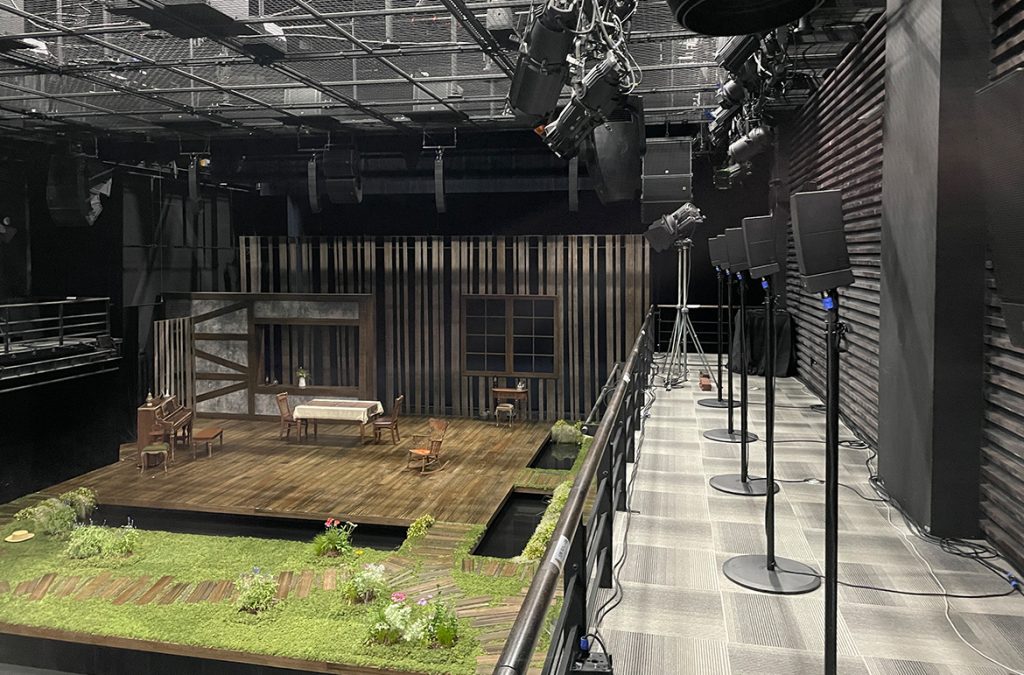 Setup
A total of 60 CURV 500 satellites were required to provide immersive coverage of the Sejong S Theatre with its steeply rising rows of seats. Five flown CURV 500 TS arrays, each consisting of two S2 array satellites and two D SAT duplex satellites, served as the main system. To the sides, six CURV 500 D SAT duplex satellites each were used on two levels – flown underneath, and on tripods above. The immersive setup was completed by six CURV 500 D SAT units positioned behind the last row of audience members. For the first rows of the audience, Sonic Value also placed five Stinger 10 A G3 loudspeakers as near fills lying at the front edge of the stage.
For Hyunchul Yoon, Senior Engineer at Sonic Value, the challenge of an immersive theatre sound system is not only the sound quality of the audio system used, but also – and perhaps most importantly – the interaction of the numerous loudspeaker components to create an immersive sound image throughout the room: "The CURV 500 system absolutely convinced us with its precise sound dispersion. With its three tweeters, each CURV 500 satellite already forms its own array with crystal-clear sound. In combination with all the speakers, the CURV 500 system also enables clean handling of the dispersion angles and thus a clean sound image."
Compactness
In addition to the sound quality, the compact size of the CURV 500 also provides more room for manoeuvre in terms of integration into the room and stage set – a decisive reason why Sonic Value was able to convince those responsible at the Sejong Centre to use the CURV 500 system in the initial meetings. "With another loudspeaker system, the implementation would definitely have been more difficult," Yoon says.
"With its compact design, the CURV 500 is perfect for immersive productions."

Hyunchul Yoon, Senior Engineer Sonic Value
Flexible mounting
Despite extensive simulation of the immersive sound reinforcement in advance of the production, the final loudspeaker setup was only determined on site. This is where Sonic Value benefited from the flexible installation accessories for the CURV 500 system: "The SmartLink adapter allowed us to quickly and easily change the layout of the main arrays to optimise vertical coverage," explains Yoon. "Positioning the side and rear D SAT duplex satellites on trusses and tripods also worked smoothly."
The following LD Systems products were used in the Sejong Centre:
#LDSystems #YourSoundOurMission #EventTech #ExperienceEventTech
---
Further information:
sonicvalue.com
sejongpac.or.kr
ld-systems.com

adamhall.com
event.tech