The many advantages of the new LD Systems MAUI® 5 GO 100 – we have made the GO even more mobile.
Since its market launch, the LD Systems MAUI® 5 GO has proven itself worldwide as an almost perfect all-rounder for mobile musicians and DJs. Equipped with a 5,200 mAh rechargeable battery, weighing 13 kg and ready to play in seconds thanks to the multipin connectors typical of MAUI®, our smallest MAUI® column PA to date delivers crystal-clear, powerful sound everywhere.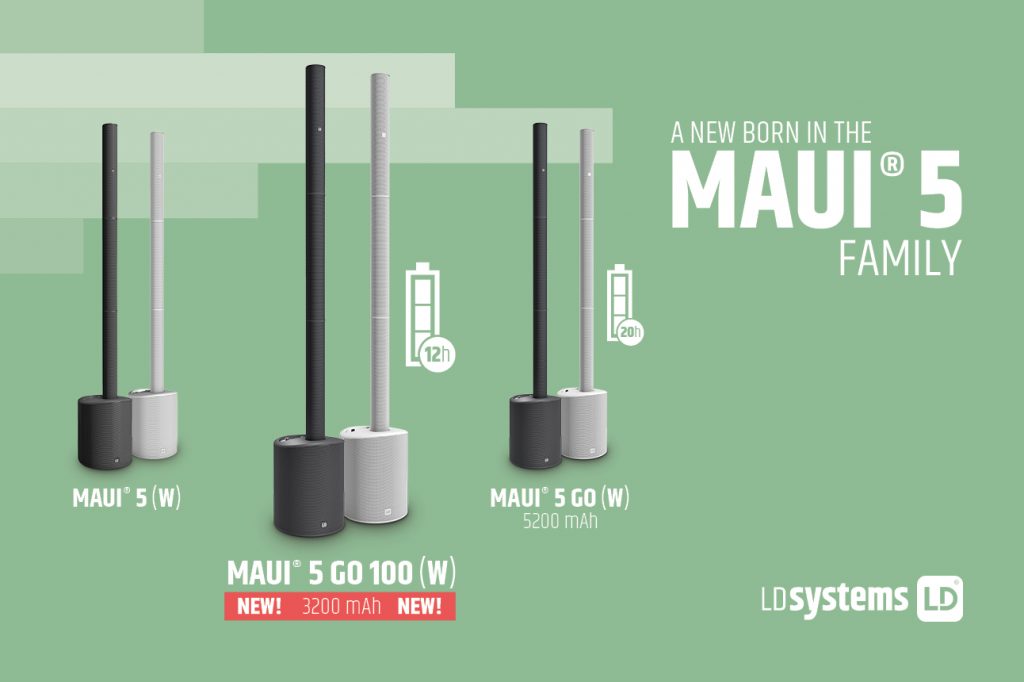 Now we have made the MAUI® 5 GO even smaller, although nothing has changed on the outside. The new MAUI® 5 GO 100 has a smaller 3,200 mAH lithium-ion battery that still provides a full 12 hours of continuous operation, but offers a decisive advantage over its larger 5,200 mAh brother: the battery – and thus the entire MAUI® 5 GO 100 – can be shipped as exempt dangerous goods (< 100 Wh) in accordance with special regulation 188 (transport of lithium metal and lithium ion batteries).
This way, everyone saves costs: dealers in national and international shipping, event technology service providers who use the MAUI® 5 GO 100 as an ultra-flexible, supplementary sound system for small events with up to 100 people, and musicians/DJs, because the MAUI® 5 GO 100 is even cheaper than the MAUI® 5 GO – and delivers the same, big sound!
Less is more – in this case, the old slogan really does apply:
Less weight – More mobility
Less battery capacity – Easier transport
Easier transport – Greater international availability
Lower transport costs – Lower price
With the new MAUI® 5 GO 100, singer-songwriters, street musicians, DJs and lifestyle addicts will have even more fun – anywhere, anytime.
---
More information:
ld-systems.com
MAUI 5 GO 100
adamhall.com
event.tech
#LDSystems #YourSoundOurMission #MAUISeries #ProAudio