Press: Now Available – Free EASE Files for LD Systems Installation Loudspeakers
Neu-Anspach, Germany – 09 March 2021 – LD Systems announces a new release of additional EASE files for its installation loudspeaker series. Since releasing the DDQ Series' active full-range touring-class loudspeakers as GLL files for the leading 3-D acoustic simulation software during the past few months, LD Systems has invested heavily in licensing additional loudspeaker series for the installation industry. The EASE files are now available for a wide range of installation loudspeakers for EASE, EASE Focus 3, and EASE Address applications.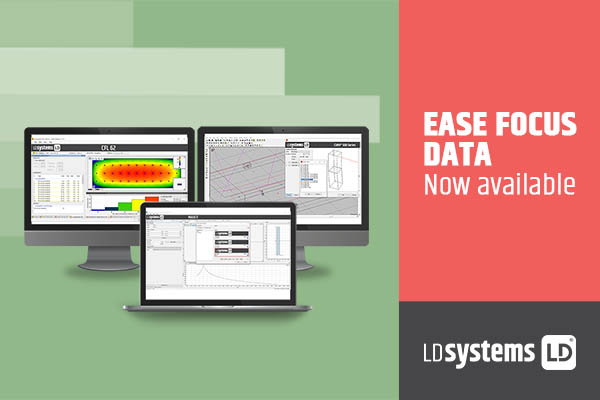 The complete list of licensed LD Systems products includes the following loudspeaker series and products:
CONTRACTOR: CFL52, CFL62, CICS52, CICS62
CURV500: S2, DSAT, iSUB, TS SUB, SE SUB
MAUI: MAUI i1
SAT: SAT 42 G2, SAT 62 G2 (A), SAT 82 G2 (A), SAT 102 G2, SAT 122 G2, SAT 242 G2, SAT, 262 G2, SAT 442 G2, SUB88 (A), SUB 10 A
STINGER: STINGER 8 G3 (A), STINGER 10 G3 (A), STINGER 12 G3 (A), STINGER 15 G3 (A), STINGER 28 G3 (A), STINGER SUB15 G3 (A), STINGER SUB18 G3 (A)
DDQ: DDQ 10, DDQ 12, DDQ 15, DDQ SUB 212, DDQ SUB 18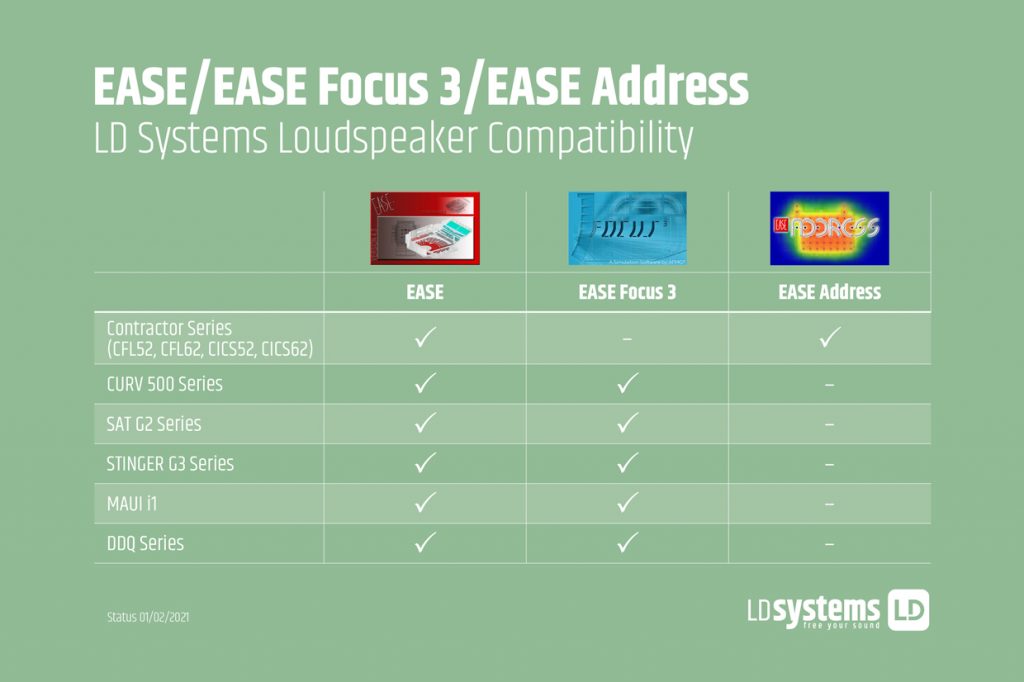 EASE Focus 3 and EASE Address
EASE Focus 3 is the universal 3-D planning tool for simulating direct sound from loudspeaker systems.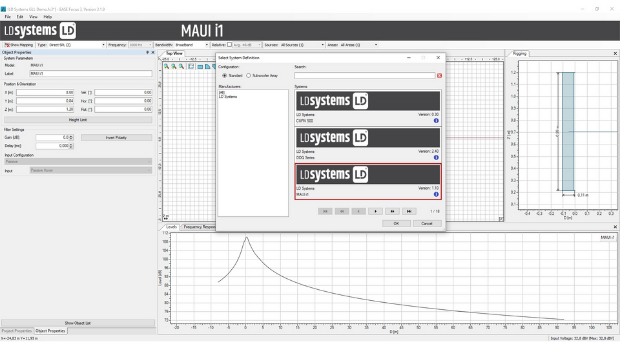 EASE Address is two-dimensional simulation software for configuring and modeling ceiling loudspeaker systems.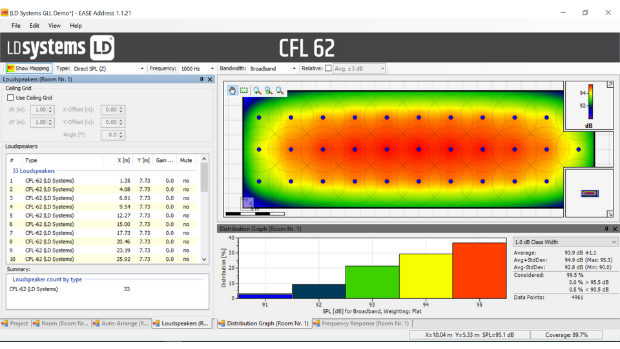 Based on AFMG's EASE industry standard, EASE Focus 3 and EASE Address offer users a large array of functions for LD Systems loudspeaker series:
Simulation of controllable loudspeaker lines, ceiling loudspeakers (EASE Address), conventional point sound sources, subwoofers, etc.,
Flexible definition of audience areas, sectional planes, and receiver positions for detailed evaluation,
Immediate calculation of sound coverage and frequency response of the systems,
Support for mixed systems from different manufacturers within a project,
Optimization with FIRmaker for calculating FIR filters that are adapted to the room geometry,
Use of different LD Systems loudspeakers in one project
End users can find the EASE files for download here or on the corresponding product page.
Download EASE Focus 3: focus.afmg.eu/download
Download EASE Address: address.afmg.eu/download
#LDSystems #FreeYourSound #ProAudio #EventTech #ExperienceEventtech
---
More information:
ld-systems.com
afmg.eu