Rethinking School – LD Systems and Cameo at Lisbjergskolen in Denmark
Lisbjergskolen (Lisbjerg School) in the Danish municipality of the same name is a prime example of modern learning. Around 6 miles (ten kilometers) north of Aarhus city center, there is hardly anything that reminds us of the hustle and bustle of Denmark's second largest city, with its more than 300,000 inhabitants. Surrounded by green meadows and forests, the public school, which was established in 2020, focuses on a groundbreaking educational concept consisting of academic education coupled with practical and creative training. The integrator responsible for the sound and lighting systems in various areas around Lisbjergskolen, Bambi Udlejning & Installation, based in Randers, Denmark, used the CURV 500® series from LD Systems as well as theater spotlights from the Cameo TS series.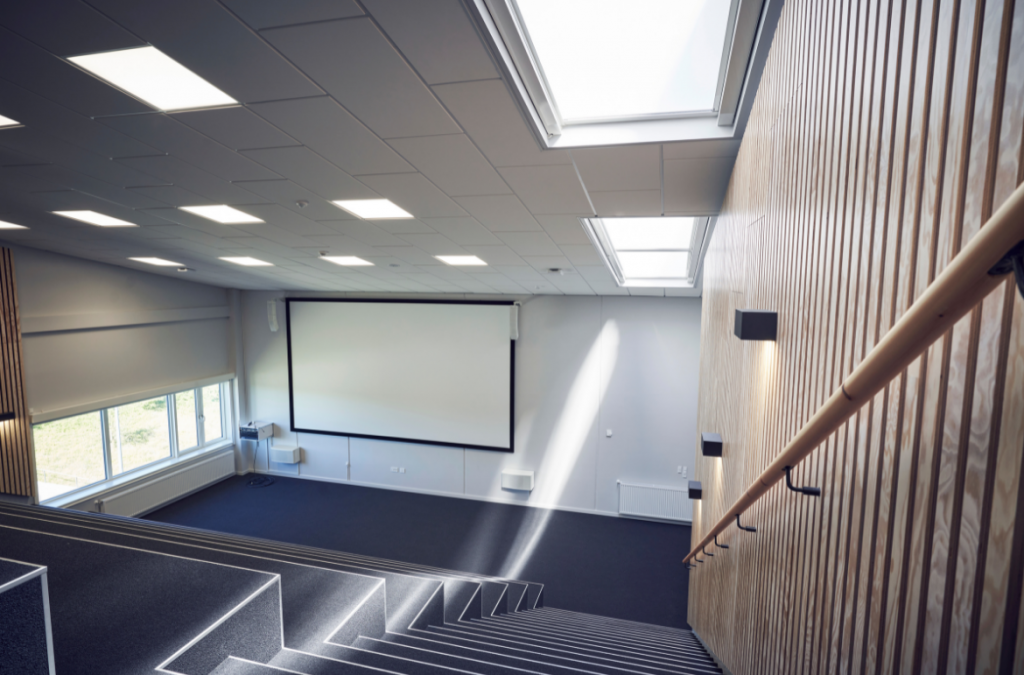 Lisbjergskolen not only offers its approximately 370 students unusual classrooms with integrated auditorium-style AV equipment, architecturally sophisticated common areas, and two school sports halls, it also has a fully-equipped recording studio and a live stage.
Conventional classrooms are not something you will find at Lisbjergskolen. Instead, the classrooms, with their steep steps for sitting on, are reminiscent of university lecture halls. In the large auditorium, two LD Systems CURV 500 arrays, consisting of three S2 array satellites each and a CURV 500 D SAT duplex satellite, surround the large, centrally positioned projector screen and ensure directed sound with a high casting distance for the challenging room shape. The compact arrays are supplemented by two CURV 500 iSUB 10" subwoofers. Control is provided by a CURV 500 iAMP 4-channel installation power amplifier. The audio system is completed by an LD Systems U505 HBH 2 wireless microphone system with bodypack, headset, and dynamic handheld microphone.
The small live stage is also worth seeing. On the sides of the front traverse, two LD Systems SAT 122 G2 12" installation speakers provide the audience with sound, while MON 121 A G2 active stage monitors ensure ideal sound monitoring conditions on the stage itself. Various spotlight models from the Cameo TS series are used for perfect lighting: TS 100 and TS 40, both equipped with warm white LEDs and the TS 200 FC in six versions with RGBALC LED for powerful colors and variably adjustable color temperatures.
With its UNICEF-certified educational and teaching concept, Lisbjergskolen places special, in some cases completely new, demands on integrated technology. Alongside projector screens and projectors, sound and light also play an important role in holistic, modern learning. For this reason, the responsible parties at Lisbjergskolen contacted Jesper Juncher from Bambi Udlejning & Installation early on:
"The new, auditorium-like classroom environment, without chairs or tables, required a sound system that was as compact and modern as possible but which could still cover a large area and remain within the school's budget," explains Jesper.
"In consultation with Allan Bagger from Adam Hall, we designed a permanently installed CURV 500 system that includes U500 radio links. I have to admit that when Allan came to me with his initial suggestion, I had to call him back to make sure that the CURV 500 really could meet the requirements. But my doubts were completely unfounded; it really was the ideal solution. Everyone who works with the system on a daily basis is impressed by the ratio between size, sound coverage, and quality."

Jesper Juncher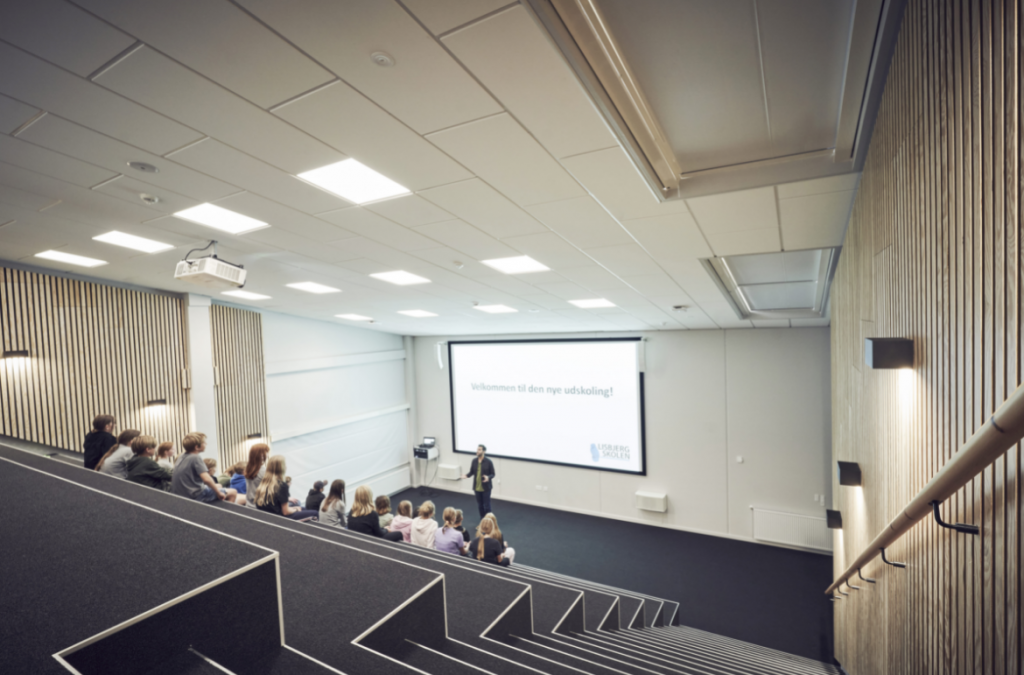 The following LD Systems and Cameo products are used in Lisbjergskolen:
Products in the auditorium:
3 x LD Systems CURV 500 S2 W CURV 500 array satellites
2 x LD Systems CURV 500 D SAT W CURV 500 duplex satellites
2 x LD Systems CURV 500 iSUB W 10" installation subwoofers
1 x LD Systems CURV 500 iAMP 4-channel class-D installation amplifier
1 x LD Systems U505 HBH 2 wireless microphone system with bodypack, headset, and handheld microphone
Products for the live stage:
2 x LD Systems SAT 122 G2 12" installation speakers
2 x LD Systems MON 121 A G2 12" stage monitor active
1 x LD Systems DEEP2 1600 PA power amp 2 x 800 W
6 x Cameo TS 100 WW theater spotlights with Fresnel lens and warm white 100 W LED
4 x Cameo TS 40 WW theater spotlights with plano-convex lens and warm white 40 W LED
6 x Cameo TS 200 FC theater spotlights with Fresnel lens and 200 W 6-in-1 LED
Products in the sports hall:
4 x LD Systems SAT 122 G2 12" installation speakers
1 x LD Systems DEEP2 4950 PA power amp 4 x 810 W
#LDSystems #FreeYourSound #Cameo #ForLumenBeings #EventTech #ExperienceEventTech
---
More information:
lisbjergskolen.aarhus.dk
bambi-udlejning.dk
ld-systems.com
cameolight.com
adamhall.com