Did you know? The CURV 500 is for fixed installations.
Did you know? CURV 500 systems are modular in design and can be freely adapted to fit the many different demands of fixed installations.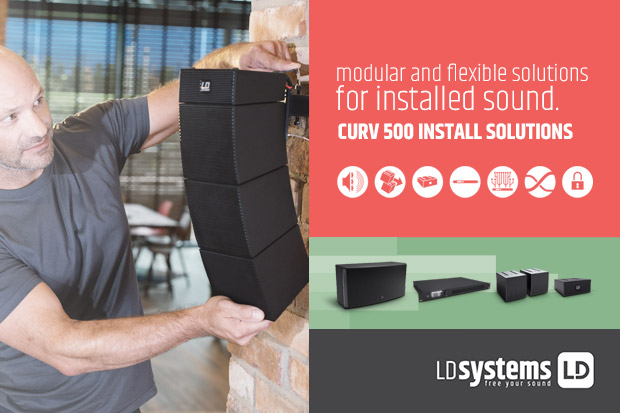 For planners, system integrators, architects, and end users alike, the demands placed on permanently installed systems have increased over the past years. Apart from providing powerful, clear, and balanced sound, loudspeakers and other components must be as compact, sleek, and flexible as possible to provide the right solution for every environment. Maximum coverage of the sound field must also be ensured using as few "resources" as possible. Ideally, it must also be possible to later expand previously installed systems to meet new requirements without having to completely reinstall systems.
LD Systems' portable CURV 500 array system satisfies these requirements with flying colors. Keep reading to find out why!
1. Did you know? The CURV 500 can be flexibly scaled.
The CURV 500 system consists of array satellites, which are available in two versions: simplex or duplex satellites. Similar to large line arrays, both versions feature wide horizontal and narrow vertical sound dispersion. Users can combine, scale, and flexibly adapt CURV 500 satellites to different sound requirements as required. The range spans from discrete point sound sources with an S2 simplex satellite to J-curved arrays or spiral arrays.
One possible way of providing audiences with balanced sound is to use a J-array: Two curvilinear arranged S2 satellites in the lower array area cover the audience up front, while two DSAT duplex satellites project sound all the way to the middle or back of the room.
A variety of combinations are possible based on the type of use, room size, and size of audience: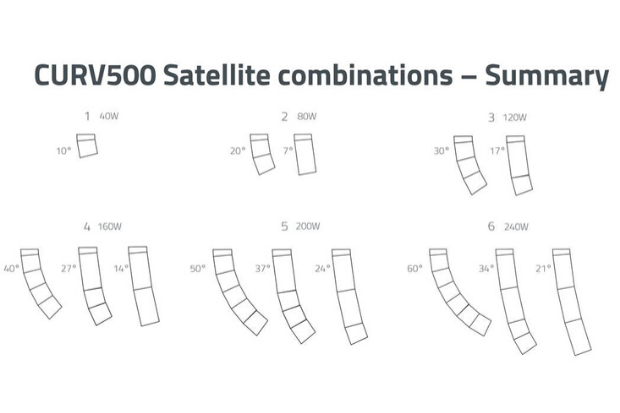 Products and solutions:
LD Systems CURV 500 S2 Array Satellite
LD Systems CURV 500 D SAT Duplex Satellite
2. Did you know? The CURV 500 is also available for 70/100 V audio systems.
Compared to low impedance loudspeakers, 70/100 V technology really shines through when longer cable routes and many parallel loudspeaker connections are required. The CURV 500 system makes it possible to have both installations without having to change the satellites or alter how they are arranged. The only difference is the SmartLink adapter: the CURV 500 SLA for low impedance systems and the CURV 500 SLAT for 70/100 V installations.
Products and solutions:
LD Systems CURV 500 SLA SmartLink Adapter
LD Systems CURV 500 SLAT SmartLink Adapter 70/100 V
3. Did you know? The CURV 500 is equally suitable for music and speech.
In houses of worship, planners and system integrators rely heavily on the CURV 500 system because of its precise voice transmission abilities and its elegant and sleek design. The compact array system is also able to clearly and effectively reproduce music at both low and high levels – even when used with the very compact CURV 500 iSUB 10″ installation subwoofer. The SUB 15 G3 15″ bass reflex subwoofers from the STINGER series boost the bass and can be easily integrated into a CURV 500 system.
Products and solutions:
LD Systems CURV 500 iSUB 10″ Installation Subwoofer
LD Systems STINGER SUB 15 G3 Passive 15″ Bass Reflex Subwoofer
4. Did you know? The CURV 500 comes equipped with DSP presets for almost every array configuration.
Having an amplifier that can be quickly and flexibly implemented is a must with so many different possible combinations of simplex and duplex satellites and subwoofers. The CURV 500 iAMP is a four-channel class-D installation power amplifier with DSP control and an integrated DSP library for every CURV 500 configuration. All you need to do is select the number of loudspeakers in use and the CURV 500 iAMP will calculate the optimal audio performance. DSP44K (including Dante network connection) and DSP45K DSP power amplifiers can be used for expanding STINGER series subwoofer setups.
Products and solutions:
LD Systems CURV 500 iAMP Four-Channel Class-D Installation Power Amplifier
LD Systems DSP 44 K Four-Channel DSP Power Amplifier with Dante Network Connection
LD Systems DSP 45 K Four-Channel Amplifier with DSP
5. Did you know? The CURV 500 can be installed in many ways.
The CURV 500 series has the right bracket available for every type of installation: whether for fixing to the wall or ceiling or for attachment to music stands or trusses. Take for example, CURV 500 WMBL wall mount brackets. They can hold up to six S2 array satellites or three duplex satellites and they swivel and tilt to offer the greatest possible scope of flexibility for any environment.
LD Systems CURV 500 WMBL Tilt and Swivel Wall Mount Bracket
LD Systems CURV 500 WMB Wall Mount Bracket
LD Systems CURV 500 CMB Ceiling Mount Bracket
LD Systems CURV 500 TMB Truss Mount Bracket
6. Did you know? The CURV 500 has dedicated cables in both black and white.
Even if the cables of fixed CURV 500 system installations are barely noticeable, they are still a must. Whether it's system or loudspeaker cables, or for SpeakOn, XLR, or terminal block connectors, the Adam Hall Cables series offers the right cable for every CURV 500 application and every desired length.
Finally … Did you know?
CURV 500 systems can be combined with our U500 and U300 series radio systems for extensive audio installations in conference rooms and educational institutions. Signal management is carried out entirely using our flexible ZONE series' zone mixers.
---