Press: We Will Get Through This Together – Adam Hall Group Organizes an Industry Talk as a Livestream at www.event.tech
Neu-Anspach – March 25, 2020 – Get ready for March 31st: the Adam Hall Group will be hosting an online industry talk via a livestream. With one-hour rounds of moderated discussions between experts, the Adam Hall Group is reacting to the international developments of the Coronavirus (Covid-19), which among other things led to the cancellation of Prolight + Sound 2020. Afterwards, the global event technology provider will present its 2020 product highlights in a Virtual Tradeshow. The livestream of the Adam Hall Industry Talk starts on March 31, 2020 at 10:00 a.m. CET at www.event.tech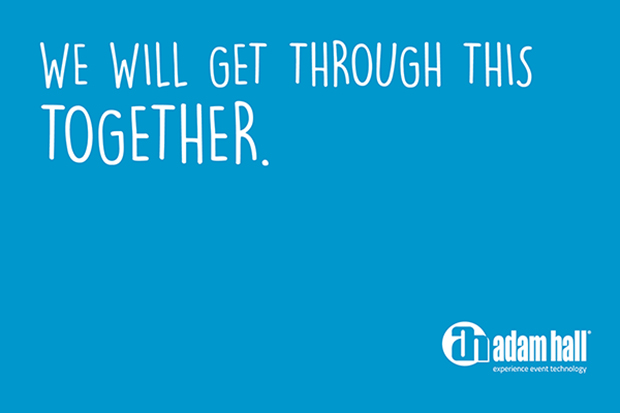 Expert Panel Discussions
No subject has the event technology industry so worked up at the moment like the effects of the Covid-19 virus. The Adam Hall Group is therefore taking the opportunity to bring some of the leading industry leaders from the areas of services, associations, & Co. to the discussion table: How are companies handling the current situation? What dangers, risks but also opportunities does the near future hold for the event technology industry?
"We want to use the industry talk to bring leaders in our industry to the table to talk about current and future challenges," explains Alexander Pietschmann, who will also be participating in the Adam Hall Industry Talk as the CEO of the Adam Hall Group. "We also want to make it possible for our partners, customers, trade press, and any event technology fans to obtain up-to-date information about our latest product solutions during the virtual tradeshow without having to unnecessarily put their health at risk."
The participants of the Industry Talk at a glance:
Marcel Courth (moderator): Editor in Chief, Production Partner, Publisher of Unit Professional Technology & Live Communication
Marcus Pohl: Chairman, ISDV & President, IGVW
Nico Ubenauf: CEO, satis&fy
Joe Lamond: President & CEO, NAMM
Luca Lastrucci: CEO/co-founder, Powersoft
Marcus Graser: CEO, Clay Paky
Simon Kropp: Editor in Chief, Event Rookie
Alexander Pietschmann (host): CEO, Adam Hall Group
Product Highlights
Adam Hall product experts will use the virtual tradeshow, which is available as an on-demand video, to present the latest event technology solutions from the brands LD Systems, Cameo, Gravity, Defender, and Palmer. In addition to new Cameo state-of-the-art spotlights for theater, stage, theater, industrial, architecture, and broadcasting applications, as well as LD Systems audio systems for wider use in events and installations, the Adam Hall Group will also showcase the new modular Defender MIDI 5 2D cable protector series for barrier-free, multidirectional setup.
Adam Hall Industry Talk: March 31, 2020, 10:00 a.m. CET
Livestream at www.event.tech
#WeWillGetThroughThisTogether #ProAudio #ProLighting #EventTech #ExperienceEventTech
---
More information:
adamhall.com
cameolight.com
ld-systems.com
gravitystands.com
palmer-germany.com
defender-protects.com