A Blessing for the Church – LD Systems CURV 500 Fills the New Millennium Reformed Center in Romania with Sound
If it takes 21 years to build a church, then the result must be something truly extraordinary. Nothing could be closer to the truth in the case of the New Millennium Reformed Center in the Romanian city of Timișoara, which has 300,000 inhabitants – even if construction was repeatedly suspended due to a lack of financial resources. On December 15, 2019, which marked the 30th anniversary of the 1989 Romanian Revolution, the congregation celebrated the opening of the spectacular church. The unusual design of the church, featuring a high dome in the center, was particularly challenging for the system integrators from the Timișoara-based company Media Crusher SRL, who found exactly what they were looking for in a (sound) solution with the LD Systems CURV® 500 array system.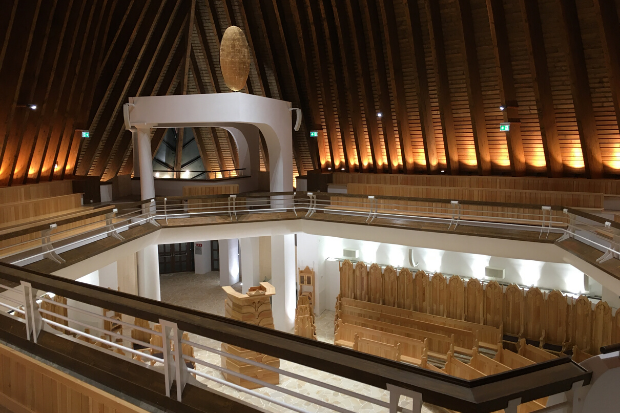 Blending in All the Way Around
"The Church wanted a system with excellent speech intelligibility and superior transmission of music. In addition to being compact in size, it also had to be as unobtrusive as possible and create a 'wireless' impression," explains Bakk Jutas from Media Crusher.
The team from Media Crusher used a total of six CURV 500 arrays, each consisting of six white S2 array satellites to project sound throughout the inside of the building as well as to the slightly raised seats in the gallery. Six CURV 500 SUB 10″ installation subwoofers were used for the extended low-frequency sound system. They were attached to the walls in the lower church section and installed above the austere wooden pews in the gallery. The entire system is powered by three CURV 500 AMP 4-channel Class-D amplifiers.
A Blessing for the Church
The CURV 500 array system has literally been a blessing for the team at Media Crusher SRL. "We've worked with the CURV 500 for a long time and have already installed the system in another church with a much more conventional design," says Bakk Jutas. "The requirements for the New Millennium Reformed Center were very different." The extensive and very flexible installation accessories for the CURV 500 series made it possible for us to implement our design without having to make any compromises."
The following products are used at the New Millennium Reformed Center in Timișoara:
36 LD Systems CURV 500 S2W array satellites
6 LD Systems CURV 500 WMBW wall brackets for S2 array satellites
6 LD Systems CURV 500 SUB W 10″ installation subwoofers
3 LD Systems CURV 500 AMP 4-channel Class-D installation amplifiers
Further information:
soundcreation.ro
ld-systems.com
ld-systems.com/curv500
adamhall.com
event.tech