Cameo Enlightens Frankenstein Castle For Halloween
Everybody in Darmstadt, across Germany, and all of Europe knows that nobody does a good scare quite like Frankenstein Castle. For over 40 years, tens of thousands of people have flocked to the 1,000-year-old castle ruins at Halloween to be filled with terror and fear. Frankenstein Castle is separated into twelve "scare zones" with more than 100 creepy-looking figures displayed on 3,000 square meters of eerily decorated space, for which the Griesheim-based company JB-Audio has supplied around 200 Cameo spotlights and fog machines for four years now.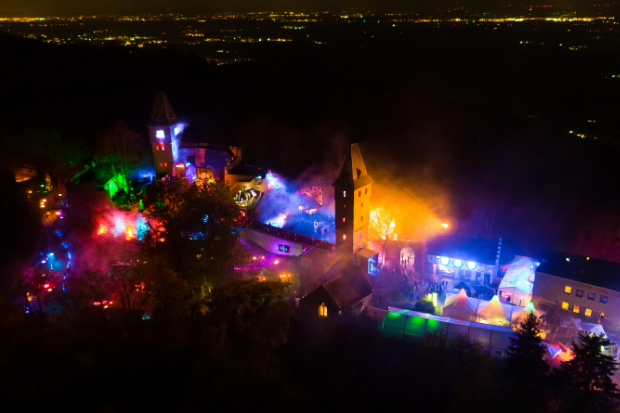 Rugged and efficient
"All the lights are put up outside for five weeks and need to be able to withstand all kinds of weather," says Jens Buchholz, CEO and event technology specialist at JB-Audio about the primary requirement the lighting technology needs to fulfill. "Our power resources at the heritage protected castle are also limited, which means the efficiency of the spotlights are important too."
For the basic and accent lighting in the spacious Frankenstein Castle, JB-Audio used a total of 150 PST TRI 12 IP LED outdoor PAR spotlights with 12 × 3 W high power TRI RGB LEDs, which were set up mainly on trusses along the castle walls. A few FLOOD IP65 TRI outdoor floodlights with 60 W Tri-Color COB-LEDs and a wide beam angle of 120° provided effective illumination in the castle's open towers. FLAT PRO FLOOD 600 IP65 outdoor floodlights with 9 × 12 W RGBWA + UV 6-in-1 LEDs were used wherever striking, vibrant basic lighting with the option of using UV light was required for individual shows. PIXBAR 600 PRO IP65 LED bars were utilized as floor sidelights. Other STUDIO MINI PAR spotlights and half a dozen AURO BEAM 150 moving lights were predominantly used on the main stage for several weeks during live shows.
Flexible light planning
For the Halloween-experienced team at JB-Audio, the spotlights need to be more than just rugged, energy-efficient, and bright- they also need to be extremely flexible in terms of long-term planning: "The castle's basic lighting serves as the standard. The individual areas are rebuilt every year and therefore need to be redesigned and restaged. The PST TRI 12 IP has turned out to be the perfect all-rounder because it can be integrated quickly, easily, and reliably."
A whole lot of haze and fog is key for a haunted setting. For the event, JB-Audio used 20 fog machines and approx. 600 liters of Cameo Heavy fog fluid to lure approx. 25,000 visitors into startling and shocking situations. "It's our fourth year providing the lights for Frankenstein Castle and we've been using Cameo since day one," concludes Buchholz.
"We use Cameo for almost every production – and that's not about to change in the future."

Jens Buchholz
The following Cameo products were used for the 2019 Halloween event at Frankenstein Castle:
Further information:
frankenstein-halloween.de
cameolight.com
adamhall.com
event.tech