Cameo at LDI 2022 – New Highlights for Outdoor Events, TV, Theater and More
At this year's Live Design International (LDI) from November 14-20, Cameo will present a variety of product highlights that significantly expand the spectrum of professional lighting designers and operators. In addition to the Cameo OTOS H5 hybrid moving head for outdoor use, the lighting brand of the Adam Hall Group will present, among other things, its first profile spotlight for professional theater and TV use as well as the IP65-certified LED Soft Panel S4 IP from the new S-Series. Furthermore, visitors to the Cameo booth (#2055) can see for themselves the AZOR® S2 Spot Moving Head and the ZENIT® W600 SMD LED Outdoor Wash Light, among others.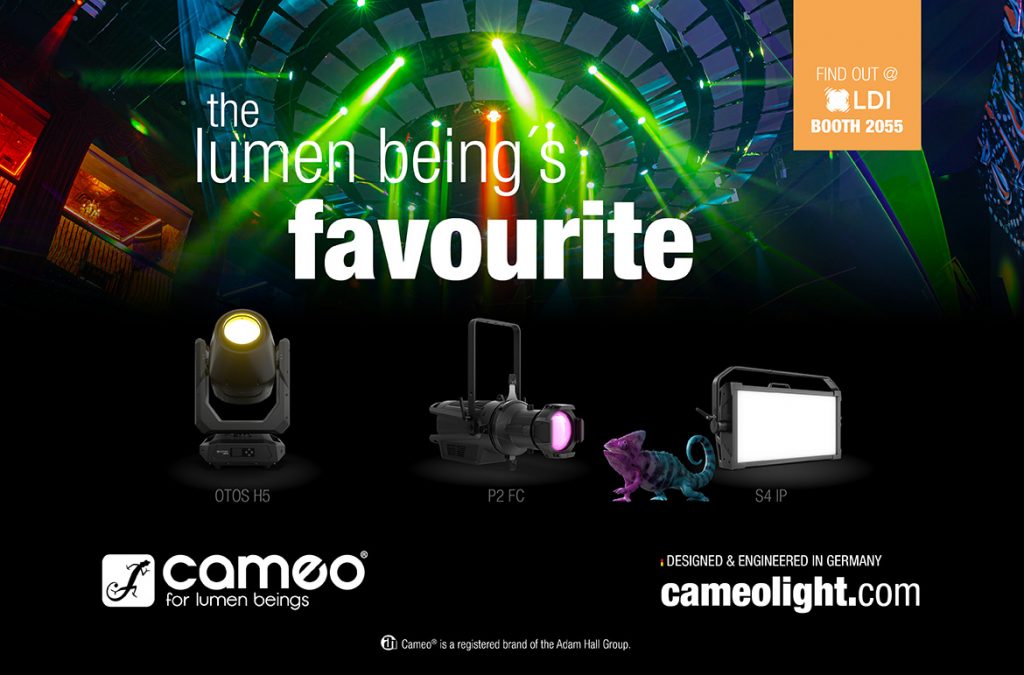 OTOS® H5 – IP65 Hybrid Moving Head
With the OTOS® H5, Cameo directly addresses the needs of professional lighting designers and rental companies looking for a fully road- and rider-ready hybrid fixture for both indoor and outdoor use. The OTOS® H5 impresses with its combination of high light output (19,000 lm), IP65 certification, 3-in-1 hybrid flexibility and a low weight of only 33 kg, making the OTOS® H5 currently the lightest product in its performance class. Coupled with a particularly large zoom range of 2°-42°, continuous CMY color mixing and flexible control options based on the integrated W-DMX™ transceiver, lighting designers can give free rein to their creativity in almost any application – from large open-air festivals and concert arenas to specialized use in TV and film.
P2 – LED Profile Spotlight
With the P2 series, Cameo presents its first profilers for the professional theater, TV and event sector. The series includes LED profile spotlights in Tungsten (3,200 K), Daylight (5,900 K) and Full-Color (RGBAL) versions, which impress with their extremely high CRI (96) and TLCI values for true-to-life color rendering. With a light output of up to 15,000 lm, the P2 models are a perfect replacement for conventional 1kW profile spotlights. In addition to their selectable pulse width modulation (up to 25 kHz) for flicker-free operation, the RDM-capable profilers can be flexibly adjusted in their beam angle (15-50°) via optional interchangeable lenses. For wireless control via W-DMX™, the P2 profilers can be equipped with a Cameo iDMX STICK.
S4 IP – IP65 LED Soft Light Panel
With the new S-Series, Cameo expands its product portfolio with IP65-certified LED Soft Panels for outdoor use in TV/movie, event, livestream and more. The starting point is the S4 IP model, which thanks to its excellent color rendering puts people and objects in the spotlight with a natural, diffuse light. The compact softlight is based on 544 single SMD LEDs per color (RGBWW) arranged in a cluster of 4. In combination with the integrated calibration chip, the S4 IP has an extremely natural color rendering (CRI 95, TLCI 91) as well as an exceptional coverage of the extended Rec. 2020 color space of 85 percent. In addition, the adjustable color temperature with its wide range of 1,800 to 10,000 Kelvin enables use in all environments.
AZOR® S2 – Spot Moving Head
The new AZOR® S2 is a compact spot moving head with 11,000 lm luminous flux and 5°-50° zoom range for versatile use on small to medium-sized stages. Besides its CMY color mixing, the AZOR® S2 has an additional color wheel with eight dichroic filters. For effects, a rotating and a static gobo wheel are available (each with 8 gobos + open), furthermore a rotating and indexable circular 3-fold prism as well as linear 6-fold prism. Thanks to flexibly selectable PWM frequencies up to 25 kHz, the new AZOR® S2 provides a flicker-free image for professional camera use.
ZENIT® W600 SMD – Outdoor LED Wash Light
The ZENIT® W600 SMD provides lighting designers with an extremely bright and homogeneous wash light in the RGBW spectrum with a high output of up to 41,000 lm. Thanks to its IP65 protection class, the latest spotlight in the highly successful ZENIT® series is designed for demanding, permanent outdoor use at medium-sized and large professional events, right up to the lighting of TV shows. Equipped with 504 SMD 4-in-1 LEDs, the W600 SMD is suitable for both area lighting and stage effects, including strobes and chasers.
H1 FC – RGBAL House Light
The Cameo H1 FC is a DMX-controllable house light with RGBAL LED (full color) for atmospheric lighting in theaters, gastronomy and hotel business, on exhibition stands and numerous other locations. Due to convention cooling, the H1 FC from Cameo operates absolutely noiselessly and is therefore the ideal choice in noise-sensitive areas. Thanks to its high color fidelity across all measurable categories, the full color luminaire ensures pure aesthetics without color distorting effects and allows costumes, objects and food, for example, to shine in their natural colors. Maximum flexibility is provided by control options via DMX, W-DMX™, RDM and the optional Cameo UNICON® remote control.
Cameo
#2055
#Cameo #ForLumenBeings #ProLighting #EventTech #ExperienceEventTechnology
---
More information:
cameolight.com