CAMEO® joins W-DMX™ OEM Family
German-based Cameo® Light, a brand part of the Adam Hall Group, has recently joined W-DMX™'s OEM family, having released two new battery-powered IP65 PAR and a WiFi to W-DMX™ converter, with built-in W-DMX™ receivers.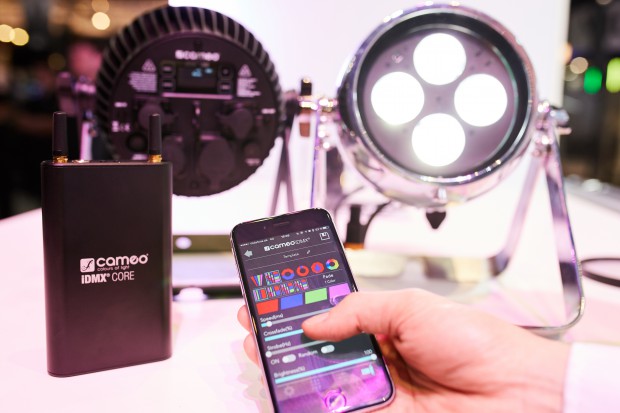 The PARs have four 15 W RGBW Cree LEDs with a 50,000-hour lifetime and a powerful 1,900 lm output, with a precise 11º beam spread. What's more, the units include a lithium-ion battery made by LG Chem, providing a reliable performance up to 24- in RGBW and complete 4 days using a single color from a single charge. The units are available in chrome or matt black.
Also debuting as a new product is the iDMX CORE, a WiFi to W-DMX™ converter that allows users to remotely control their fixtures with a dedicated App, and simultaneously send W-DMX™ data directly to their fixtures. This belt pack device also includes an LG Chem battery, allowing up to nine hours of continuous operation.
"As the de-facto standard wireless DMX technology in the entertainment industry, W-DMX™ was the obvious choice for us. Wireless Solution AB's great reputation after 14 years of existence sends a strong signal of confidence to our customers who use this advantageous wireless technology," said Daniel Garcia, Product Manager – Light Technology at the Adam Hall Group.


Cameo® Light is a registered brand of the Adam Hall Group. For more information, please visit www.cameolight.com.
Cameo-ZENIT-B60
Information about the Adam Hall Group:
www.adamhall.com
blog.adamhall.com
#LEDlighting #ColoursOfLight #prolighting #adamhallgroup #eventtech